Madeline Stuart: An Inspiration for Fashion Season
More than three years ago, model Madeline Stuart (age 21), who has Down Syndrome, took the fashion scene by storm on the catwalk. This year she is back in force…she'll walk 10 shows this fashion season for some incredible designers. According to the press release, "Madeline's journey from teenager to supermodel was made possible by her incredible determination and inner strength. She lost over 50 pounds and made fitness a priority, a challenge for anyone, but especially trying for someone with Down syndrome. Madeline has always believed if you put your mind to something, you can achieve it. She hopes her success gives others reason to dream."
Find out more about Madeline on Facebook.
25 Industries that 3D Printing Could Disrupt
This is an interesting report, and a free PDF downloadis available. While printing and packaging are not listed, there surely are industries in the list where printers and packaging converters already have clients. Perhaps adding 3D printing capability could strengthen those relationships, increase billable services from existing clients, and open the door to new ones. Architecture might be an easy place to start!
Print Keeps Evolving
From Science Daily:
A new, inexpensive method to 'print' large-scale sheets of two dimensional (2D) piezoelectric material offers tremendous opportunity for new piezo-sensors and energy harvesting.
…
Importantly, the inexpensive process allows the integration of piezoelectric components directly onto silicon chips.
Until now, no 2D piezoelectric material has been manufactured in large sheets, making it impossible to integrate into silicon chips or use in large-scale surface manufacturing.
This limitation meant that piezo accelerometer devices -- such as vehicle air bag triggers or the devices that recognise orientation changes in mobile phones -- have required separate, expensive components to be embedded onto silicon substrates, adding significant manufacturing costs.
The Ultimate Corporate Font
Do you want a corporate font to enhance a brand but can't decide whichbrand? How about all of them! Via Boing Boing, Brand Velocity has created Brand New Roman, a "typeface" whose letters comprise corporate logos. There is also an interactive feature whereby you can see how your own brand looks made up of other people's brands.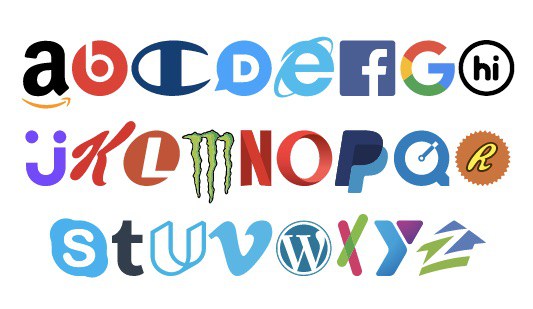 What do you think of our own potential rebrand?

I Scream
Speaking of fonts, they should always be chosen wisely, lest you inadvertently advertise delicious Sugar Bowels.
Mmmm delicious sugar bowels. pic.twitter.com/YFFdMi8Zws

— Molly Hodgdon (@Manglewood) August 29, 2018
Sound Design
A new printer can shoot droplets with 100 times the Earth's gravitational force. From NBC:
A new printing technique designed at Harvard University's engineering school uses sound waves to control and fire droplets from a nozzle with incredible force, allowing researchers to print with liquids thicker and more viscous than ever before.
Honey, stem-cell-based inks and liquid metals all printed fluidly using these vibrations, which come from acoustic techniques that researchers had previously used to levitate liquids, not print with them.
They Grow Up So Fast
It's a proud day for robotics: iRobot has finally housetrained the Roomba.
Not Fake News
This has been in the water supply for decades, but "The First Totally Honest Stock Market Story" resurfaced on a couple of economics blogs this week, namely The Big Picture: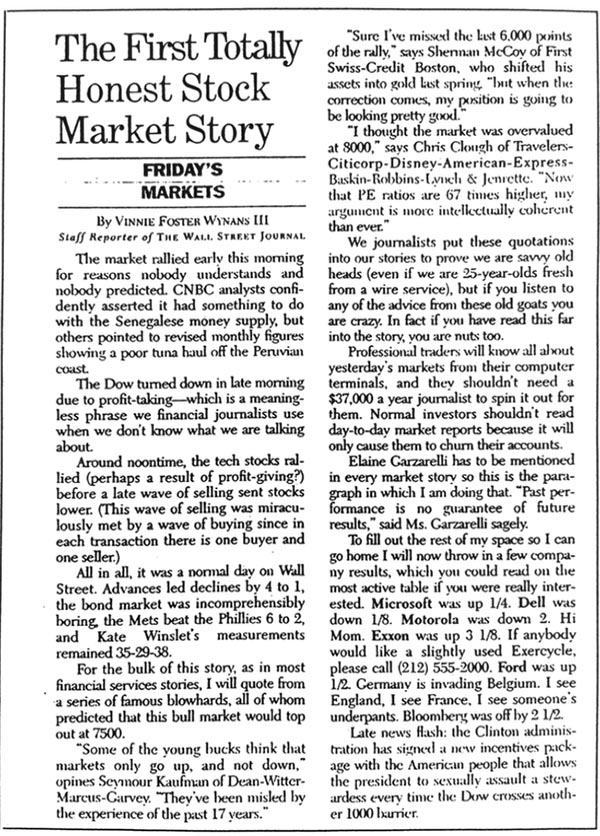 This Week in Printing, Publishing, and Media History
September 4, 1888: George Eastman registers the trademark "Kodak" and receives a patent for his camera that uses roll film.
September 4, 1951: The first live transcontinental television broadcast takes place in San Francisco, from the Japanese Peace Treaty Conference.
September 4, 1998: Google is founded by Larry Page and Sergey Brin, two students at Stanford University.
September 5, 1977: NASA launches the Voyager 1spacecraft. Voyager 1(like the other voyager probes) contained what was called the "Golden Record," a gold-plated audio-visual disc that contains photos of the Earth and its lifeforms, scientific information, spoken greetings from people such as the Secretary-General of the United Nations and the President of the United States, a medley of "Sounds of Earth" (the sounds of whales, a baby crying, and waves breaking on a shore, in case aliens are into New Age music), and a collection of musical works by Mozart, Blind Willie Johnson, Chuck Berry, and Valya Balkanska. In 2013, Voyager 1 became the first manmade object to leave the Solar System.
September 5, 1929: American comedian and actor Bob Newhart born, who did more for the telephone than Alexander Graham Bell.
September 6, 1642: England's Parliament bans public stage-plays.
September 6, 1928: American novelist and philosopher Robert M. Pirsig (Zen and the Art of Motorcycle Maintenance) born.
September 7, 1912: American engineer and businessman nd co-founder of Hewlett-Packard David Packard born.
September 8, 1930: 3M begins marketing Scotch transparent tape. The idea seemed to stick.
September 8, 1966: Star Trekpremieres.
September 9, 1839: John Herschel takes the first glass plate photograph.
September 9, 1947: The first computer bug is found when a moth lodges in a relay of a Harvard Mark II computer at Harvard University.
It would not be the last.