3M Walks the Talk
Minneapolis-based 3M has been a key supplier of substrates used for wrapping everything from cars to buildings. Now the company has wrapped its own building. Cool.
Bio-Sourced Plastics Can Make a Difference
There's been lots of discussion recently about the bad side of plastics, mostly around ocean pollution and the effects on ocean life. Also concerns about plastic microfibers that are released into the water supply from home laundry systems. While bio-sourced plastics don't help eliminate that type of pollution, I was interested to learn that they actually have a negative carbon footprint due to the fact that they are made from sugar cane, which replenishes itself annually and consumes a significant amount of carbon dioxide. That's a good thing. Bio-sourced plastics still need to be disposed of the same way petroleum-based plastics do … so the challenge continues to be recycling, especially in developing countries. Kudos to UNITED CAPS for offering some bio-sourced plastic based caps and closures. Let's hope the practice spreads.
Printing Out the Internet
We all know people who (still!) print out their emails (some we suspect may even go so far as to print out spam just so they can throw the sheets away), but here is an interesting thought experiment: how much paper would it take to print the entire Internet? We came across a reference to a study that came out a few years ago (2015) in which a group of students at the University of Leicester attempted to calculate how many A4 (8.3 x 11.7 inches) sheets it would take to print out all of cyberspace. What they came up with was 136 billion sheets.
[they] arrived at their conservative conclusion by assuming there are 4.54 billion pages on the visible Web. And on average, each page required 30 sheets of paper to print.
It's probably not the most scientifically rigorous study in the world, and the amount of content on the Internet is changing all the time. Still, it does give something of an idea of how much "stuff" there is online.
Great Moments in Signage, Part the 50th
Obviously, drinking and driving is generally a bad idea, but a recent sign posted on Boing Boing makes a good point: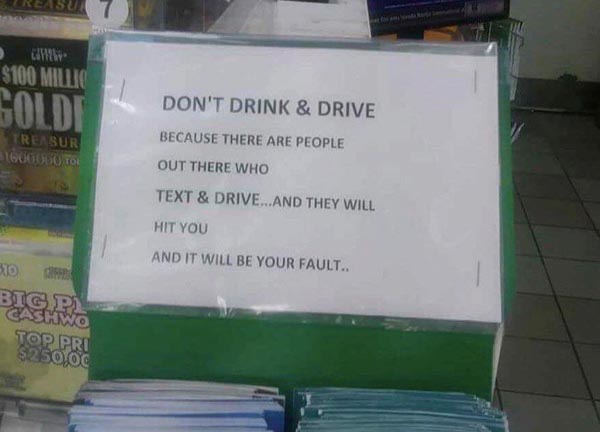 Real Money
You know what they say: "A billion here, a billion there, pretty soon, you're talking real money."*
What about a trillion? Via the Big Picture: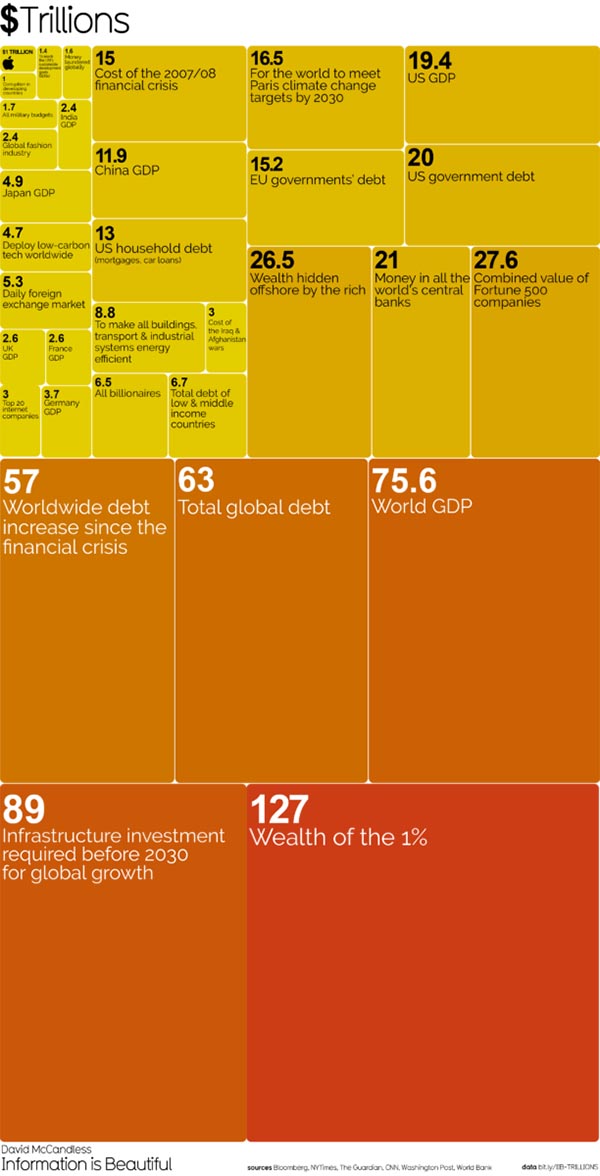 *Misattributed to late Senator Everett Dirksen.
Leave It
Is this a thing now?
A Minneapolis marketing company recently made tweaks to its employee benefits this summer, ranging from conventional to unusual. It gave workers a larger commuter stipend, as well as a reason to avoid the office altogether: "fur-ternity leave," or the ability to work from home for a week to welcome new dogs or cats.
We'd go even further. What about "plant-ernity leave" for those who have acquired new a plant or are starting a garden?
Tor n Pages
Science-fiction book publisher Tor recently embargoed ebook sales of its tiles to public libraries, claiming that library lending of ebooks was having an adverse effect on sales. (The library and its habit of lending books at no charge is of course a brand-new concept.) The embargo was actually part of an an attempt to quantify the damage. If they uncovered anything, they've been pretty quiet about the results. However, others have been looking at the numbers. Says Publishers Weekly:
"We certainly aren't having a negative impact on sales," maintained Brian Kenney, a PW columnist and director of the White Plains (N.Y.) Public Library, after looking at the numbers from his own library. Kenney said the combined OverDrive platform of the Westchester Library System, which serves 38 libraries in the populous suburbs of New York City, holds just 38 copies of Tor e-books.
Michael Blackwell, director of the St. Mary's County Library (Md.) has also been looking at the numbers. As an organizer of the group ReadersFirst, a coalition of more than 300 libraries dedicated to improving e-book access for library patrons, Blackwell has been informally polling fellow ReadersFirst libraries about their Tor e-book holdings. Given the numbers, he said, it's almost inconceivable that library lending could be adversely impacting Tor's retail e-book sales.
This Week in Printing, Publishing, and Media History
August 20, 1920: The first commercial radio station, 8MK (now WWJ), began operations in Detroit.
August 21: 1888: The first successful adding machine in the United States was patented by William Seward Burroughs.
August 22, 1920: Ray Bradbury, American science fiction writer and screenwriter, born.
August 23, 1991: The World Wide Web was opened to the public.
August 24, 1456: The printing of the Gutenberg Bible was completed.
August 24, 1891: Thomas Edison patented the motion picture camera.
August 25, 1835: The first Great Moon Hoax article was published in The New York Sun, announcing the discovery of life and civilization on the Moon. (No one would ever fall for something like that today.)