Is the Virtual Dressing Room Here?
We've been hearing about how 3D scans and the ability to try on clothes virtually could revolutionize the way we shop—and perhaps create even more problems for brick-and-mortar retail. Well, step one seems to be here. Check out how augmented reality is being rolled out in social media ads.
"Adapt Amnesia" Applies to Air Travel
It's easy to complain about the difficulties of air travel nowadays, but the revolution in moving from place to place is just as amazing as the computing revolution. Despite the title of this article, it's about a lot more than airfares.
Some of us are old to remember when smoking was allowed on flights. A companion article with the intriguing title "Cigarette Smoke Hid the Smell of Fear" discusses what flying was really like in the 1950s and 1960s.
Just like we forget a time when fax machines were more important than email and that cubicles were stacked with "inter-office envelopes," it is easy to forget how bad air travel experiences actually were years ago.
A Whole New Meaning to the Term "Cool Threads"
Swiss firm HeiQ has introduced a new textile treatment called Smart Temp. They say it is a revolutionary textile technology that provides fabrics with the ability to interact with body temperature and dynamically respond to body heat. The cooling function is activated when you are hot and sweaty and deactivated once cooling is complete.
So gimme some of those cool threads!
World's First Biobased, Circular Car Created Using Luminy from Total Corbion PLA
We get a lot of press releases that aren't really relevant for our regular News Feed but sometimes they are kind of cool—or at the very least interesting.
The world's first biobased, circular car has been successfully designed and built in the Netherlands by the Technical University of Eindhoven. This is the first time that a car chassis and all bodywork has been made from natural and biobased materials - no metal or traditional plastics were used for the structural parts of the car. The parts are made up of light and strong sandwich panels, based on natural fiber flax and Luminy PLA supplied by Total Corbion PLA.
The car, named Noah by the TU/ecomotive student team, was designed as a city car and features two seats and a spacious trunk. Noah was revealed earlier this month and is currently undertaking a European tour of car manufacturers, suppliers and universities to inspire others. In addition to its biobased composition, it is also ultra-light and electrically-powered. Noah reaches a top speed of 110 km p/h and the battery range lasts up to 240 km. At 360kg, the weight of the car excluding batteries is less than half the weight of comparable production cars. In addition to being biobased, the parts are also recyclable, resulting in a 100% circular car, sustainable in all life phases.
The PLA supplied by Total Corbion PLA for use in the car is biobased and recyclable and made from renewable resources, offering a reduced carbon footprint versus many traditional plastics. High heat Luminy® PLA grades were used to construct the car, in order to ensure durability and sufficient heat resistance.
François de Bie, Senior Marketing Director at Total Corbion PLA, is pleased with the achievement: 'The result of this fantastic project shows just how far biobased materials have come, to produce such a complex product as a car. Noah is the proof that PLA is suitable for so much more than packaging. This is the first ever car to feature a fully biobased chassis and body panels. At Total Corbion PLA, we look forward to working together with the entire value chain to bring more high performance, durable and circular applications to market.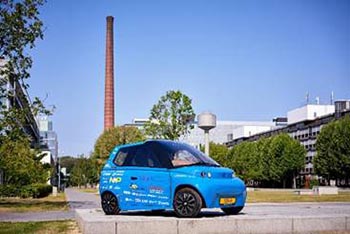 Noah, the world's first biobased, circular car by TU/ecomotive. Photo courtesy of Keyshot by Luxion.
Now That's a Knife
Says Boing Boing:
Kiwami Japan is the MacGyver of knife making. He's made knives out of the darndest things -- cardboard, gelatin... fish. But he's really outdone himself this time. He's crafted one out of men's boxers. Yes, a knife made from underwear. It's sharp too, it can cut raw chicken, office paper and cucumbers. What will he think of next?
This Week in Printing, Publishing, and Media History
July 16, 1661: The first banknotes in Europe are issued by the Swedish bank Stockholms Banco.
July 17, 1889: American lawyer, author, and creator of Perry Mason Erle Stanley Gardner, born.
July 18, 1937: American journalist and author Hunter S. Thompson born.
July 19, 1977: The world's first Global Positioning System (GPS) signal was transmitted from Navigation Technology Satellite 2 (NTS-2) and received at Rockwell Collins in Cedar Rapids, Iowa, at 12:41 a.m. Eastern time (ET).
July 19, 1983: The first three-dimensional reconstruction of a human head in a CT is published.
July 21, 1899: Ernest Hemingway born.
July 21, 1911: Marshall McLuhan, Canadian author and theorist, born.
July 21, 1948: Doonesbury creator Garry Trudeau born.
July 22, 1598: William Shakespeare's play The Merchant of Venice is entered on the Stationers' Register. By decree of Queen Elizabeth, the Stationers' Register licensed printed works, giving the Crown tight control over all published material.