No More Tears?
Devan has launched a natural technology that makes textiles free from pet allergens. Test results show a reduction of more than 90% in both cat and dog allergens in samples treated with Purissimo. The company has offered Purotex for years, used in the bedding industry to reduce house dust mites and leveraged that expertise to develop Purissimo.
Retail Transformation Heats Up Even More
From Axios.com:
In both the U.S. and China — the world's leading economies — e-commerce companies have stepped up their reinvention of retail, along with their threat to more and more industries.
Amazon sent the shares of retail drug chains into a tailspin with its $1 billion purchase of Pillpack, the online pharmaceutical retailer.
China's Alibaba and Guess, the clothing company, are opening a pilot automated fashion store in Shanghai that suggests a complete merging of e-commerce and brick-and-mortar retail, all-but absent human workers.
Sears said it and Kmart are closing 78 more stores in September. That's on top of about 500 stores already closed over the last 15 months.
Why it matters: More and more commerce is being concentrated within a few global companies, squeezing and forcing smaller rivals to accelerate their own adaptation to the fast-moving retail trends in order to survive.
Social Media Around the World
Says Yahoo! Finance:
More than 4 billion people use the internet now, and new data from the Pew Research Center suggests that social-media use is spiking in developing countries. [There goes the neighborhood. —Ed.]
Click through to check out their maps of social networks around the world.
Pinkalicious!
From The Guardian:
Scientists have discovered what they say are the world's oldest colours – and they are bright pink.
The pigments were discovered after researchers crushed 1.1bn-year-old rocks found in a marine shale deposit, beneath the Sahara desert, in the Taoudeni basin in Mauritania, west Africa.
…
The colours were discovered by a Phd student, Nur Gueneli, who had crushed the rocks to a powder. She then extracted and analysed molecules of ancient organisms from the substance.
Gueneli said the pigments were more than half a billion years older than previous discoveries.
"The bright pink pigments are the molecular fossils of chlorophyll that were produced by ancient photosynthetic organisms inhabiting an ancient ocean that has long since vanished," she said in a statement.
3D Printed Classic Car—Very Cool
3D printer manufacturer Massivit reports that its customer ColorZenith printed a full-size replica of classic Italian car Lancia B24 for an opera being performed at La Scala in Milan. Cool story, worth reading! Who says 3D printing doesn't offer opportunities for commercial and sign printers? Certainly not these guys!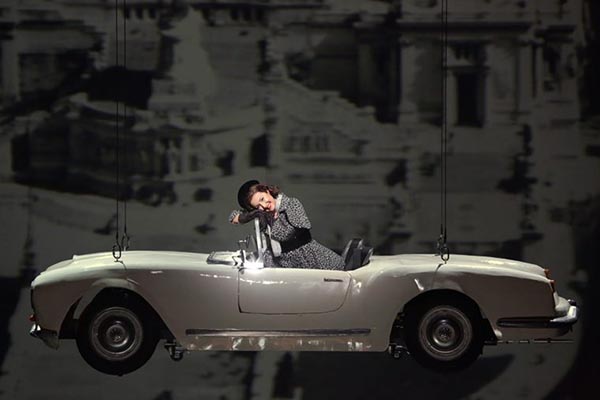 10 Years of Apps
Tempus fugit. This week marks the 10th anniversary of the dawn of the Second Wave: Apple's AppStore, and 9to5Mac has a look back at the evolution of some of the earliest apps. Here is a chart that shows the growth in the number of iPhone apps available.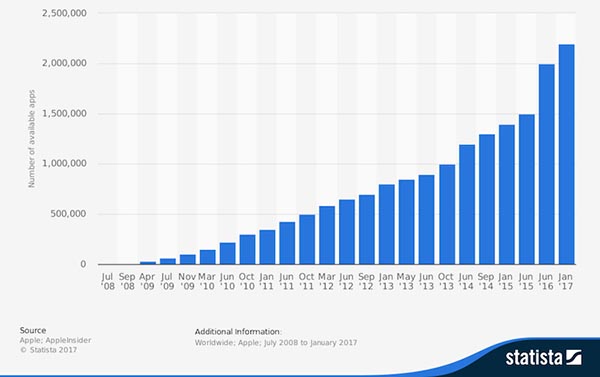 We were going to plot that against what was happening with printing shipments over the same period, but that would be a bad way to go into a weekend.
The Handwriting On the Wall
If you are in the New York City area and want to check out a unique exhibit, head over to the Morgan Library & Museum for "The Magic of Handwriting":
For nearly half a century, Brazilian author and publisher Pedro Corrêa do Lago has been assembling one of the most comprehensive autograph collections of our age, acquiring thousands of handwritten letters, manuscripts, and musical compositions as well as inscribed photographs, drawings, and documents. This exhibition—the first to be drawn from his extraordinary collection—features some 140 items, including letters by Lucrezia Borgia, Vincent van Gogh, and Emily Dickinson, annotated sketches by Michelangelo, Jean Cocteau, and Charlie Chaplin, and manuscripts by Giacomo Puccini, Jorge Luis Borges, and Marcel Proust.
Adds the New York Times, do Lago started collection at the tender age of 11, "when he wrote to prominent figures to ask for their autographs. Today, he owns roughly 100,000 letters, notes, receipts, manuscripts, signed photographs and other pieces documenting notable lives in the arts, politics, science and other fields." He calls his collection "a symbolic snapshot of Western culture over the past 500 years."
We can't wait for "The Magic of Texting" exhibit in about 50 years.
This Week in Printing, Publishing, and Media History
July 9, 1901: Prolific English author Barbara Cartland born. She published 722 novels and holds the Guinness World Record for the most novels written in a single year (23 in 1976). When she died in 2000, the paper industry went into a severe recession.
July 9, 1945: Another prolific author (but nowhere near Cartland's output), Dean Koontz, born.
July 10, 1871: French novelist Marcel Proust born. In Remembrance of Things Past, he probably wrote as many words in one novel as Cartland wrote in 722.
July 10, 1962: Telstar, the world's first communications satellite, is launched into orbit.
July 10, 2008: Apple's AppStore opens.
July 11, 1804: He did not throw away his shot: U.S. Vice President Aaron Burr (spoiler alert) mortally wounds Alexander Hamilton in a duel.
July 11, 1960: To Kill a Mockingbird by Harper Lee is first published in the United States.
July 12, 1493: Hartmann Schedel's Nuremberg Chronicle, one of the best-documented early printed books, is published. It printed in Nuremberg by Anton Koberger, and is one of the most heavily illustrated books of its time. It is a history of the Christian world from biblical times to the 15th century.
July 12, 1854: George Eastman, founder of Eastman Kodak, born.
July 14, 1798: The Sedition Act becomes law in the United States making it a federal crime to write, publish, or utter false or malicious statements about the United States government.
July 14, 1910: American animator, director, producer, actor, and co-founder of Hanna-Barbera William Hanna born.
July 15, 1799: The Rosetta Stone is found in the Egyptian village of Rosetta by French Captain Pierre-François Bouchard during Napoleon's Egyptian Campaign.
July 15, 2006: Twitter is launched, and human civilization begins its decline.