Amazon's T-Shirts On Demand
Did you know that Amazon was in the on-demand T-shirt printing business? (Of course they are.) Yahoo! Finance goes Inside Amazon's little-known graphic T-shirt-making business.
It's a Cookbook!
How's this for a traditional dish: a 4,000-year-old recipe inscribed on a cuneiform tablet by ancient Mesopotamians. Agnete Lassen, associate curator of Yale's Babylonian Collection, participated in a historical culinary event called "An Appetite for the Past," hosted by New York University's Institute for the Study of the Ancient World. Rather than haul along the original tablet (because it's you knopw, 4,0000 years old), Lassen took a 3D-printed replica along instead. The tablet included three one-pot recipes including vegetarian Unwinding Stew (which was not a hit), Broth of Lamb (unappealing in appearance and taste, and the rather well-received Tuh'i, "a beet and lamb stew which Lassen describes as a 'proto-borscht.'"
While we doubt that The Mesopotamian Diet is likely to take off, maybe for a special occasion it would be nice to whip up a "mess o' potamia."
"Cash Is Grief"
It's tempting to think that oft-predicted "cashless society" will occur around about the same time the "paperless office" happens, but across the pond, the former may be closer than we may think. From the Guardian:
It is a debate that Britain may soon be having, too, as a wave of card-only food and drink venues hit UK high streets. With the exception of London's bus network (cashless since 2014; south London's trams follow suit in July), cash-free everyday businesses have previously been experimental one-offs. But now if you want a wrap at the Athenian in Bristol, a salad at the London chain Tossed or a coffee at Habitat cafe in Aberfeldy, Perthshire (after its local bank branch closed, Habitat's owners were facing a 60-mile round trip to the bank) you will need to pay by card.
Random Historical Fact of the Week
This weekend, parts of the country will be seeing very high temperatures, which makes those who have air conditioning very thankful for it. Do you know who invented the first modern air conditioning system? And where it was first installed?
Sure, various approaches to cooling—some of which could be classified as proto-air conditioners—have existed for centuries. The wacky Roman emperor Elagabalus (and he was a bit of a nut even by Roman emperor standards—he also loved to play some, er, nutty practical jokes) imported a mountain of snow to help cool his villa. (It was not very efficient.)
The first modern air conditioning system was invented in 1902 by Willis Carrier, but it was not necessarily to keep homes cool. Rather, it was to solve a problem that Sackett & Wilhelms Lithography and Printing Company in Brooklyn, N.Y., was having: high humidity. We all know what humidity can do to paper and printing, and the humid Brooklyn summer was threatening the production schedule of Judge magazine, one of Sackett & Williams' biggest clients. It was a full-color magazine, and the heat and humidity were causing serious registration issues. They called in a consultant, Walter Timmis, who took the problem to J. Irvine Lyle, head of New York sales for The Buffalo Forge Company, a manufacturer of various kinds of industrial machinery. Lyle turned the problem over to Carrier, a recent hire who had just graduated from Cornell University.
The first set of coils was installed at the Sackett & Wilhelms plant late in the summer of 1902 along with fans, ducts, heaters, perforated steam pipes for humidification, and temperature controls. Cooling water was drawn from an artesian well that first summer and supplemented by an ammonia compressor in the spring of 1903 to meet the demands of the first full summer of operation. This system of chilled coils was designed to maintain a constant humidity of 55 percent year-round and have the equivalent cooling effect of melting 108,000 pounds of ice per day.
And thus was born modern air conditioning.
Carrier would go on to found the Carrier Corporation. Interesting ironic side fact: Syracuse University's Carrier Dome, sponsored by the company which had for a long time been based in Syracuse, is not air conditioned.
Mary Meeker Roulette—Fourth Spin
Each week, we play "Mary Meeker Roulette"—randomly picking a slide out of the 294 in Mary Meeker's latest Internet Trends Report. Round and round she goes… Our second spin lands on Slide 62: "Where Do You Begin Your Product Search?" Interestingly, Amazon beats out Google (much less any other source) and the first place customers go to look for a product.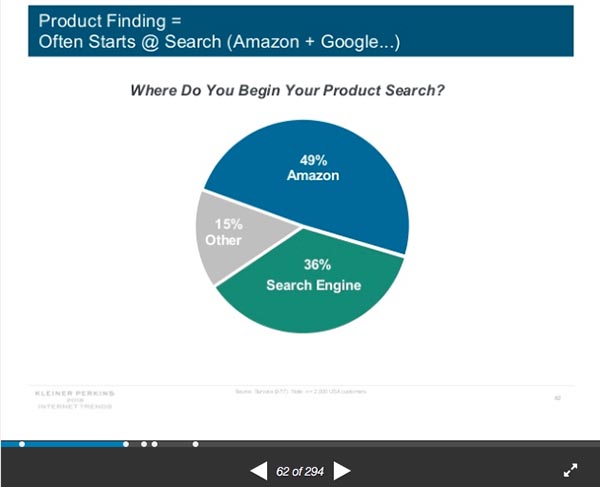 Streaming Services Get Boost from World Cup
It often takes a compelling reason to get customers to embrace a new technology, and for streaming services, that compelling reason may very well be provided by the World Cup. Says Variety:
Internet-based TV services like Sling TV and DirecTV Now have seen an influx of new customers thanks to the World Cup, if new app download numbers from app intelligence specialist Sensor Tower are any indication. First-time downloads of the five leading internet TV services grew by 77 percent during the first week of the World Cup…
The biggest winner of the World Cup is unsurprisingly fubo TV, which bills itself as a sports-centric skinny bundle. First-time downloads for fubo's app grew by 713 percent during week one of the World Cup...
Perhaps they will start making commercials like this spoof from the great sketch comedy show That Mitchell & Webb Look:
This Week in Printing, Publishing, and Media History
June 25, 1848: A photograph of France's June Days uprising, "Barricades on rue Saint-Maur," becomes the first photograph used to accompany a newspaper story, launching the practice of photojournalism.
June 25, 1903: British novelist, essayist, and critic George Orwell born.
June 26, 1997: Oh, FFS: the U.S. Supreme Court rules that the Communications Decency Act violates the First Amendment to the United States Constitution.
June 29, 1613: London's Globe Theatre, constructed by William Shakespeare's playing company, burns down. A second Globe was built by 1614, so all's well that ends well.
A Tale of Two Generations:
June 29, 1975: Steve Wozniak tests his first prototype of the Apple I computer.
June 29, 2007: Apple Inc. releases the iPhone.
June 29, 1900: French poet, pilot, and author of The Little Prince, Antoine de Saint-Exupéry, born.
June 29, 1920: American animator and producer Ray Harryhausen born.
June 30, 1937: The world's first emergency telephone number, 999, is introduced in London.
July 1, 1874: The Sholes and Glidden typewriter (aka Remington No. 1), the first commercially successful typewriter, goes on sale.
July 1, 1881: The world's first international telephone call is made between St. Stephen, New Brunswick, Canada, and Calais, Maine, United States.
July 1, 1963: ZIP codes are introduced for United States mail.
July 1, 1979: Sony introduces the Walkman.
July 1, 1869: American author and educator, and co-author of The Elements of Style, William Strunk Jr. born.
What caught your eye this week?