"If you do your job right, with print communication, you're creating something that somebody is going to keep forever," said Brittany Hodak, Co-Founder of The Superfan Company. "You think of how much digital clutter exists in peoples' lives, they aren't going back and rewatching something that they streamed on YouTube several years ago. But if you do your job right in print, whether it's making something promotional or something that is going to be bought by a consumer, they might keep it forever."
Based in Nashville, Hodak and business partner Kim Kaupe launched The Superfan Company (originally called ZinePak until a recent name change) seven and a half years ago to, Hodak said, "fulfill my dream of making cool collectible stuff for superfans." And she says that as a superfan herself—of Kiss and Rocky IV in particular ("I've definitely seen Rocky IV well over a hundred times"). She has spent her entire career connected to music and entertainment in some way, starting with her first job at age 16 as a radio station mascot. "That was my illustrious beginning into the world of entertainment," she said. Later gigs included stints at a record company and an ad agency, and her interactions with "superfans"—of music, of movies, of sports teams—inspired what would become her life's work.
"My favorite part of being around live entertainment is that fan interaction and seeing that moment when somebody is watching their very favorite band play live for the first time, hearing their favorite song, sharing that with people around them, and getting to meet that artists they love for the first time," she said. "So when I was looking for a career, I said I want to help as many of those moments happen as often as I can."
Hodak recognized that, for most fans, those kinds of moments are few and far between—if they ever happen at all. "I realized that as great as it is to be in those moments, only a small percentage of fans are getting to see their favorite people and they're only getting to do it a small percentage of the time," she said. "So I started looking for ways to develop things to get that experience as close to being with that person you love as possible without them actually having to be there. That's what led me to start creating these memorable fan packages."
And thus was born ZinePak (a portmanteau word combining "magazine" and "package"), an entertainment company that specializes in elaborate collectible items for superfans: coffee table books, deluxe packages for albums and DVDs, subscription magazines, fan boxes, metal commemorative tickets, limited edition tour books—"basically anything you can think of that's going to get a fan closer to an artist they love," Hodak said.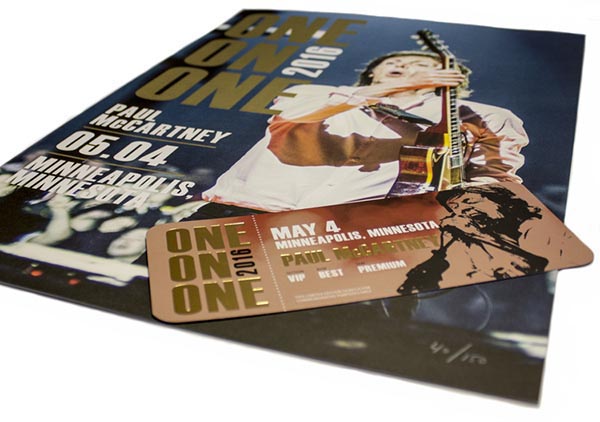 The Superfan Company created a foil-stamped commemorative ticket and a hand-numbered lithograph print poster as limited-edition keepsakes for Paul McCartney's VIP packages on his most recent tour.
A recent project that Hodak is especially proud of comprised a deluxe coffee table book for country artist Tracy Lawrence to complement his 2017 album Good Ole Days. The album itself contained reworkings of many of his hits from the 1990s and the reflective nature of the record lent itself to a tie-in project. "[Lawrence] wanted to create something that encapsulated his 'good ole days,' that told the story of not only his career but also his life, starting from the time he was three years old and fell in love with Glen Campbell, leading up to present day," she said. Working with Lawrence, The Superfan Company created an elaborate coffee table book that includes commentary from Lawrence and the other musicians who played on the album, the album itself, and more than a dozen replica inserts recreating memorabilia from throughout his career, such as his first album cover, the first backstage pass he ever had for a tour, his first tour poster, childhood photos, and so on. "It's just this really, really cool experience to sit down with it in your lap as a fan and go on this journey with Tracy," said Hodak.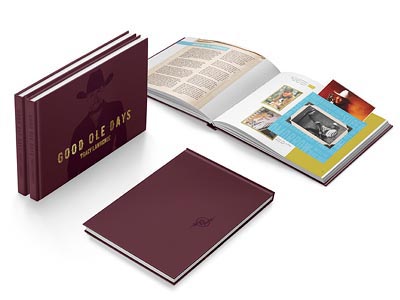 The Superfan Company created a 48-page coffee table book that provides a unique and extremely personal look at Tracy Lawrence's career from the iconic singer's perspective, including his thoughts about how the Good Ole Days album came to be. The book includes various inserts throughout the pages, including the Good Ole Days album itself.
"There are people who want to know every single thing about an artist or a sports team that they love, so that's always our goal, to take an artist who's done 20,000 interviews in their life and try to get them to talk about things they haven't talked about before or try to present a fan piece for them in a new way that's unexpected," said Hodak. "So it's a really fun challenge."
The Superfan Company works on 50 to 75 different projects a year with nearly as many artists. "We're taking several new products to market every single quarter, but on the same day we might be wanting one thing for A$AP Rocky fans and another thing for Dolly Parton fans," said Hodak. "So even though the demographics are very different, the psychographics are very similar in that it's those people who want to feel as close to that artist as possible."
Every project The Superfan Company works on is different, but there are some common denominators. They're usually content-based ("there's always an editorial story and exclusive content that we're putting into the pieces that we make," said Hodak) and the vast majority of what the company is doing is print-based. In an age where music and other entertainment consumption is increasingly digital—and often ephemeral—do artists and their fans even want physical products? Is there any pushback when The Superfan Company pitches a project idea?
Hodak said that there are times when clients express a "why print?" attitude, and she's the first to admit that sometimes they're right. "It all depends what demographic you're trying to reach and what it is that you're trying to accomplish." For example, Hodak knows that The Superfan Company's projects are not for the casual fan. "If I look at all of the music that I listen to, for 80% of it, I'm probably totally fine never seeing that band live, never buying a physical record or CD, and never owning a T shirt because I'm just a casual fan," she said. "But for that other 20% of bands that I really like, I do want to own something, I do want to go to a concert, I do want to wear a T shirt, and I do want to have a coffee table book telling me about them because I'm a bigger than average fan."
The Superfan Company stresses to clients that the idea behind its projects is not necessarily mass marketing, or trying to reach as many people as possible. This goes for artists as well as the more conventional brands that The Superfan Company works with, like Kellogg or American Express. "Not everyone is going to be a superfan of your brand, but for the people who are, you should be trying to super-serve them because the more you can bring them into your story and make your brand story part of their story, the more returns you're going to see not only from them, but also all the other people that they invite into your brand story," said Hodak.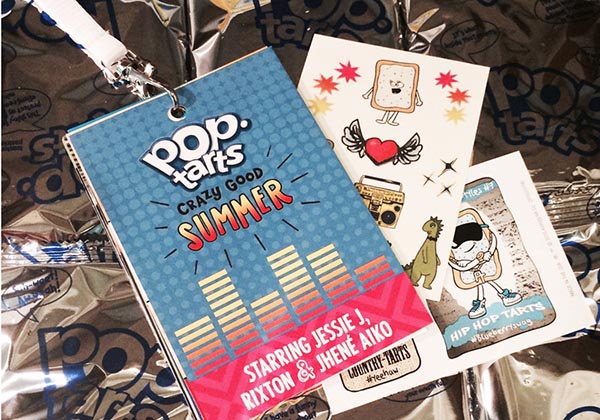 The Superfan Company worked with Kellogg to create the Pop-Tarts Crazy Good Summer All Access Pass: an in-store promotion item given away free with the purchase of a box of Pop-Tarts in Walmart stores. The Pass integrated with the Crazy Good Summer campaign by including exclusive content from artists Jessie J, Jhené Aiko, and Rixton.
Part of The Superfan Company's own brand story includes a 2014 appearance on ABC-TV's Shark Tank, a reality program in which budding entrepreneurs pitch their business to a panel of potential investors ("sharks") who then decide whether or not to invest in the business. Although The Superfan Company was already a successful business when approached by the show's producers, Hodak and co-founder Kim Kaupe decided to swim with the sharks. ("We recognized that as much as we loved being a self-funded company, at some point every company's journey becomes about being able to scale and grow quickly," Hodak told Inc. magazine in 2015. "When the show contacted us, we thought maybe the stars were aligned, because who better than a shark to understand a business that's all about superfans?") The company ended up securing $750,000 from the sharks. (You can watch their pitch here.)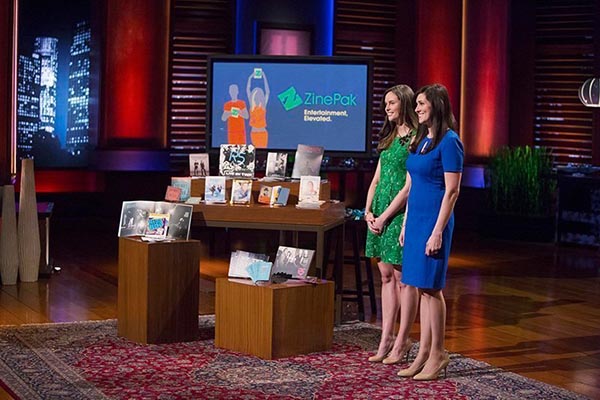 The Superfan Company's founders Kim Kaupe (left) and Brittany Hodak appeared on ABC-TV's Shark Tank.
A more relaxed environment awaits Hodak this in Chicago on October 1, when she delivers a presentation in the Learning Experience Theater on the show floor at PRINT 18. After all, the business—and it's a very successful business—is firmly based on the use of print communication.
"To be able to pull somebody in and have them physically, tangibly touch something and feel like they're a part of the story—it's very hard to do that when somebody is just watching something on a screen," she said. "It's creating something that's going to be a part of someone's home and a part of their life. They've got it on a shelf, they can go back to it, they can touch it, they can show it to a friend, they can hold it in their hand. I think that's a very cool and important part about print communication."
"It's connecting your brand to your audience in a way that you can't do with a radio ad," she added. "You can't do it with a TV ad, and you can't do with a digital ad. That's why I think print is so powerful when used correctly." It's using print to create unique, memorable experiences for superfans to get that much closer to their idols.
"As both someone who spends a couple million dollars a year creating printed stuff and a consumer of print, I find it very inspiring and exciting that hundreds and hundreds of years into the print medium, people are still finding ways to innovate and use technology to do super-cool things," she said. "The fact that you can add something new to an existing medium and continue to make it feel innovative and fresh is a testament to the power of print and that's why I think people who make predictions about print communication going away entirely are completely wrong."
Like print as a medium, Hodak intends for The Superfan Company's products to endure.
"I want my legacy to be that, 75 years from now, there are tens of thousands of people who still have The Superfan Company stuff in their attic or basement because, as they were cleaning out their parents' house, they found something and said, 'Wow, this is too cool to get rid of. I'm going to keep this.' That's how we judge our success in a world where so much stuff is digital. We want to make things that not only are physical, but are things that people just can't bring themselves to part with.
"That's the mark that we've done our jobs the right way."