Keep Calm and...zzzzzzzz
Have trouble de-stressing? Can't sleep? Many people avail themselves of the meditation app Calm. And now, for those with even more persistent insomnia, a new addition may be just what the doctor ordered. Via The Verge:
Meditation app Calm provides what it calls "bedtime stories for grown-ups" (an eclectic mix of lullabies, fairy tales, and short stories in audiobook form). But it's now added highlights from the GDPR [General Data Protection Regulation] legislation to its roster, narrated aloud by former BBC radio announcer Peter Jefferson, who is famous in the UK for his readings of the Shipping Forecast — a nightly maritime weather report that's cherished by non-maritime listeners for its repetitive and ritual qualities.
Not the entire legislation, but a good, drowse-inducing half-hour chunk of it.
Vintage NSA Posters—Burn After Reading
Workplace posters have likely been around as long as there have been workplaces, and would it surprise you to know that even the National Security Agency (NSA) had posters of their own? A site called Government Attic "provides electronic copies of thousands of interesting Federal Government documents obtained under the Freedom of Information Act. Fascinating historical documents, reports on items in the news, oddities and fun stuff and government bloopers, they're all here. Think of browsing this site as rummaging through the Government's Attic." (We may have found Dr. Joe's retirement destination.)
Anyway, Government Attic has obtained copies of some NSA workplace posters from the 1950s, 60s, and 70s—basically, reminders not to talk about classified material in public, don't leave sensitive documents where they can be found, and so forth. They offer an interesting look at some of the design tropes of the era—and some are just downright creepy. They have been compiled into a (very big) PDF file. Be sure to delete it after reading.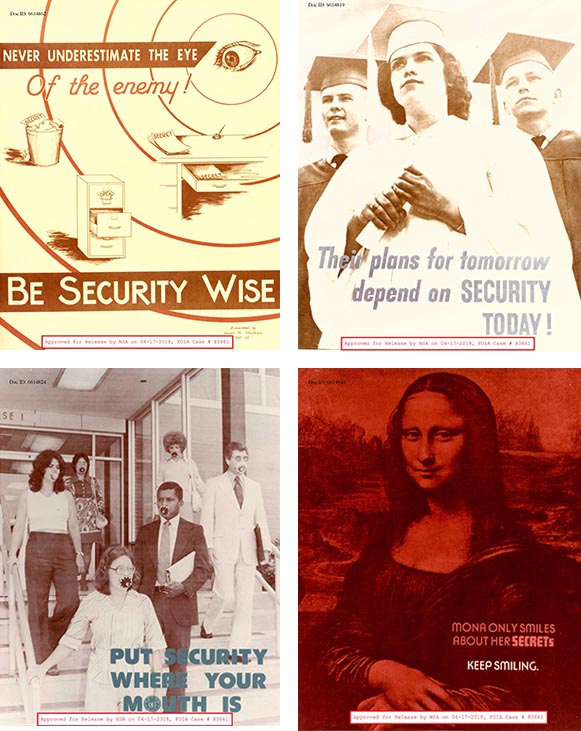 As we know, though, not everyone at the NSA heeded these signs.
If you like them, check out TechDirt's NSA Collection (we kid you not) which, in partnership with Teespring, offers 24 of these posters (with more coming) printed on a T shirt.
Will It Sell Like...You Know…?
Do you like pancakes? Do you wish you could 3D print pancakes in different shapes? From Boing Boing:
PancakeBot 3D prints (somewhat) edible griddlecakes from your own design, or from a library of present options like the Eiffel Tower or a T. rex.
The main drawback seems to be that the batter must be made deliberately thin like crepe batter so it won't clog the printer line.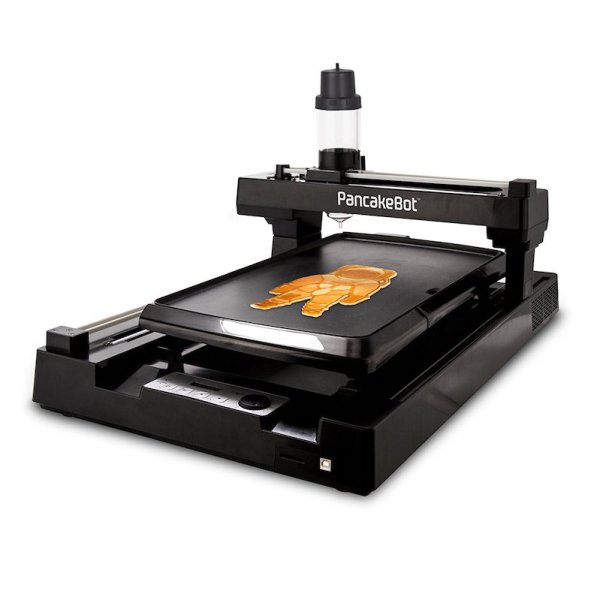 The PancakeBot 3D is a steal at $300 on Amazon.
Just think what Massivit could do with something like this—breakfast would never be the same again.
New AR Features Coming to iOS
The Apple Worldwide Developers conference took place this week, and you have no doubt read elsewhere what new features are coming to the next iPhone. Apple has been betting big on Augmented Reality (AR) and Gizmodo has a good roundup of the new AR features coming to the next iOS.
Some of the highlights? A new file format for AR (because we need more formats), Apple's own tape measuring app, integration with news articles, and a partnership with Lego.
Hemp Black: A Sustainable Approach to Intelligent Textiles
Hemp—not the kind you smoke—is a sustainable material with a host of performance properties. Professor Mark Sunderland of Thomas Jefferson University and others are working on taking its use a step further by carbonizing a hemp bioproduct to unlock a host of advanced technologies that have the potential to revolutionize performance fabrics. This video is a good starting point to understand its potential:
The Time Has Come to Talk of Many Things
Well, actually, not shoes and ships, just sealing wax. Remember all those Victorian novels in which a character would write a letter and seal it with a glob of melted wax into which he would stamp his signet ring? The advent of adhesive envelopes made this obsolete—as if writing a letter weren't—but believe it or not sealing wax and signet rings still exist. A 2015 story from Bloomberg told of a resurgence of interest in signet rings, and more recently, we learned that you can even buy a sealing wax kit ($12 at Amazon; signet ring sold separately).
In this age of adding 3D and digital enhancements to printed mail, maybe this is the next big things in finishing and mailing.
Mary Meeker Roulette—First Spin
For the next few installments of Around the Web, we'll be playing "Mary Meeker Roulette"—randomly picking a slide out of the 294 in Mary Meeker's latest Internet Trends Report. Round and round she goes… Our first spin lands on Slide 169: "On-Demand Work Basics + Benefits." Basically, this looks at the so-called "gig" economy (folks who decide to work for Uber, etc.).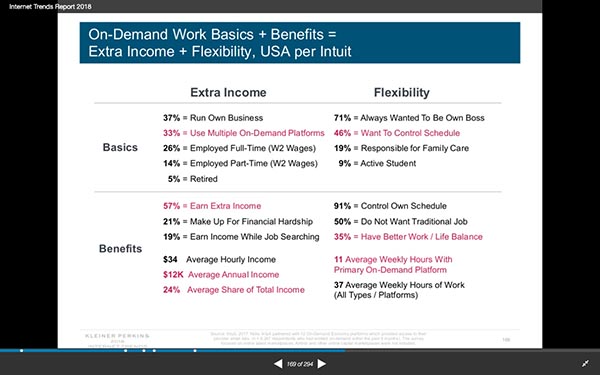 These "on-demand jobs" appeal to workers who want extra income and flexibility, and/or have underutilized skills. There does seem to be rather a disconnect between the benefits "control own schedule" (91% of on-demand workers) and "have better work/life balance" (only 35%).
Mermaid to Order
Speaking of on-demand jobs, the Tampa Bay Times reports an explosion in a new kind of service sector job in the Sunshine State: professional mermaid.
All over the state there are now scores of women — and a few men — who regularly pull on prosthetic tails and pretend to be those mythical creatures made popular by Hans Christian Anderson and Walt Disney. Some do it for fun, but quite a few are diving into it as a business, charging by the hour to appear at everything from birthday parties to political events.
"This mermaid industry has just skyrocketed. It's crazy," said Eric Ducharme, aka "the Mertailor," whose Crystal River-based business is making high-quality tails. "I don't know if it's a fad, or if it's here to stay."
"The mermaid industry has just skyrocketed" is a quote for the ages.
To judge how crazy the mermaid business is right now, consider this: Ducharme. a Lecanto native, sells his custom-designed tails for up to $5,000 each. He's working on 80 of them right now, each designed to match the customers' personal measurements.
"Half of those people who have purchased those tails are just hobbyists," he said. "It's a way for people to connect to a different world, but not in a weird type of sense."
No, not at all. We continue.
But for the rest, it's a business and they're all trying to make a splash. Their swimming may look leisurely, but they hustle for high-profile gigs. For instance when Tampa played host to the Republican National Convention in 2012, a party at the Florida Aquarium featured a school of mermaids cavorting in the fish tanks.
When "mermaid" gets its own NAICS code, we'll be impressed.
This Week in Printing, Publishing, and Media History
June 2, 1840: English novelist and poet Thomas Hardy is born.
June 2, 1896: Guglielmo Marconi applies for a patent for his "wireless telegraph." This was shortly before "wireless" became synonymous with "radio"...for a while.
June 4, 1917: The first Pulitzer Prizes are awarded. Laura E. Richards, Maude H. Elliott, and Florence Hall win the first Pulitzer for biography (for Julia Ward Howe); Jean Jules Jusserand wins the first Pulitzer for history for his work With Americans of Past and Present Days; and Herbert B. Swope receives the first Pulitzer for journalism for his work for the New York World.
June 4, 1907: American actress Rosalind Russell is born. Russell starred with Cary Grant in His Girl Friday, one of the best—and funniest—newspaper movies ever made.
June 7, 1975: Sony introduces the Betamax videocassette recorder. Alas, the "videotape war" of the late 70s and early 80s would result in VHS becoming the dominant format...for a while.
June 7, 1911: American engineer and designer Brooks Stevens was born, most famous for designing the Wienermobile. OK, not really printing-related, but come on: it's the Wienermobile.
June 8, 1949: George Orwell's Nineteen Eighty-Four is published, initially as fiction...for a while
June 8, 1916 – English biologist, biophysicist, neuroscientist, and Nobel Prize laureate Francis Crick is born. (Again, not strictly printing-related, but certain topics are just in our DNA.)
What caught your eye this week?