Computer to Plate
In what sounds like a feature on modern-day James Bond's car (or perhaps a solution without a real problem), California is introducing electronic license plates. Says Gizmodo:
A new pilot program for digital license plates has begun. The plates allow you to display custom messages, eliminate annoying registration stickers, and even have your location tracked at all times.
California has been working to launch a pilot program of the fancy new tags for years, and Sacramento has agreed to be the first city to test them out. The plates are essentially an e-ink display similar to a Kindle and when the car is in motion they look fairly standard. But a feature that's experimental, for now, will allow you to display a message when the car is stopped. The actual tag number will still be visible but it will shrink down into the upper right-hand corner.
On the one hand, it could potentially solve the problem that some states have of ne'er-do-wells who cut the registration stickers off other people's plates and stick them on unregistered cars (although New York simply has a registration sticker affixed inside the windshield). However, the idea of being able to display custom messages on your license plates is just asking for trouble. And, boy, who doesn't want to have their car tracked at all times?
Offset Shells
Hoisted from our own newsfeed, a kind of "direct-to-container" printing. Markem-Imaje has launched an inkjet printer designed to print on eggs. It can apply codes to more than 250,000 eggs per hour.
Codes printed directly onto eggs contain useful safety and traceability information such as best before dates and farm identification. Such coding fulfills a legal obligation in many countries and, even where not legally required, some producers choose to include this kind of information, sometime augmented by logos, as a way of differentiating their eggs as coming from a trustworthy source.
Printing on eggs is not entirely new, but printing directly on foods could be the next step away from needing to apply printed labels to things like produce.
Interestingly, the photo that was sent with the press release makes it look (at first glance anyway) that the eggs come preprinted straight out of the bird, which may open up the possibility someday of the development of an in-chicken imaging system. (Just be careful of the cluck charges.)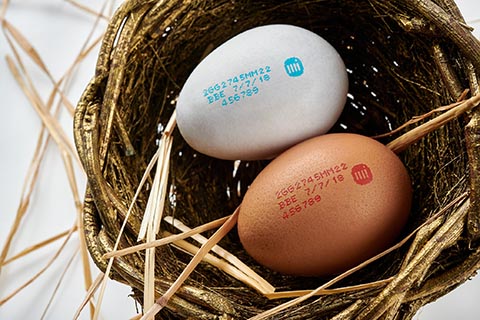 The First "Cyberattack"
Quick trivia question: when was the first "cyberattack" committed? Tom Standage—author of the excellent book The Victorian Internet among others—tells us (via Boing Boing) that the very first cyberattack took place almost 200 years ago.
France created a national mechanical telegraph system in the 1790s; in 1834, a pair of crooked bankers named François and Joseph Blanc launched the first cyberattack, poisoning the data that went over the system in order to get a trading advantage in the bond market.
…
His essay on the first cyberattack is an excellent Standage riff, combining the technical (the crooks exploited a bug in how the backspace characters were handled by the mechanical telegraph) with the economic and social, and revealing lessons from history that bear close reading today.
Plus ça change, plus c'est la même chose.
Mary Meeker Shall Inherit the Earth
Those of you who were kids in the 1970s and 80s may recall that one of the best days of the year was when the hotly anticipated Sears Catalog arrived in the mail, the "Wish Book" that spawned a thousand (or many more) Christmas lists. Well, the Sears Catalog is no more, but for those of us who follow media and technology trends, the arrival of Mary Meeker's annual Internet trends PowerPoint slide deck has the same impact. We have not been through it yet, but Recode has an advance peek. Some highlights:
2017 was the first year in which smartphone unit shipments didn't grow at all. As more of the world become smartphone owners, growth has been harder and harder to come by. The same goes for internet user growth, which rose 7 percent in 2017, down from 12 percent the year before. With more than half the world online, there are fewer people left to connect.
People, however, are still increasing the amount of time they spend online. U.S. adults spent 5.9 hours per day on digital media in 2017, up from 5.6 hours the year before. Some 3.3 of those hours were spent on mobile, which is responsible for overall growth in digital media consumption.
…
Voice-controlled products like Amazon Echo are taking off. The Echo's installed base in the U.S. grew from 20 million in the third quarter of 2017 to more than 30 million in the fourth quarter. ["Alexa, stop recording my conversations and sending them to my friends!" —Ed.]
E-commerce sales growth is continuing to accelerate. It grew 16 percent in the U.S. in 2017, up from 14 percent in 2016. Amazon is taking a bigger share of those sales at 28 percent last year. Conversely, physical retail sales are continuing to decline.
There are 294 slides, so it will take some time to sift through them all. Expect to see a few of them in Dr. Joe Webb's quarterly economic webinar on June 20.
Revolution 9
36 Days of Type is an annual crowdsourced design project where designers, illustrators and visual artists are invited "to share their view on the letters and numbers from our alphabet." Check out, for example, variations on the number 9. Some are even animated!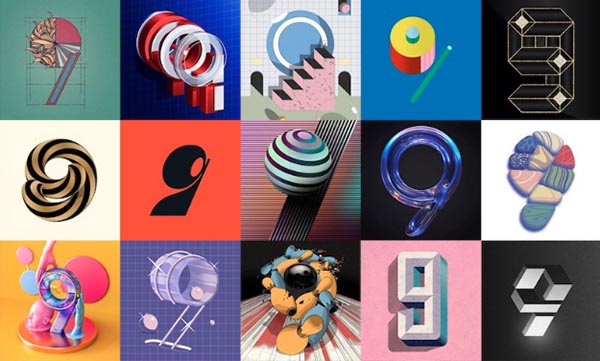 ANA Acquires DMA
The Association of National Advertisers (ANA) just announced that it is acquiring DMA—formerly the Direct Marketing Association and now the Data & Marketing Association. The collective membership in the merged organization will include 2,000 corporate enterprises representing 20,000 brands and engaging 150,000 industry professionals.DMA will become an ANA division to be headed by DMA CEO Tom Benton. This is ANA's fifth acquisition since 2014, signaling ongoing consolidation in the world of associations.
It appears unlikely that this acquisition will directly affect DMA chapters around the country other than perhaps to give the access to more resources. Printing and packaging companies should pay attention to these actions and their ultimate impact since most, if not all, of their customers are probably members of at least one of these associations. It's also a reminder of the importance of engaging in the activities of your local DMA chapter.
This Week in Print and Publishing History
May 29, 1886—Pharmacist John Pemberton, inventor of Coca-Cola, places the first advertisement for his product in The Atlanta Journal. It would not be the last.
May 30, 1631—The first French newspaper, Gazette de France, makes its début.
May 31, 1669—Samuel Pepys records the last event in his famous diary, due to failing eyesight. (Summer reading recommendation: Christopher Buckley's new historical comedy The Judge Hunter, featuring Samuel Pepys.)
May 31, 1790—The United States enacts the Copyright Act of 1790, the country's first copyright statute.
June 1, 1495—John Cor, a Scottish monk and servant at the court of James IV, records the first known batch of Scotch whisky. (Not really printing-related, although sometimes…)
June 1, 1890—The United States Census Bureau begins using Herman Hollerith's tabulating machine—the first "computer"—to count census results. They may still be using it.
June 1, 1980—Cable News Network (CNN) begins broadcasting. And thus begins the decline of newspaper circulation.
What caught your eye this week?