QR Codes continue to pop up in new places. Most recently, we can add Blue Diamond Growers' Nut Thins to the list. The back of the box prominently displays a yummy looking "nutty cheddar spread," served with Nut Thins, giving shoppers who might be unfamiliar with the gluten-free crackers a reason to test them out. A QR Code is prominently displayed underneath the picture, with the invitation for shoppers to scan the code to obtain the recipe.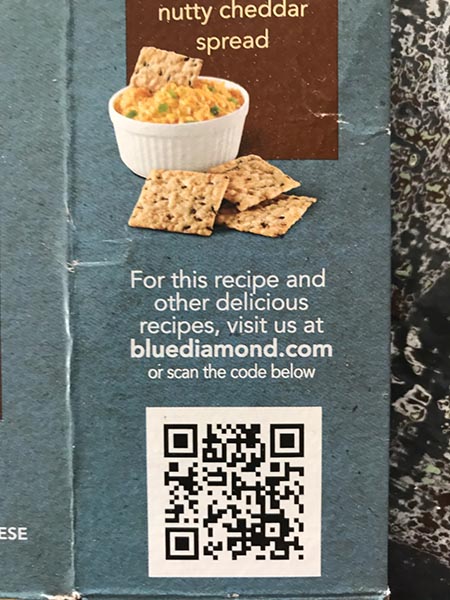 Here are two reasons this QR Code should, in fact, work fabulously:
This is a relevant use of QR Codes. Nut Thins are a specialty product, and the average consumer might not expect them to taste good or know what to do with them. Newcomers to gluten-free eating, in particular, might be looking for ways to use the crackers that they actually like. Offering shoppers recipe ideas is a smart strategy that gives shoppers a reason to give the crackers a try.
The QR Code is prominently displayed. Instead of hiding the code in a corner to prevent it from "messing up the design" (the result of which is that consumers could easily miss the code altogether, rendering it useless and giving the marketing team the excuse to say, "See? QR Codes don't work!"), this code is displayed prominently underneath the recipe. It is large enough to draw attention, and the call to action and value to the shopper are clear.
However, there is one (huge) reason that the implementation still fails:
The QR Code doesn't lead to the recipe. It does lead to an easily navigable mobile site that offers promotional information on almonds, a company history, information on other Nut Thin products that might not be carried on the shopper's local retail shelf, and a shopping cart. What it doesn't include, it seems, is the recipe that shoppers wanted in the first place.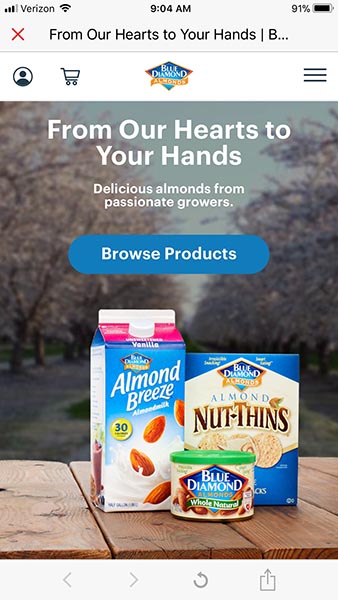 Thus, the QR Code delivers disappointment, not on its promise, but that is not the fault of the QR Code. It's the fault of a marketing team that didn't think through the customer experience.
When your client brings you a project with a QR Code on it, take the time to ask the question: "Have you scanned this code yourself? Have you made sure that it delivers on its promise?" It's a simple question, and one that could save your client embarrassment and missed opportunity.