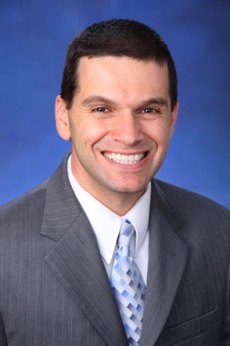 We recently learned EFI had appointed a new Inkjet Eastern Region Sales Manager, Gal Barak. In looking into his background, we found it interesting that he had spent the past five years at Stratasys, a manufacturer of 3D printing solutions. Since there seems to be more exodus from the world of 2D to 3D than the other way around, we were curious why Barak made this move.
"I actually spent more than a decade in the wide format business," he said. "My ability to understand customer needs and recommend solutions, helping them build a stronger business story, has made me successful over the years. I found the 3D environment to be totally different in many ways, in terms of the ability to build meaningful high-level relationships and have the kind of impact I wanted to be able to achieve."
Barak explained that in selling 3D, you are usually talking with the R&D department of large companies. The primary application these days is saving time and money building prototypes and samples. The ability to interact with C-level executives in these scenarios is limited, he says. "What I like about the wide format business is that you are dealing with the printing company owner, mostly in small to mid-sized businesses. You get to see all aspects of the business – cash flow, P&L, balance sheet – and to discuss business strategy with the owners. That enables insight into how a business could look in the coming years and to be able to influence the roadmap of those companies. While I enjoyed my time in 3D printing, getting back into wide format is rewarding for those reasons."
Barak points out that the term "3D printing" is a misnomer. "It's really not about printing," he says. "It's really a manufacturing process, additive manufacturing, replacing subtractive processes such as milling, lathes, etc., with the additive manufacturing process."
He also stated that in additive manufacturing, sales cycles can be years. "You are dealing with annual budgets, often with government funds being involved, and you really have less influence on the outcome of the process. Coming back into wide format, I was looking forward to the exciting dynamics of dealing with people that make the decisions, based on emotion combined with logic. I like being able to influence outcomes in these businesses in a more significant manner. And when I was competing with EFI, I always found them to be a leader when it comes to ongoing production, innovation and reliability of systems. So joining the company made sense for me." Barak has also been impressed by EFI's organic growth, but also its willingness to make strategic acquisitions to continue to expand its market reach. "The acquisition of Reggiani is a good example," he said. "They are clearly the leader in textile printing, and in addition to that acquisition, the company made a number of smaller acquisitions and signed on partners to build out a textile ecosystem with a complete workflow. I don't see anyone else doing that, and it makes the offering very exciting, especially for traditional textile manufacturers looking at adding digital to the mix." Barak explains that EFI has specialists in place, and is developing a sales channel as well, to better address fast fashion and other textile segments.
In terms of the future of 3D printing/additive manufacturing, Barak believes it could still be several years before the technology goes mainstream, beyond prototyping or small, one-off or very short run production. "As far as 3D printing entering the lives of ordinary individuals," he adds, "where you are routinely printing things in the home, it could be 20 years or more down the road. Today, additive manufacturing is mostly used in the airplane and auto industries, as well as electronics, medical, dental and others, but it is not yet mainstream. Rather, it is still a niche and is employed to improve the efficiency of making smaller parts, not in the core of the industry. Subtractive manufacturing, the traditional way of producing parts in large volumes, will continue to dominate for some time, and additive manufacturing still needs to deliver faster speeds, higher quality and lower costs."
There are, of course, some instances of 3D printing being incorporated into 2D printing businesses, but these stories are still in the minority. One example is Carisma Large Format in New York. We interviewed them at drupa 2016 about very unusual bus wraps created to promote Sony's Angry Birds movie with a blend of 2D and 3D.
Another example was a midwestern commercial printer who did a lot of business with Amish furniture makers, printing catalogs and other marketing materials. After acquiring a 3D printer to experiment with, the company had the idea of making models of the furniture for the furniture makers to use in their businesses. Walking through a furniture show with the model – which other furniture makers recognized as a specific artisan's work – attracted a great deal of attention and had the potential to start up a new line of business.
Although these instances are still relatively rare, there is opportunity that doesn't require years of a sales cycle – for the manufacturer or the printer – and has the ability to differentiate that printer in the market.
For more thoughts on this topic, check out my post-drupa 2016 article.