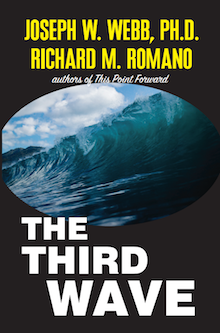 The Third Wave, the book that co-author Richard Romano and I have previewed in webinars this year, is now available at Amazon. Buy it at your own risk: if you believe the old industry common wisdom that persists despite realities of industry consolidation, the financial devastation in big publishing, the dismiss the rampage of retail e-commerce at rates 6x real GDP, then you might find this book hard to read. If you see the realities that the industry is different at its core, with new competitors, communicators who actively seek demonstrated near-real-time ROI, mainstream print products losing volume and share, growth in specialty applications tied to digital media, and that data is what drives communications decisions, then this book is for you. You'll get that, and more, in economic and strategic context and with an actionable future outlook. Just click on the link to Amazon.
But if you're planning to attend Print 17, you may not want to buy the book, but get the special and exclusive version available free to attendees at HP booth 613. That edition is quite different. First, it's in color. Second, it takes advantage of HP's Link Technology that transforms the book into a digital media experience, using covert link triggers, GPS, and traditional links. Link Technology allows easy connection to any media format that can be viewed on a smartphone or tablet. The book is available throughout the show – but special booksigning times are scheduled, usually at 4pm Monday through Wednesday. Download the LinkReader app to your smartphone from iTunes (iOS) or Google Play (Android), before you get the book so you can start exploring right away! (Hint: start with the cover).
This technology was demonstrated at last year's Graph Expo in Orlando with another co-authored book, UnSquaring the Wheel (that special version is no longer available, but the standard hardcover version of the book is available from RIT Press and Amazon). The technology was added to a pre-existing book, mainly in pages inserted by HP after the book was written. This time, however, Richard and I wrote Third Wave from its first keystroke with Link Technology in mind.
Richard also had the responsibility of the desktop publishing for the book, and there were some nuances that he had to consider in page layout and text flow. None of these were complicated. UnSquaring and Third Wave are the first books ever published to use this technology, with the latter being the first to take advantage of it throughout the body of the text. The Print 17 edition is the only one that has these features. The Amazon edition does not and is a plain black and white version.
Why Third Wave Was Needed
The need for the Third Wave was encouraged by the declines in industry shipments beginning in Fall 2016, accompanied by a digital media surge, and especially smartphone use. Now, that need seems greater. In the last six months, inflation-adjusted shipments are down -7.8%, with four of the lowest months of inflation-adjusted industry shipments since 1992, in that period. Yes, you just read that right: of about 300 months, 4 of the lowest have been in the first half of 2017. "Something" has radically changed.
When we wrote This Point Forward just three years ago, we had a sense that this shipment pattern might be in the cards. What we discussed there is still current, and the advice of abandoning "rear view mirror" planning is even more critical now. You can't plan a printing business' future with the old rules of thumb, old plans and budgets, old processes, and old common wisdom.
But we went even further back, all the way to Renewing the Printing Industry, first released in a limited manner in 2003, but then in paperback for the general industry in 2008. I read it cover-to-cover again. The book is still good, the advice is good, but the circumstances and competitors are different. The book is still available in paperback. Today's advice needs to be different from an implementation standpoint. It had to be: Renewing was written prior to social media and tablets and smartphones!Chapter 9 is devoted to the strategies around the communications process originally presented in Renewing and they are fresh again.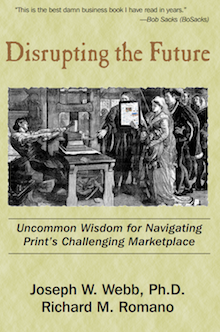 We also looked at Disrupting the Future, still available as a free download, probably our most important book, which was also translated into Japanese and Portuguese. It's possible it was downloaded more than 25,000 times. It was a popular giveaway by some of the industry's top vendors as well. Interestingly, Renewing and Disrupting developed a following in middle management, as that leadership level had to explain what was happening to their markets to top executives. My favorite story about Disrupting was when a US CEO told me he read Disrupting after the CEO of their China subsidiary insisted that he do so. The China CEO had read the PDF version that was passed along, likely by email. The PDF version also found its way into print quite often. Printing executives often stopped me at shows carrying bound books of Disrupting they produced in their plants for strategic planning meetings. We would get bulk orders for the book from printers who assigned it to their leadership teams and printed their own private copies.
Disrupting was important in its time as it dealt with the issues of new media competitors and integration of new media with print and print businesses. Third Wave had to deal with grander philosophical issues in terms of capital deployment and human resources. The idea of "communications logistics" was still relatively new when Disrupting was published and it's widely known under many different names now, especially among the digital printing businesses. Explaining that strategic change and how the communications market was changing was important in 2010, when Disrupting was released.
Now, the need is different. The printing companies that were not able to adapt to integrated communications strategies and the advances in digital media are mostly gone. The survivors are now faced with issues at the heart of entrepreneurship: the correct deployment of capital in anticipation of a stronger wave of technological change ahead.
The capital issue is relatively straightforward when you consider that printers would buy presses expecting them to last 20-25 years, and now they are buying digital equipment that will last less than 5 just from a practical technology perspective. Investments used to be discrete purchases years apart, and now they are smaller purchases closer together. That disparity means that the obsolescence risk inside a company is higher than ever, and it also ripples through to staffing, marketing, and also sales management.
In Third Wave, we explain that management has to be more active; describing it as pre-active, not just proactive, and that the industry needs to shed old common wisdom that discouraged alliances and outsourcing. Understanding that the technological risks are higher than ever means that reducing that risk requires different approaches. In my career, I have seen technology investment go from a means of minimizing risk to where it now increases risk.
That risk is not in the technology itself, it's in the selection of the right technologies at the right time with the right time horizon. Because equipment obsolescence risks are higher and their useful time horizons are shorter, the return of capital has to be sooner. That means there is less time for market development. So many of the industry's management "rules" can impair and not advance the success of individual companies in this new print marketplace. Third Wave explains these issues as the industry faces new stress points.
Another Third Wave Event with a Special Edition in October
There's another place to find a special color version of Third Wave. Xeikon will be featuring their own version of Third Wave for each attendee of their Xeikon Café North America, to be held October 17-18 in Itasca, Illinois. Their book also has a special foreword by someone named "Frank Romano" (perhaps you've heard of him?).
I will also present my industry assessment, discuss the Third Wave marketplace, and new business opportunities at this event. Register for the Xeikon event at its special site. The event will include time for private discussions and the signing of books.
Other Upcoming Events: Print 17 and the Next Webinar
The first day of Print 17, September 10, at 1:45pm, I will be interviewed at the Printerverse (booth number 4425) by Deborah Corn in a session playfully titled "Dr. Joe: Like It or Not." I am not being told the questions in advance. Like many phenomena in the Printerverse, anything can happen. If you can't be at Print 17, all of the events at the Printerverse will be streamed live.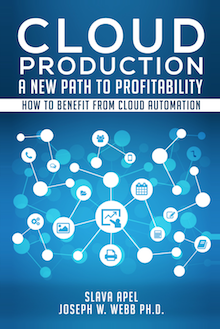 Third Wave is not the only book at Print 17. Cloud Production: A New Path to Profitability," which I have co-authored with technologist Slava Apel, will be produced live at Konica Minolta, booth number 2031, at certain times during the show. This has been a project that Slava and I, and others, have been developing for a few years. Cloud computing has been a critical technology in the use of smartphones to access public and private content, and its expansion into production and administrative functions is essential for numerous reasons. This book is focused on the graphic arts, for businesses of all sizes, but especially small and mid-size printers. Booksigning times are listed at the Konica Minolta Print 17 site.
On Monday at Print 17, a special panel discussion will be held at event booth number 3861 from 2:00pm-3:00pm about "Attracting the Right Young Talent." It is sponsored by the Print & Graphics Scholarship Foundation (PGSF) and will be moderated by retired CEO of Suttle-Straus, John Berthelsen, who now serves the industry as VP of Development for PGSF. I'm proud to have served in a workgroup to update the PGSF approach to high school and college students along with Dr. Erica Walker (Assistant Professor, Clemson University), and Gina Danner (CEO, NextPage), who will also be on the panel. Dr. Walker has a unique perspective to offer as a media practitioner and also an educator, especially about entrepreneurship in media. Joining us is Colby Kibbe, a previous PGSF scholarship recipient, who is now a Project Manager at EFI.
At Print 17, NPES is introducing a new product, PrintStats, which has been a collaboration of yours truly and the economics firm ExpliStats, under the guidance of NPES staff and members. It will be a valuable resource for NPES members. The official introduction is at a press conference on September 12.
The next WhatTheyThink Economics & Research Center webinar will be on Thursday, September 21, at 2pm Eastern US time. It will include a discussion of Print 17 as well as the usual economic situation.