Last week, Memjet invited a small group of industry journalists and analysts to its San Diego headquarters for a sneak peek at the company's next printhead/ink evolution – DuraLink, an aqueous pigment-based inkjet system, a new printhead and modules moves Memjet into a new playing field with a solution that delivers higher quality, more durable printed output. The company has already engaged with a number of OEM partners in the development process and is holding firm on its commitment to the OEM model. CEO Len Lauer forecasts that commercial print and packaging, including folding carton, labels and corrugated, will be the most important markets for this technology.
In our first article on Memjet technology in 2012, we found it was an interesting technology and a forward-thinking approach to high speed, low cost production inkjet. However, we also identified some shortcomings with Memjet's initial "Waterfall" implementation, which was preventing it from finding a wider OEM audience. Our coverage of the Memjet "Aspen" implementation in 2015, detailed which of the initial shortcomings were addressed. Most importantly, the company introduced a single head per color up to 5 colors, while the older technology combined the five ink channels on one head. However, even with that introduction there were still important issues that needed to be addressed. DuraLink promised to address the balance of those issues. "With DuraLink," Lauer states, "we have significantly increased printhead life (by a factor of 10X) and lowered ink prices. DuraLink can be configured up to 2.5 meters wide and delivers resolutions of up to 1600 x 1585 dpi. We look at this as a combination of invention and innovation built on a stable foundation." The system operation and integration is similar enough to VersaPass (the new branding for Memjet's original dye-based inkjet system) that OEMs should not have a very high learning curve.
In contrast to the Aspen (now VersaPass), where the ink heads are installed on blades, one for each of 5 colors in a single unit, DuraLink will be delivered to OEMs in a modular form. Memjet General Manager Eric Owen explains, "With the VersaPass model, we created a print engine that is designed to be integrated with a transport. However, we have found that this approach does not give the OEMs the creativity they want. Since DuraLink is completely modular, OEMs can take all modules, or only the ones they need, so they can build systems as they see fit." One advantage of this approach compared to the other head manufacturers, according to the Memjet team, is that others require development of everything around the head, while the Memjet approach does a lot of that work for the OEMs, resulting in faster time to market. The team estimates that OEMs will require 1-2 years to get a DuraLink product to market if they are working on a greenfield project, and nine to 12 months if they are simply replacing print heads on an existing press. See below for more details on the modular approach and the overall technology associated with DuraLink.
existing press. See below for more details on the modular approach and the overall technology associated with DuraLink.
Owen also stated that while the drop size in the new heads is 2.2 picoliters, compared to 1.2 picoliters for VersaPass, the dot gain is less as less ink is absorbed into the substrate as a result of the pigment based inks. The end result is actually a smaller dot size on the substrate, resulting in improved quality.
The key to DuraLink is the new MEMs head development. The new head unit is still centered around an 8.77" wide printhead design; however, that is one of the only similarities. This new head includes a newly designed bi-directional data pipeline which "provides high-speed, uncompressed, dot-level control of print data streams, from the RIP to the printheads for each color," as well as status information back to the controller. The new printhead design also replaces the suspended heater in the VersaPass with a bonded heater, which has a durable coating. This new design supports the pigment inks and also contributes to longer head life, ejection stability, and better print quality with improved drop placement accuracy and drop size consistency. The new pigment inks have a wide color gamut and "compare favorably" to GRACoL.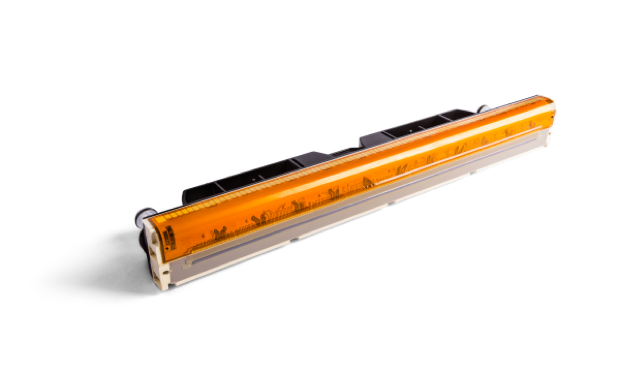 For easy access and replacement, the printhead easily installs in seconds into a printhead module that is paired with a maintenance module.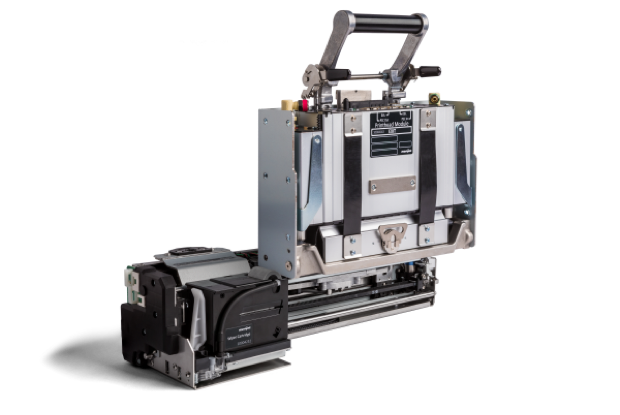 In addition to the new modular printhead design, Memjet has developed a set of optional DuraLink component modules that can provide a much faster and easier implementation for the OEM, as well as new APIs for integration with Digital Front Ends (DFEs).
DuraLink does support the use of inkjet treated papers, where it wasn't really required on applications with VersaPass, its dye based ink. "VersaPass continues to be very suitable for applications such as transactional print," Owen said, "where the cost advantage of non-treated substrates is a stronger driver than color gamut."
In terms of target markets, Memjet sees its sweet spot being mid-range presses selling sub-$1.5 million, rather than long-run, more expensive presses, and its primary competition as existing piezo alternatives. "We are not targeting high viscous inks or presses that burn 5,000 liters of ink a month or more at 1,000 feet per minute," Owen said. "Our target is environments consuming 400 to 4,000 liters of ink per month, sub-$1.5 million in capital cost. We believe this technology will be successful in operations looking for higher resolution, redundancy, fast time to market. We believe the disruption zone for inkjet presses are those selling in the $500,000 to $1.5 million range, and that is where we plan to play."
In looking ahead, Memjet will be focused on working with partners to develop coating deposition technologies, with the first targeted at coated offset papers, to expand the range of substrates the technology can address. In another unique approach, Lauer stated, "We are also investigating the possibility of deploying a two-head approach. This would consist of combining our heads with third-party piezo heads into a single system that could potentially also print white and metallics."
From a quality, cost and time to market perspective, DuraLink puts Memjet into an interesting space that promises to extend its reach to press manufacturers who have not been willing to work with the VersaPass technology for a variety of reasons. The team is aggressively working to bring OEM partners on board. In addition to the print engine modules Memjet will be providing to its partners, the company is also developing a range of business development support materials that will help partners more effectively sell the technology into the marketplace. Partners will be providing first level field support, with Memjet pitching in with second level support and above, as it has been doing with its VersaPass technology.
We believe this new introduction opens a lot of new market potential for both new and existing Memjet OEMs. Now that Memjet has addressed head life and stability, developed a pigment ink, maintained its high print speed and improved quality, the company has torn down a lot of the barriers that have prevented wider adoption of the technology. Tying the new package together with the new modular design provides the flexibility needed for OEMs to design and produce new production inkjet solutions that support the increasing need for mass customization.
Interested parties will be able to see the new Memjet DuraLink technology first-hand at the upcoming Print 17 trade show at McCormick Place in Chicago, scheduled for 10 to 14 September. In the interim, a DuraLink video can be viewed below.