The Heidelberg Group has a long and illustrious history in the printing industry that stretches back to 1936 when Heidelberger Druckmaschinen, AG first began manufacturing and selling printing presses. Today the company has offices around the world and sells a comprehensive line of prepress, printing and finishing products, including some of the most well respected printing presses and digital imaging equipment. Heidelberg USA is one of the company's largest divisions and is headquartered in Kennesaw, Georgia.

Niels Winther has been with Heidelberg for about 25 years. After graduating from EAC's Commercial School and the Merchant School in Copenhagen, he joined Heidelberg's office in New York -- the forerunner to Heidelberg USA. Thereafter he worked in Hong Kong, China, Singapore and Thailand with several positions in the U.S. in between, including sales, management, division manager and general manager. He says that things were very different then, with very conventional press operations and no digital interfacing. He also says he's had a very fulfilling career with Heidelberg spanning numerous changes in the industry, technological developments and the opportunity to work with many great professionals in this field.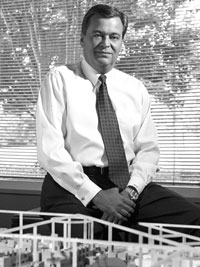 QUESTION: A few years ago you took the job as head of the USA division, one of the largest in the company. What were your priorities when you started this assignment?

Niels Winther: My primary goal has always been to serve our customers well, and it was no different when I took the job at Heidelberg USA. I've instilled in my colleagues that we should always arm our customers with the right tools to help them to succeed, and at this point in the evolution of the industry, that means providing digital solutions as well as traditional press, prepress and postpress operations.

We also organized our sales and support staff to maximize our commitment to the customer. HUS sales and service teams are dispatched from 10 locations throughout the country so that we are very convenient to our customers.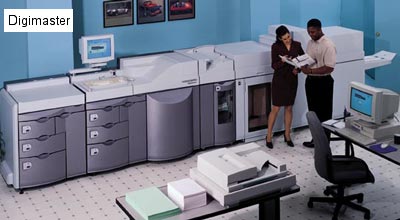 QUESTION: As we look at ON DEMAND, what is your feel of the term convergence when looking at mid- to large printers and digital equipment? Is the investment trend by larger printers accelerating?

Niels Winther: This is the ninth year we gathered at ON DEMAND as an industry to discuss the future of digital printing. Attendees heard a lot of opinions on this matter from many smart and reputable people and companies. The comments, demonstrations and information presented by Heidelberg throughout ON DEMAND were based on 150 years of listening and responding to our customers. Last year, we presented our vision for leadership in digital printing. This year we came to demonstrate how that vision has become a reality.

The expectations of innovation, quality, performance and profitability are something we work hard each day to maintain and grow. We have earned a reputation that goes beyond the clearly tangible benefits of our solutions. It's a standard that never compromises the precision, power and partnership that are essential components of our solutions.

As we celebrate three years of success in digital black and white printing and nearly a year of success in digital color, we just completed one of our most successful IPEX and On Demand shows to date. Digital proved to be top-of-mind for many printers – for example, we signed contracts for 20 NexPress 2100s at IPEX and six NexPress 2100s at On Demand. We also took many combined orders for conventional and digital equipment – proving that printers are looking for complementing equipment to meet the market's varied demands. It is clear that printers are beginning to embrace digital solutions.

A new chapter has begun in our heritage, and we are now charged with bringing the Heidelberg standard to the digital age. We're off to a strong start, with solutions that are in the market, running strong and producing profit. When we use the phrase "total digital solution," we mean it. We mean incorporating digital technologies to prepress, press and postpress processes, and enabling a totally integrated print shop.

Most importantly, our commitment to our customers goes far beyond the sale. We're proud to be recognized by our customers as number one in-after sales support. Service and support is one of the strongest demonstrations of the Heidelberg standard.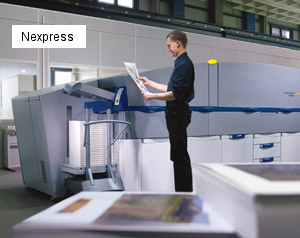 QUESTION: We must ask you about your view of the NexPress and the competitive products in this space. Efforts by HP Indigo, Xerox, MAN Roland and many more attempting to grab the market share for short run color have risen since IPEX and now ON DEMAND. Are you confident that your team can sustain the leading position here?

Niels Winther: Yes, Heidelberg is poised to continue to be successful in this industry, in both traditional printing and digital printing. Backed by hardware, software and brainware, we expect to continue serving customers with quality solutions for many years to come.


QUESTION: Earlier this year, the Association for Suppliers of Printing, Publishing and Converting Technologies published its 2002 GATF Technology Forecast. In that report, Regis J. Delmontagne, President, wrote, "We expect the total value of printing equipment shipments in 2001 to be 7.5 percent lower than in 2000." Has your company seen a recent downturn in demand? If so, how do you see the demand over the short-term?

Niels Winther: As the country seems to be coming out of its recession, we are beginning to see signs of improvement in the businesses that require printing services, and thus, the print media industry.


QUESTION: A recent study by CAP Ventures reported that users of Heidelberg's QuickMaster DI outperform the average printer in the marketplace in terms of profit. QuickMaster DI (QM DI) owners report, on average, a 45% gross profit margin, a lead of 15% over the 2001 PIA digital printing profit leaders and a 19% lead over the average of all PIA printers. What is it about the DI that makes it such a profitable press to operate?

Niels Winther: Many factors contribute to this profitability. Thirty-four percent of respondents to the survey claimed to have chosen the QM DI based on quality, and another 26% favored the press for its cost per sheet. The digital concept from the RIP to the platemaking on press and automatic adjustment of ink fountains allows for extremely short turn-around times of less than 10 minutes -- a fact that attracted 20 percent of current DI users. The QM DI allows printers to accept last-minute jobs and turn it around in a minimal amount of time. Clients of QM DI owners are very impressed with the quick turnaround, quality and price.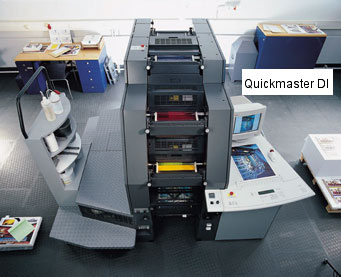 QUESTION: The company has a large brand share today, almost 56% overall according to a recent research study by CAP Ventures and this site. Looking ahead into the next few years, what methods or strategies will Heidelberg USA use to maintain or increase this percentage?

Niels Winther: We've gone beyond our NexPress customers' expectations, with high levels of uptime, helping customers profit from the use of the machine within days of installation – producing on-demand color printing, full variable-data printing and Web-enabled printing, to name a few.

Our Prinect technology is taking digital workflow beyond one machine to enable a totally networked print operation.

Inline and near-line finishing solutions are taking jobs beyond printed pages with speed and efficiency.

Emerging technology will take Heidelberg beyond the print shop to help all parties involved in the creation of printed media.


QUESTION: The company also rated very high in after-sale support in this same survey. Explain your support structure.

Niels Winther: Service is a concept that starts from the top. As stated earlier, I feel customer satisfaction is the number one key to success. Our company is organized so that one department is comprised of sub-departments including board repair, customer service, material sales/order analysts, purchasing/inventory control, warehouse/traffic, and warranty and repair exchange to best serve the customer.

We cross-train and combine our customer service and order analyst staff to enable us to help our customers more timely, efficiently, and effectively

We also take service calls 24-hours-a-day, 7-days-a-week. To ensure that we are available for our customers, someone is in the office from Monday at 7 a.m. through Saturday at 8 p.m. Customers can receive assistance from on-call staff from Saturday night until Monday morning.


QUESTION: RWE, a majority owner of Heidelberg and an energy company, has said they will divest of non-core holdings to focus on energy. Could you explain how this move might affect Heidelberg? Would they sell their shares to another equipment maker?

Niels Winther: At its annual accounts press conference in March 2002, RWE announced that it is planning to sell holdings that are not related to its core business by the end of 2003 at the latest. These include its shares in Heidelberger Druckmaschinen AG, Hochtief AG (construction industry) and the DEA/Shell joint venture (crude oil industry).

RWE embarked on a new corporate strategy approximately two years ago. As a utility company, RWE is now concentrating all its resources on power, water, gas and the environment. The company made it clear at the same time that Heidelberg is no longer part of RWE's core business and would be kept in the portfolio purely as a financial investment. The possibility that the shares would be sold in the future was stated at that time.

RWE took a step in this direction in May 2001, when it reduced its Heidelberg holdings from approximately 56 percent to just over 50 percent

Heidelberg plans to raise its free float, as has been our aim since we first floated our shares on the stock market in 1998. The RWE situation is a unique opportunity to achieve this goal. The final decision will be made and announced by RWE at the appropriate time.


Thank you Niels for taking time to share your thoughts with our members.