Business networking is an extremely valuable way to expand your knowledge, learn from the successes of others, obtain new clients, and inform others about your business. Last week (May 9-10), more than 200 of Xerox's top graphic communications customers, Xerox resellers, 22 business partners, and leading Xerox executives gathered in Barcelona, Spain for the annual Xerox Forum. Under the "Connecting Your Network" theme, Xerox customers and resellers used this event to focus on business growth opportunities in today's dynamic graphic communications market.
According to Andrew Copley, Xerox's President of Graphic Communications Solutions, "This forum enables our customers, executives, and industry experts to come together, share ideas, and discuss today's most viable business opportunities and trends. During the forum, our customers can interact with innovative colleagues and like-minded strategists that can help them move their businesses forward."
Innovating with R&D
In the opening keynote address, Xerox Chief Technology Officer Steve Hoover and PARC[1] CEO Tolga Kurtoglu discussed how technology will open a myriad of new opportunities and markets for the printing industry. Hoover kicked things off by highlighting customers' three critical demands:
A need for customized printing with the speed and affordability of analog technology.
Cross-media marketing tools that deliver personalization with closed-loop optimization.
Re-imagined devices with a better experience to integrate the digital and physical worlds, as well as digitally re-imagined workflows that drive higher productivity and personalization. Hoover cited a number of examples where the digital and physical worlds will merge, including intelligent assistants, augmented reality, service robots, drones, smart packaging, and connected/autonomous vehicles.
Xerox has a number of tools and strategies in place to support its customers on this technology journey, including:
Support for workflow automation
Its high-speed inkjet portfolio comprised of Rialto, Brenva, and Trivor
The recent introduction of high-fusion inks that enable offset-like quality on low-cost media
Cross-media solutions for delivering complex custom applications like personalized catalogs
An array of digital packaging solutions, including the iGen automated folding carton line, Direct-to-Object printing, and the Xerox Production Press for Plastic Films & Substrates (can be used before thermoforming for applications like clamshells and lids)
Business development consulting services and training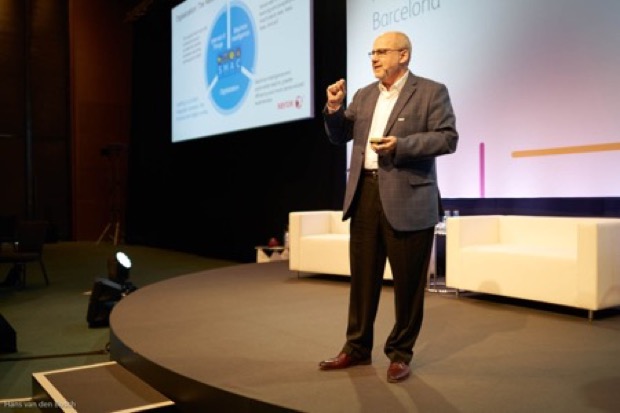 Steve Hoover Talks About Xerox Investments in R&D
PARC is clearly taking the digital printing market even further. Kurtoglu discussed some printing advancements that go far beyond traditional paper. He talked about functional printing advancements that bring additional functionality to what is produced. Application examples of functional printing include printed electronics and RFID. These technologies are being used in Xerox SmartTags, including:
Temperature sensor tags that monitor the temperature of sensitive materials in transit
Capacity sensor tags that monitor dispensation of pharmaceutical liquids
Switch sensor tags to prevent tampering
Kurtoglu challenged the audience to view the market and print technologies differently as they evaluate their future business direction. The future will include a combination of innovations in printing, analytics, communication, and manufacturing.
Inkjet Front and Center
Robert Stabler (Senior VP and General Manager of Xerox's Continuous Feed Business) and Paul Morgavi (Xerox's Chief Technology Officer of Inkjet and Novel Printing) shared their perspectives on the impact that inkjet is expected to have on the future of the printing industry.
According to Stabler, inkjet technology will transform the production processes of a number of applications, including:
Transaction documents: Inkjet will drive costs out of bills and statements with a white paper workflow while fostering relationships with enhanced communications.
Direct mail: Inkjet opens up the opportunity for highly personalized communications that deliver ROI. White paper workflow provides a cost-effective way to customize.
Books and brochures: Inkjet is making true on demand printing a reality for publications. Organizations will move to just-in-time manufacturing for books and brochures. The printer will become a virtual document warehouse that produces only what is needed in extremely short runs.
Catalogs: Inkjet will transform catalogs into cost-effective personalized marketing vehicles. The ability to take a personalized approach will enable each catalog deliver more revenue potential.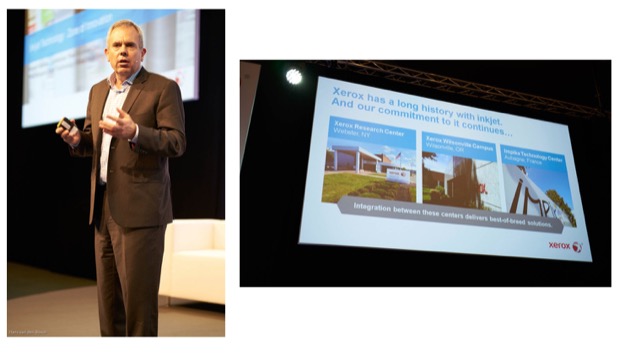 Robert Stabler Discusses the Transformation of Inkjet Technology
Paul Morgavi told the audience that inkjet is a logical complement to existing print organizations. Electrophotographic technology is still the right choice for short-run, quick-turn work, and it is pushing the boundaries with special effect capabilities and broad media support. Although electrophotographic is the right option for low-volume personalization, offset is still the right choice for high-volume static work. Inkjet fits in the middle of these two technologies. It is the cost and productivity champion for high-volume personalized print with good quality and an ever-increasing number of media choices. According to Morgavi, Xerox's product line (including the Rialto, Brenva, Impika, and Trivor devices) delivers high levels of innovation, flexibility, scalability, and reliability to meet current and future needs. Morgavi emphasized the importance of Xerox's recently introduced High Fusion Inks with their ability to deliver offset-like print quality on low-cost offset stocks with no treatments or coatings required. This broad product line can be integrated with Xerox XMPie for integrated marketing campaigns and Xerox Freeflow workflow for automated production.
A Focus on Applications
The Xerox Premier Partners Congress audience had the opportunity to hear from a customer panel on how to implement cross-media catalogs with an application called a "Smartalog." The session featured executives from Cyrillus, DataOne, Naos Publishing, and Nuukik. Cyrillus is a premium brand that has been designing and selling its own apparel and accessory collections since 1977. It has €100 million in turnover and operates in France, Germany, Switzerland, Belgium, and Luxembourg. Naos Publishing has expertise in text and image data management and handles layout, versioning, translation, and image retouching for thousands of pages every year. Nuukik has data expertise and works to develop APIs that customize offers based on consumers' past purchasing behaviors for online and offline channels. Nuukik and NAOS teamed up to build a customized catalog application that was produced on a Xerox Trivor with High Fusion Inks, delivering a higher conversion rate and sales rates in relation to static versions. The simple message was that the custom catalog market is real.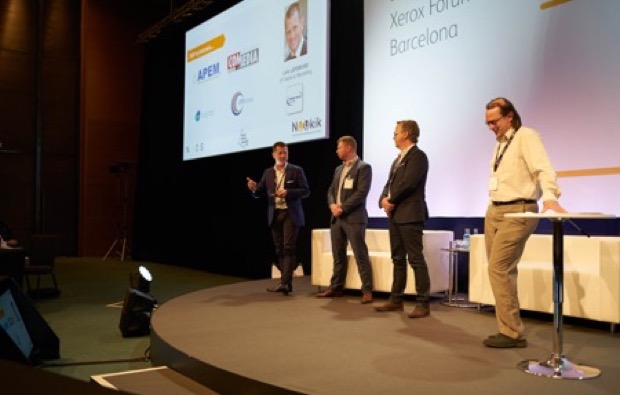 Executive Panel Shares Information on "Smartalogs"
As a new addition to the forum this year, there were customer site visits to Barcelona-based print providers Maculart and Novoprint. Maculart attendees learned more about the company's specialization in scented packaging, while Novoprint attendees saw how the company is using innovative digital applications to complement its offset portfolio.
There were also multiple breakout seminar tracks led by Premier Partners and industry experts, where attendees could choose from a variety of business and application topics that were of greatest interest to them.
Barb Pellow Discusses Industry 4.0
Barb Pellow, a Group Director at Keypoint Intelligence/InfoTrends, also talked about the next major industrial revolution during the event. According to Pellow, there have been three major industrial revolutions to date, triggered by:
The introduction of the commercial steam engine in the 1700s
The harnessing of electricity and mass production at the beginning of the 20th Century
The introduction of the computer after World War II
Pellow believes that we are now at the forefront of a fourth industrial revolution driven by interconnected digital technology—Industry 4.0. This term refers to the combination of several major innovations in digital technology, all coming to maturity simultaneously and poised to transform a number of critical manufacturing sectors. The printing industry is no exception.
According to Pellow, service providers that hope to participate in Industry 4.0 must invest in the right digital equipment and software infrastructure. It is vital to focus on high-growth application areas and build a digital culture where innovation and experimentation are encouraged.
Regardless of the Session, the Message Was Consistent!
The 2017 Premier Partner Conference included a number of great sessions and the messaging was consistent throughout. In today's digital world, it's all about "Connecting Your Network." This has multiple meanings across the printing industry. Service providers must "connect" their digital and traditional print equipment with good workflow solutions to streamline and automate operations. Print service providers must "connect" with customers and prospects to ensure they are investing in the critical software and equipment technologies to meet their current and future business needs. Finally, it is essential to help clients "connect" with their customers through data-driven campaigns that incorporate personalized digital and print communications to deliver ROI. Today's technologies clearly require providers of all sizes to make the right connections across all aspects of their businesses.
[1] Formerly known as Xerox PARC, PARC is the Palo Alto Research Center in the high-tech area of California that has become known as Silicon Valley. Research areas at PARC include the physical, social, and computer sciences.