On a recent visit to Belgium, I joined about 40 of my closest media and analyst friends at an Esko press briefing scheduled in conjunction with the company's Flexo Innovation Day customer event. The star of the show, and winner of the 2017 Red Dot Award, was the company's CDI Crystal 5080 XPS flexo platemaking solution, unveiled at drupa 2016.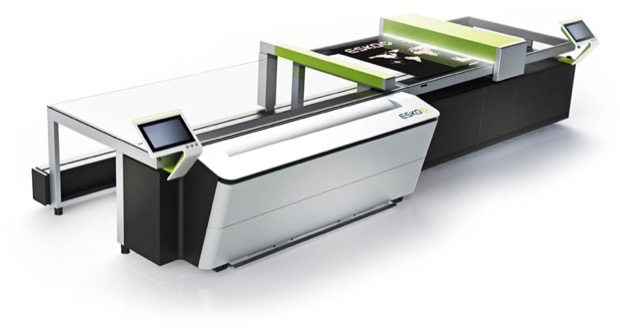 From an industrial design perspective, this flexo platemaking system is a thing of beauty. Part of the award decision process, though, was also about its functionality. Esko says, and I tend to agree, that this system will revolutionize flexo platemaking. The CDI Crystal 5080 is a new digital flexo plate imager, based on the current CDI technology. The XPS Crystal 5080 combines UV main and back exposure in a single exposure device. Instead of sending a flexo plate through up to seven manual steps, this system significantly reduces the need for handling of – and thus damage to – the flexo plate. Although Esko doesn't make a point of this, it makes me think back to the days of prepress service bureaus in commercial print, and wonder if it will have the same effect on repro houses in today's flexo supply chain … making it easier for converters to bring platemaking in-house. There are already 20 of these in the field.
The other interesting thing for me was Esko's presentation of how the Danaher Product Identification Division, of which Esko is a part, plays across the packaging supply chain. This includes Esko, X-Rite Pantone, VideoJet, Laetus, and soon, AVT. It was the first time I had heard them articulate a coherent strategic view of the end-to-end offerings from this group. It's pretty impressive. Danaher PID has 8,000 employees in 50 countries.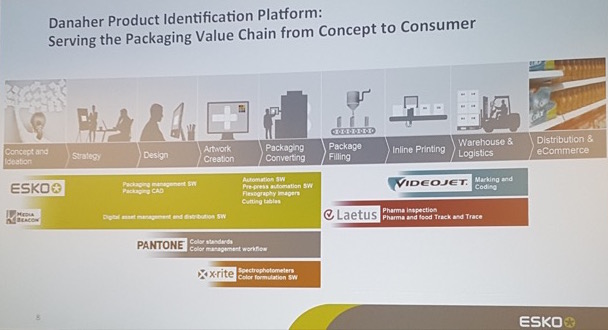 Esko's theme is Packaging Simplified, launched at drupa, and the company believes that 90% of all packaging has been touched by one of the Esko solutions in some way, and that the company's solutions do simplify the packaging production process.
One aspect of the presentations was Esko's assertion that fixed color palette printing is finally happening and beginning to gain critical mass. Sometimes referred to as Extended Color Gamut printing, this is the process of creating more than 90% of the Pantone colors using a fixed palette of seven colors of ink (or toner), generally CMYK/OGV. Esko mentioned that an ink company is even starting to get aggressive on promoting this strategy, although they declined to say which one. For ink companies, this means selling less spot color ink, but for converters (and by extension, brand owners), it means minimal or no change-over times between jobs, less waste, shorter cycle times, and the ability to gang or combine multiple jobs into a single run. This translates to significant improvements in productivity. I'm hoping to be able to speak to a couple companies soon who have made this shift, so stay tuned. Esko reported one customer example of a converter in the UK that produced 42 packaging jobs in just 24 hours with fixed palette printing.
Esko also pointed out that in the U.S., 2018 will see demand for new nutrition labels on food products. This will be a massive task for brand owners, who will need to change all of their packaging. Esko touted Artwork Studio and WebCenter as two elements of a streamlined workflow that features dynamic content allowing the linking of an artwork file in Adobe Illustrator to an XML file in WebCenter, thus reducing, or even eliminating, the need for manual cut and paste to replace nutrition panels in a packaging design, reducing human touches by as much as 50%.
The company also announced pre-configured workflows for labels. This is based on Esko's vast experience in helping customers configure label workflows, but also on the understanding that smaller label converters may not have the resources or need to implement the entire suite of Esko products. With pre-configured workflows, only the elements required for most label workflows are included, and the company states a new workflow can be up and running in as little as three days, making it easier and more affordable for label converters of all sizes to take advantage of workflow automation. Workflows can, of course, be upgraded as needed, and the company indicated it is likely to be offering pre-configured workflows for other areas of the packaging segment as well. On a humorous note, these pre-configured workflows were described as "code so fresh it is flaming hot."
Enfocus Pitstop is also now available inside of the Esko Software Platform, and there is automated color preflight that reports which color space is most appropriate for a particular print job, helping with estimating.
Esko's acquisition of Media Beacon also brought the company a digital asset management solution, which we assume will be integrated into the overall workflow soon, based on what we have seen from Esko in the past. This would fill one of the few gaps in the integrated workflow for Packaging Simplified.
This integrated end-to-end workflow addresses a broad range of brand owner needs, making it easier for them to connect the packaging supply chain, communicating more efficiently with suppliers, streamlining approval processes, monitoring job status, etc. Esko president Udo Panenka told me, "There is so much non-value-add communication going on. If you have to coordinate a project to bring a product to market, this includes getting the label right, making sure the secondary packaging is accurate, working through the in-store displays, understanding the most efficient design for palletization and seeing how products will look on the shelf. If you can do that all from within one interface, and you don't have to make calls to 20 different countries, it makes for a much more efficient process and faster time to market."
Esko is also interested in making sure its solutions are open to adding value by incorporating solutions from partners. Panenka added, "We need to be open to leading industry players. We hope to see going forward more concepts like BOBST REVO, a group of industry experts that came together based on the desire to make flexo print attractive in a short-run environment. This helps set standards that will benefit the industry as a whole."
I plan on attending the BOBST REVO event in July to get a clearer picture of how this is working out for the industry, and the partners in the collaboration. I'm sure I will learn as much there as I did at the Esko event, and look forward to sharing it with our readers.