As one eXpert Row columnist wrote recently - "first movers" usually pay a hefty price. Xeikon is a pioneer of digital printing technology but struggled from the start to gain enough market-share to turn a profit. Operating losses mounted and Xeikon NV filed for bankruptcy late last year. As a testament of their technology, several leading companies placed bids to be the new owner. Punch International eventually acquired the activities of Xeikon

We reported last week that Xeikon will concentrate on the development of the web fed digital color printing systems or DCP systems. The sheet fed CSP system has been put on hold. The cooperation with former OEM partners like MAN Roland and IBM have been reinstated. Punch executives say with this renewed strategic focus, Xeikon will "reach break even in 2002."

For Xeikon, the new ownership by Punch is another step on a long and winding road for this digital printing pioneer. Paul Peyrebrune, President of Xeikon America leads this effort in the very important North American marketplace. He joined Xeikon America in 1997 as President and has over 30 years of experience in the graphic arts industry. Peyrebrune previously held positions in management, sales and service for MAN Roland and KBA.

With more clarity now, Peyrebrune gives WhatTheyThink.com the first look at the "New Xeikon."




QUESTION: Paul, in April Punch International acquired Xeikon NV, and by extension, Xeikon America. Bring us up to date on the details of the acquisition.

Paul Peyrebrune: On April 12, Punch International signed the final agreement to take over the digital color printing assets of Xeikon NV, including the activities of Xeikon America. These assets include the name "Xeikon", the toner factory in Heultje, the production facility in Mortsel and all Intellectual Property Rights and other intangible assets. In Belgium, Xeikon International NV restarted the activities with about 220 employees of the old Xeikon. In the US, Xeikon America has continued to operate normally over the past months and we will continue to do so.


QUESTION: Tell us more about the parent company, Punch International.

Paul Peyrebrune: Punch is an international corporation headquartered in Belgium and founded in 1982. Punch International is a public company, listed on Euronext. They specialize in the production and assembly of hi-tech electronic components and systems. Their customer base includes Philips, Sony, Panasonic and Agfa-Gevaert.

The Professional Electronics Division of Punch primarily concentrates on graphical solutions and includes Strobbe Graphics, the world leader in Computer to Plate systems for the newspaper market. Xeikon will be part of the Professional Electronics Division and will consolidate into a graphic business unit with Strobbe Graphics.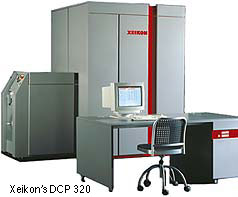 QUESTION: What about Xeikon is most interesting to Punch and what do they bring to the table in this relationship?

Paul Peyrebrune: Punch International is a growing and profitable company. The company has doubled in size over the past two years and has been researching additional acquisitions in the graphic business. As I mentioned, Punch recently acquired Strobbe Graphics and the addition of Xeikon further strengthens their graphics business unit. Xeikon is still the leading supplier of production digital color printing solutions with over 2,200 systems installed worldwide.

Punch is providing the financial support and long-term commitment to continue developing our unique digital color printing solutions. Punch's competence in high-tech manufacturing will help Xeikon to continue to improve system design, productivity and competitiveness.


QUESTION: At IPEX, Xeikon announced its plans to concentrate on the development and sales of the web fed digital printing color systems, named DCP systems. The plans for sheet fed CSP systems have been put on hold. Tell us more about this decision, the reasons behind it and how it will benefit the company.

Paul Peyrebrune: The CSP 320 D was first demonstrated in the US at On Demand 2000. The product had some unique benefits such as One-Pass Duplex and substrate flexibility and was enthusiastically received by the market. Sales took off, but some problems showed up at the first installations in Europe and further shipments had to be postponed.

These issues were resolved, but in the meantime the market for mid-volume, cut-sheet systems had become crowded with competitive products. It was, therefore, decided that the resources, both technical and marketing, that would have been required to successfully launch the CSP, can be better used to continue to improve our web-fed presses which have been responsible for Xeikon's leadership position in digital color printing.


QUESTION: So to be clear - will you continue to have Xeikon branded equipment and will you expand your distribution channels?

Paul Peyrebrune: Xeikon America will sell the Xeikon-branded presses in North America. In the US we will sell direct through our own sales force. However, we are also looking at partners to open up specific niche markets for Xeikon.


QUESTION: In the past, Xeikon has provided print engines for a number of other companies, including Agfa. Who are the vendors that have renewed their relations with Xeikon and will you seek other partners?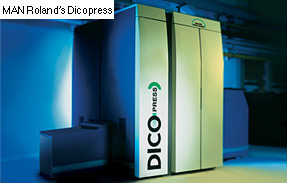 Paul Peyrebrune: The partnerships with the former OEM's MAN Roland and IBM have already been renewed. MAN Roland will continue to sell the DICOpress and DICOpack products and IBM the InfoPrint Color 130. Xeikon is open to look at other partnerships for specific target markets.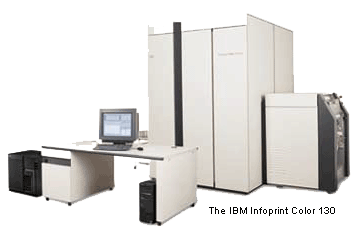 QUESTION: Where will the company's R&D take place and what will be the focus in the short-term--lower consumable costs or new engine design?

Paul Peyrebrune: R&D for the digital color presses will continue to be located in Belgium. In fact, mid 2002 Xeikon International will move to its new, state-of-the-art headquarters in Lier, Belgium, about 4 miles from the current headquarters. Xeikon's R&D efforts will be intensified in order to secure the company's technological leadership.

R&D will be concentrated on increasing the productivity of the presses, by increasing uptime and lifetime of usage parts and by making the press more service friendly. In addition, a main focus will continue to be the reduction of the cost per page and making print quality more stable.


QUESTION: Tell us about Xeikon America's current customers. How many are there and how will the change in ownership affect them?

Paul Peyrebrune: Xeikon America has a strong and successful user base. We can't be specific about the number of users, but I can tell you that each Xeikon press produced an average monthly volume of 195,000 pages in 2001. 30% of these pages contain variable information, which is more than the industry average. We are pleased with these results and encouraged to continue to work on increasing volume and profitability with our users.

Our direct service and supplies strategy will be complemented by "dynamic discounting". Users can benefit from discounts on consumables of up to 30%, depending on the consumption history. We will also continue to support Xeikon user's group, the Xeikon Digital Printing Association. Just like Xeikon, Punch places a large emphasis on the customer.


QUESTION: How does Xeikon stack up next to Xerox, HP/Indigo and Heidelberg?

Paul Peyrebrune: These are certainly three competitors to reckon with. However, printers love the Xeikon presses because of the unique large format (20" wide), which allows them to print point-of-purchase signage, book covers, posters and signatures. Another benefit is the One-Pass Duplex technology, which is crucial in matching variable information front-to-back.

The Xerox iGen3 or NexPress do not offer these key Xeikon features. In addition, Xeikon's cost per page is still the lowest in the industry and nobody beats our speed of 138 PPM. Of course, the entry of Heidelberg, and recently HP, will help Xeikon in promoting the benefits of digital printing and variable data printing.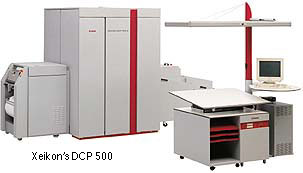 QUESTION: Obviously, many changes have been made just in the last few weeks with your product line and even a new owner. What did you show at ON DEMAND?

Paul Peyrebrune: We showcased the DCP 500 D, our 20" wide press, and the DCP 320 Dx, our entry-level press. They produced an integrated marketing campaign for a travel company, featuring personalized postcards and direct mail and versioned posters. We also had an application gallery which demonstrated successful real-world digital print applications for point-of-purchase signs, books-on-demand and personalized 1:1 marketing.