Key takeaways:
When hiring new talent, you need to communicate your value proposition in a compelling and differentiated manner.
The most successful firms lay out a clear job description and profile the key hiring criteria that they are seeking in a salesperson. We are also seeing a greater emphasis on "dry runs," where prospective employees' skills are put to the test before the hiring occurs.
A good sales onboarding process should be a development program that lasts 30, 60, 90, or even 120 days.
Although compensation will always be a component of retention, salespeople need to know that their employer is investing in their development and recognizing their accomplishments.
Introduction
Every print service provider knows that hiring the best salespeople is critical to long-term success, but most still manage their staffing processes and resources by quickly filling vacant positions with candidates who appear to have the appropriate skills based on past history. They don't take the time to clearly identify the talent requirements for a particular sales position or consider how these requirements may have evolved in today's increasingly digital environment. This can result in a failure to onboard high-quality recruits that will fit into the organization's culture and provide the talents and skills required to drive future business opportunities.
When addressing their staffing needs, today's graphic communication firms are confronted with three unique challenges:
A technological shift in which hiring must focus on highly skilled knowledge workers with strong business acumen
Acknowledging the difficulty of attracting talent to a perceived "non-glamour" industry in an improving economy
Understanding that retention rates for highly qualified technical and selling staff are often low
Since so many firms in the graphic communication industry are following outdated staffing practices, they are ill-suited to meet today's new challenges. This can negatively impact a company's bottom line in a big way. It's a new year, and it's time to get it right!
Key Considerations for 2017
InfoTrends recently completed a study entitled Best Practices of High-Performance Print Sales Organizations that surveyed 250 U.S. print service providers. One focus of the study was how organizations identify, recruit, and retain the best sales talent. Finding and hiring the best sales talent requires business owners to focus on a number of tactics that that range from promoting an organization to potential sales hires to strategies for assessing and selecting the best reps to hire. Here is a summary of key considerations to guide owners in their efforts to build the right sales force.
1. Demonstrate that your organization is a progressive, high-caliber firm
We've all heard about how brutal the competition for top sales talent can be. Salespeople want to be sold on the benefits of working for your company. They need to understand how your company can help them win, the features and benefits of what they're selling, and the culture of the company that they are working for. When hiring new talent, you need to communicate your value proposition in a compelling and differentiated manner.
A large print service provider with 218 employees that participated in an in-depth interview as part of InfoTrends' research study succinctly summarized the importance of attracting reps to its company, "Hiring is a big problem for the industry. We decided that the best way to find great people was to build a company that great reps would want to work for. We can do more under our roof than almost any other company, and our in-house agency handles branding and data analytics. Reps now call us because they know how good we are and realize that they can make more money here."
A key step in marketing your firm to prospective sales employees is to evaluate your website. Most prospective salespeople will start with your website when seeking information about your company, so make sure that your site delivers! Does your website articulate the things that make working at your company truly unique? Does it showcase the key products, services, and solutions that your firm offers to attract customers and generate new business opportunities? If your website doesn't do these things, it should!
There are a number of great examples of how industry-leading firms are depicting their businesses as exciting and dynamic places to work. For example, Think Patented (Dayton, OH) uses its website to position itself as a partner to its customers in marketing execution.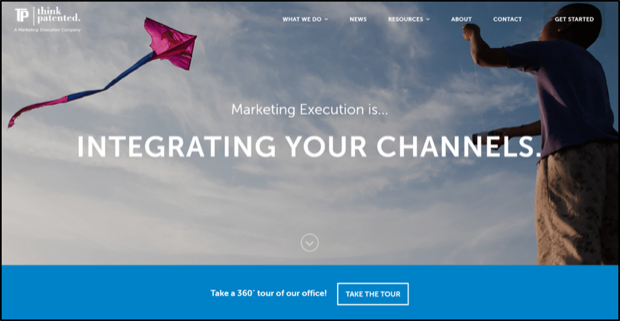 Think Patented's Website Depicts Innovation and Opportunity
The Website also shares how the firm has transitioned itself from a traditional printer into a partner that can support marketing initiatives across a broad platform (Figure 2). It also showcases the firm's fundamental values, including its passion for innovation and the importance of creating a team-oriented environment. Think Patented uses its website to position itself as a positive, exciting, customer-focused work environment for prospective employees. Images of staff members are used to support this message.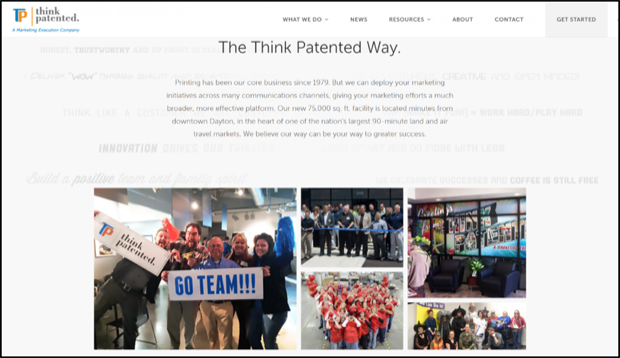 Think Patented's Website Highlights Its Values, Transformation, and Culture
2. Referrals are a key way to find excellent job candidates
In a recent study, Jobvite highlighted the following compelling reasons to leverage employee referrals as a primary source for recruiting:
The average employee has 150 contacts on social media networks. If you have 100 employees, this generates about 15,000 contacts—and possible candidates!
Employee referrals have the highest applicant to hire conversion rate. Although only 7% of applicants are referred by employees, referrals account for 40% of all hires.
Applicants hired from referrals begin their positions sooner than applicants that are found via job boards and career sites (after 29 days compared to 39 days via job boards and 55 via career sites).
Referral hires have greater job satisfaction and stay with companies for a longer duration.
Salespeople are the most hired position from employee referrals.
67% of employers and recruiters said the recruiting process was shorter with referrals, and 51% said it was less expensive.
Similarly, InfoTrends' survey respondents indicated that referrals were the most common and effective mechanism for recruiting sales staff. More than 65% of respondents indicated that they used employee referrals to onboard new reps, and referrals also topped the list in terms of recruiting effectiveness.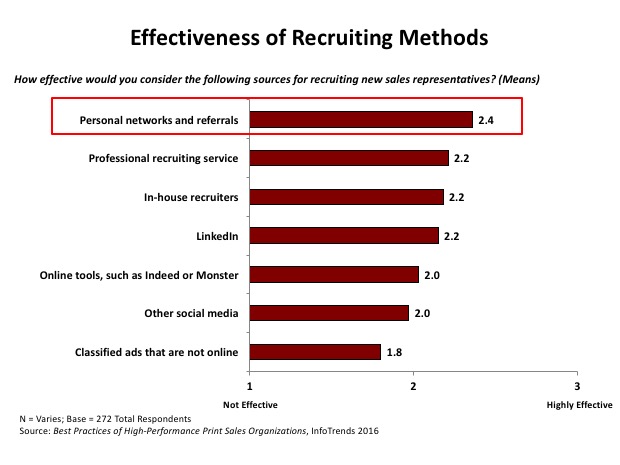 How effective would you consider the following sources for recruiting new sales reps? (Means)
3. Making a bad hire is expensive; high-performance organizations define candidate qualifications/ characteristics, develop clear job descriptions, and test/validate skills
The wrong hiring decision can be incredibly expensive, as it can result in significant financial losses from lost bids, dissatisfied clients, a damaged reputation, salary/benefits payouts, time lost on training, workplace morale issues, and the expense of unemployment compensation.
Given the downsides of a bad hire, it is important to realistically define the requirements of the position and the characteristics that are required by the new hire. InfoTrends' survey participants indicated that they were seeking individuals with good communications skills, high confidence, past selling experience, and good business acumen. Respondents from firms reporting double-digit growth said that the ability to use and understand technology was critical in the overall job candidate evaluation process.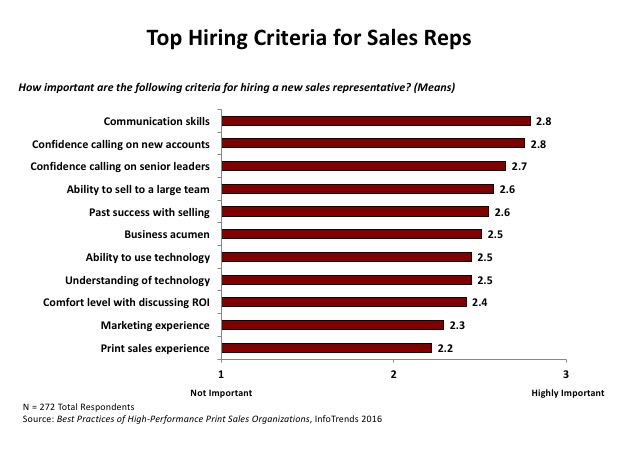 How important are the following criteria for hiring a new sales representative? (Means)
The most successful firms lay out a clear job description and profile the key hiring criteria that they are seeking in a salesperson. Interviews are still a staple for print service providers when hiring sales staff, and there are often multiple interviews conducted by different team members of the hiring company. Some companies will expand the screening process to include personality tests in addition to reference checks to help ensure that they hire the right person.
We are also seeing a greater emphasis on something that could be categorized as a "dry run," where prospective employees' skills are put to the test before the hiring occurs. There are a number of ways for savvy service providers to test prospects' skills:
Internships: Colleges of all sizes have internship programs in place. By taking on a college intern, you can see them in action for an extended period of time to understand cultural fit, work ethic, attitude, skill set, and selling aptitude.
Role Playing:A rapid succession of tough (or weird) objections can be a great way to test how a candidate might handle edge cases.
A 2- or 3-Day Trial: Ask a potential salesperson to spend a day shadowing one of your reps. Creating a controlled environment where potential hires speak to real prospects can be a great way to test time to productivity.
Homework Assignments:Senior sales hires must be able to deal with more complex sales and have strategic consultant-type skills. Some organizations ask their interviewees to lay out a 30-/60-/90-day plan for how they would approach their new role in the company, which makes it easier to test their visioning, conceptual thinking, and presentation skills.
Testing potential job candidates proved to be a successful strategy for a14-employee company with $2.3 million in sales that InfoTrends interviewed for its study on high-performance sales organizations. According to that participant, "Job candidates who are interviewing for sales positions are asked to come in and work for a day or two. I get to see them in action, and the rest of my team can experience their attitude, work ethic, questioning ability, etc. on a firsthand basis. We rule out 70% of candidates at this stage. A 'working interview' process has helped us to select the best possible candidates."
4. Successful firms have a well-defined onboarding process for new sales hires
When it comes to onboarding new salespeople, some people think it's about filling out the correct paperwork when new hires first come in the door. Others will feed the new employee as much information as possible in a couple of days and then just throw them into the field. The problem with not having a well-defined onboarding process is that by the end of their first week, sales reps are often overwhelmed, underprepared, and simply not ready to successfully represent your product or service. A good sales onboarding process should be a development program that lasts 30, 60, 90, or even 120 days. During that time, new hires will become fully integrated into your organization by absorbing information in digestible pieces, mastering the tools they will need to produce the revenue you're expecting, and learning how to become a valued and contributing team member.
InfoTrends' survey respondents highlighted a number of ways to accelerate productivity during onboarding. The most common methods to onboard new sales reps included setting expectations, educating on corporate culture, shadowing experienced reps, and participating in an array of training activities.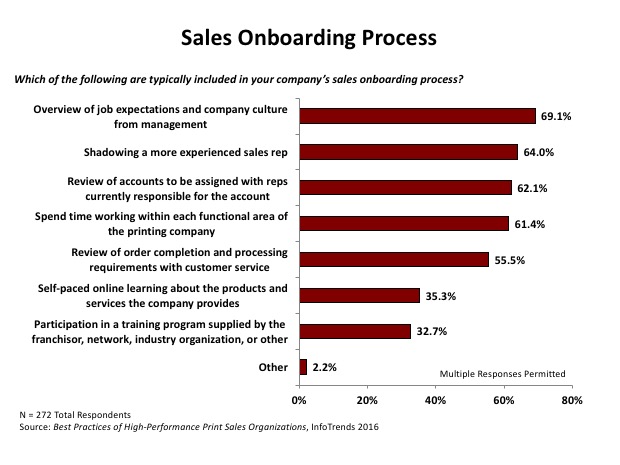 Which of the following are typically included in your sales onboarding process?
5. Employee retention efforts are as important as effective recruiting
Retaining a positive and motivated sales team is vital to an organization's success. High sales turnover increases expenses, reduces revenue, and has a negative effect on company morale. Implementing an employee retention program can keep key workers employed while maintaining job performance and productivity. Although compensation will always be a component of retention, salespeople need to know that their employer is investing in their development and recognizing their accomplishments. The most successful firms retain salespeople through ongoing recognition programs. It can be as simple as highlighting high performers at a sales meeting, but it might also involve rewarding a sales rep that closed a big deal with a "night on the town." Highly motivated salespeople will want to hone their skills, so managers must invest in their ability to sell more effectively while also helping them to develop a better understanding of markets and new/emerging technologies.
The Bottom Line: Hire Right the First Time!
Many business managers, particularly entrepreneurs and small business owners, don't have the best track record in terms of hiring sales talent. When you hire the right sales resource, you can see instant results and amazing things begin to happen. On the other hand, hiring a mediocre (or worse) salesperson can have you shelling out paycheck after paycheck with limited results. The key messages from InfoTrends' Best Practices of High-Performance Print Sales Organizations are as follows:
Successful sales organizations identify quality candidates
The individuals with the right competencies are the ones that are hired
Cultural fit and attitude matter to an organization's success!
Develop an effective onboarding technique and focus on talent retention