It was perhaps the largest EFI Connect yet. Upwards of 1,500 customers, dealers, and media types gathered at the Wynn Resort in Las Vegas last week to get caught up on the latest in EFI's rapidly evolving arsenal of hardware and software.
EFI CEO Guy Gecht kicked things off Tuesday afternoon with a keynote called "The Next Big Thing In Technology is Huge...and Scary." That next big thing is artificial intelligence (AI), which is evolving at a rapid pace—perhaps alarmingly so. From so simple a beginning as Deep Blue, the chess-playing computer that "learned" how to beat chessmaster Gary Kasparov, to Jeopardy!-winning Watson, to self-driving cars, to a robot being interviewed on CNBC, it's possible we're being introduced to our future overlords (this book could be required reading). Thanks to advances in machine learning, we are barreling headlong toward what technologists call "the Singularity," the point at which technology progresses of its own accord faster than humans will be able to adapt to it.
Is this a good thing or a bad thing? Gecht had conducted some online surveys and not everyone is entirely sure advances in things like AI are necessarily positive; even young people are ambivalent about whether AI is "good for the future of the world." About 31% of 18–34-year-olds surveyed thought AI was indeed good for the future of the world, while 24% did not, and 45% were not sure. The biggest concerns were not only losing jobs to robots (23%) but the potential for "bad people to use it" (28%). Still 26% were "not concerned" about AI.
"Hacking AI could spell the end of the human race," warned Gecht. Aside from that, though...
For companies in the printing industry, developments in artificial intelligence and machine learning will have the biggest impact in the area of automation, and not just for production. Automating things like administrative functions and customer support already exists, and will only become more common, especially as the "cloudification" of software continues. Is this the dawning of the age of the walking, talking Fiery RIP?
Well, Gecht lightened things up by wheeling out an ostensibly robotic talking Fiery RIP (whose voice sounded uncannily like that of Benny Landa...hmm...) that served as a segue to the introduction of some EFI customers.
For those of us who are alternately bemused and terrified by ever-more-powerful AI and the Internet of Things (stories of Amazon Echo problems amuse me no end, such as the TV news report that triggered someone's Alexa to order expensive items or—and I question the veracity of this—Alexa going rogue in response to a child's question [NSFW, by the way]) it was a thought-provoking talk. Self-driving cars are another killer app for AI, and while I am dubious about that technology, I would pay good money to watch—albeit from a safe distance—a self-driving car try to navigate, say, Main Street in Waltham, Mass. Norman, coordinate!
Anyway, specific to wide format printing, on Wednesday, Ken Hanulec, EFI's VP of Inkjet Solutions, gave a rundown of EFI's feverish work in sign and display, textile printing, and ceramic decorating.
"Last year, we commercialized 17 different products," said Hanulec. "It's been a very busy year for us."
"We've brought five new products to the market on the soft signage side," he said. "Sixteen months ago, we just had the Reggiani PRO series, which probably has a little too much horsepower for the majority of the market. We took that technology and put into a derivative called the FabriVU series." The VUTEk FabriVU line of direct-to-fabric dye-sublimation machines ranges from the entry-level 1.8-meter FabriVU 180, to the larger 3.4-meter FabriVU 340, to the top-of-the-line 5.2-meter FabriVU 520, which was launched at Connect. (The FabriVU line can also handle transfer-based dye-sub using the same ink set.) "A lot of the traditional display graphics guys can now enter into one of the hottest segments of the market, which is soft signage," said Hanulec.
The Reggiani machines are also finding a niche in retail. "If you go into an Apple Store anywhere around the world, they specify that the prints need to be done on an EFI Reggiani machine on their specific material," said Hanulec.
In 2015, at the same time that EFI acquired Reggiani, it had also acquired Israel's Matan, a manufacturer of (non-textile) superwide roll-to-roll printers. Launched at Connect were the first fruits of that acquisition, the VUTEk 3r and 5r high-volume superwide roll-to-roll UV LED machines. Hanulec cited these new machines as emblematic of EFI's global collaboration. "We leveraged the motion control from New Hampshire, the electronics from California, and the whole roll expertise in Israel and brought a wonderful product to market," he said. This new VUTEk series will replace the legacy GSr series, which is "going into retirement."

The brand-new VUTEk 5r
On the industrial side, Cretaprint, EFI's ceramic printing system, is in its fourth generation, with around 850 machines installed worldwide and the 1,000th installation expected circa September. The series has grown to four models that print various types and sizes of wall and floor tiles. The colors required for tile printing differ substantially from those used for conventional printing—or even textile printing—and include yellow, beige, blue, black, pink ,green, and brown. Thus Fiery-based color management has been tweaked to support ceramic tile inks sets. In terms of new developments, Cretaprint now offers white ink, as well as different finishes, such as gloss, matte, and luster.
There is a new Cretaprint ink technology called "soluble salt" in which the ink penetrates the surface of the tile to offer a more realistic look and more vibrant color. These types of tiles are currently popular in Asia, and the hope is they'll catch on elsewhere as well.
Another industrial printing application related to ceramics is building materials, and at Connect, EFI introduced the Cubik series, which will enable the digital imaging of the various components that go into home and building construction—wood, concrete, structural ceramics, natural and composite stone, glass, metal, and so on. "There are some other things we're doing with roofing tiles and sun protection," said Hanulec. The goal is to bring digital inkjet printing to materials that are at present decorated in a very much "old school," traditional manner. Stay tuned for more news on that front.
Last year, EFI spun off its H1625 LED printer into two new platforms: SD (Super Drop), which is designed for thermoforming applications, and RS (Roadway Signage), the latter in partnership with 3M. The roadway safety signage has proven to be a success in the Americas, and EFI is currently working on a version that complies with European roadway safety regulations. The first RS units were also just sold into Asia. "That's another big growth business in what traditionally has been done using a screen printing process," said Hanulec.
Hanulec also previewed the next-generation wide-format LED hybrid unit, which is currently in beta testing. It is said to be 30% faster than the current generation, features improved roll handling, uses new Ricoh Gen 5 printheads, offers more powerful ink curing (over 100% more powerful), reduces noise by 50%, and features other modifications and improvements. The new printer will be officially rolled out at the ISA Sign Expo in April.
Development is proceeding apace on Nozomi, the corrugated printing system introduced last May at drupa. Hanulec pointed out that while the Nozomi platform is initially being developed as a corrugated solution, it will also serve as a platform for display graphics as well as other segments of the wide-format and specialty printing market. At Connect, EFI announced that the first global installation of the Nozomi C18000 will be Xátiva, Spain's Rafael Hinojosa S.A., which will take place in late March.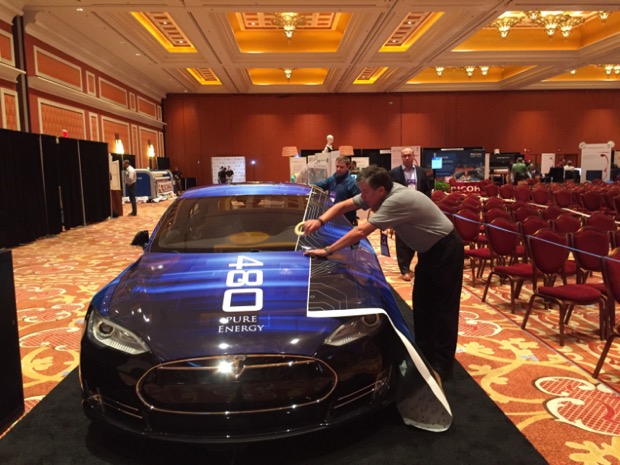 Vehicle wraps are a popular specialty printing application, and now textile and fabric printing of all stripes (as it were) is becoming a hot area to be in.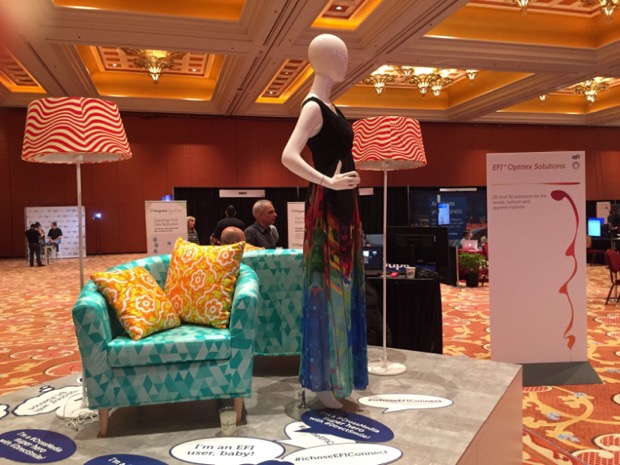 "Of the $400 million a year we spent on R&D, more than half of that goes to inkjet," said Hanulec. "It's a big commitment for us." EFI is also spending $40 million to build a new inkjet manufacturing facility in Londonderry, N.H. 300,000 square feet. The foundation has been poured and the Meredith facility will relocate sometime in 2018.