On a recent visit to Minneapolis, the WhatTheyThink team had the pleasure of visiting Thomson Reuters Core Publishing Solutions. As our readers may recall, we recently wrote about their unique approach to the market and were happy to be able to see the operation live.
Thomson Reuters has around 6,200 workers on its sprawling Eagan, Minn., campus, with 425 of those in its print and distribution operations. While Core Publishing Services (CPS) operates as an in-plant, about 20% of its business is in-sourced, primarily from companies who wish to take advantage of its extremely efficient monochrome printing operation. "Third-party work is really important to us to keep our plant running efficiently and in filling the peaks and valleys of our legal publishing work, filling open capacity," explains Tim Hughes, Director of Manufacturing Client Services. "It also gets us out into the industry, into great discussions that help us keep up with industry trends, learn what it takes to stay competitive from a price, service and quality standpoint. This interaction with the marketplace has been critical to our ongoing development and our ability to maintain the highest level of services, both internally and externally."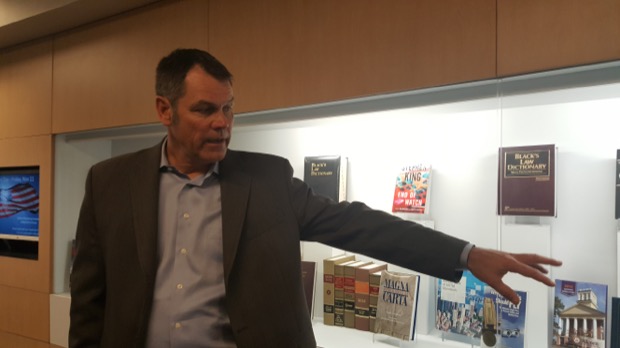 Todd Roth, Vice President at CPS
CPS has both digital and offset presses, including 10 web offset presses, a 29" Komroi sheetfed for producing covers, and a variety of toner and inkjet digital presses from HP, Canon, and Kodak, including one production inkjet press that consistently produces 4.5 million black & white pages per day. CPS is in the process of assessing to install an inline finishing solution that will also be able to punch, perf and slit, for automated creation of book blocks off its primary sheetfed inkjet line. All told, the CPS operation has more than 400 pieces of equipment with subscription, warehousing and order fulfillment capabilities. Larry Soler, Director of the company's prepress, press and digital departments, reports that as inkjet presses are brought in, they are typically replacing toner devices at the rate of three to one.
CPS set the record for the most plate changes in 24 hours on its workhorse Timsons presses at 420. We watched the press operator at work, and it was easy to see how they got to that level with their extreme efficiency. The organization produces an average of 1,500 plates per day to meet overall production needs. Interestingly, 90% of the book units CPS produces come from web offset, but 50% of its jobs are digital, reflecting the continuing decline in run lengths and growth in number of jobs. Soler indicates he sees a future for offset in the operation for years to come, but he is also taking advantage of digital to handle shorter runs and to streamline production of some of the organization's more complex applications. One application being investigated is what the company calls "pocket parts." These are small booklets with a cardstock backing that are inserted into pockets in legal books to provide updates to the volumes. "Digital could eliminate offline stitching and gathering of these important documents, and we are considering how best to do that," adds Steve Zweber, Director of Manufacturing & Distribution. About 10 million pocket parts are produced each year.
A good part of CPS's success lies in its implementation of lean manufacturing and continuous-improvement techniques. Short stand-up meetings are conducted by each team daily and managers conduct similar stand-up meetings with their supervisors to ensure excellent communication and alignment. Each work cell is equipped with a white (Tier) board where team members can track progress and make suggestions for improvement. All recommendations are considered, and team members receive recognition for their recommendations that are implemented and that deliver results for the organization. CPS has a Quality Decision Tree as a reminder of how quality issues need to be resolved with focus on process.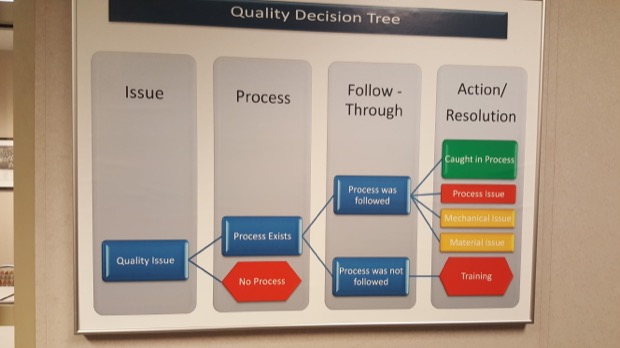 Quality Decision Tree
Todd Roth, Vice President at CPS, is a believer in building a strong, engaged and customer-focused culture that promotes teamwork and is focused on delivering a quality product profitably. He said, "It is important to understand your culture and move it along to help your business and your people. It is always an evolving thing. We have worked hard at that, going back 10 to 15 years, asking ourselves what our culture was like, what are the attributes we would like to see grow over time, and what can we do to facilitate that growth. Attributes we deemed important included an organization that is more customer focused. We also needed to be more innovative and collaborative across departments and shifts, and we wanted to focus on the development of standard work, sharing best practices for the good of all. That was hard, since we historically had a culture that rewarded people based on their output, which perhaps didn't incent them to share best practices. So we needed to move from a competitive atmosphere to a more team-oriented environment. It's a journey."
While CPS has undertaken many Kaizen events in pursuit of a lean manufacturing approach, Roth points out that rather than the traditional definition of lean manufacturing – relentless pursuit of the elimination of waste – he prefers to couch it in different terms he heard a colleague, Robert St Louis, express: Relentless pursuit of empowering your people to solve problems. And that, in a nutshell, defines what CPS has done to get to, maintain and continue to evolve a culture that works for the company, its employees and its customers. And you can see it when you walk the floor.
In addition to the cultural aspects, CPS has worked to keep its production platform up to date, investing more than $10 million over the past five years as evidenced by its newest inkjet investments, and this also creates a great deal of change for its people. Roth added, "As we introduce more automation, our staffing requirement goes down. To address that, we are typically not filling positions as people exit the business, and we keep skills fresh across the board. This includes cross-training people on equipment and determining how frequently each individual needs to refresh his or her skills." In fact, each cell has a white board that reflects a cross-training schedule so that employees keep their skills fresh.
And it's working. Roth concludes, "We love to have potential customers walk through the plant because people are smiling, working together, talking about what they are doing, and they clearly take a lot of pride in the work they do for our customers. It is important to get this right."