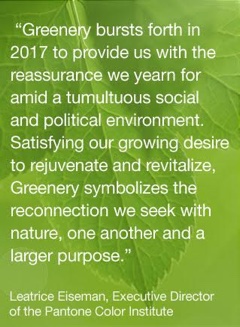 Each year since 1999, in early December, Pantone has chosen a Color of the Year, a "symbolic color selection; a color snapshot of what we see taking place in our global culture that serves as an expression of a mood and an attitude." The selection for 2017 is Greenery. In Pantone's Home & Fashion Guide, the color designation is Pantone 15-0343. When seeking a match in the Pantone Plus Formula Guide, the initial information I found said there was no CMYK match, although it doesn't seem like it would be that difficult to match. Then I came across the Color of the Year standards, where it indicates the best match is Pantone 376 C (C54, M0, Y100, K0). To my untrained eye, the Pantone 376 C created using CMYK/OVG, or Extended Gamut, appears to be a slightly brighter color and perhaps a better match (C0, M0, Y100, K7, O0, G41, V0).
Pantone also provided a series of color palettes integrating Greenery, and they are lovely. I'm sure our designer friends will get a lot of use out of them!
In a somewhat turbulent, always-on environment, Greenery is a calming color. Pantone adds, "Greenery is nature's neutral. The more submerged people are in modern life, the greater their innate craving to immerse themselves in the physical beauty and inherent unity of the natural world. This shift is reflected by the proliferation of all things expressive of Greenery in daily lives through urban planning, architecture, lifestyle and design choices globally. A constant on the periphery, Greenery is now being pulled to the forefront - it is an omnipresent hue around the world. A life-affirming shade, Greenery is also emblematic of the pursuit of personal passions and vitality."
During its annual Color of the Year webinar, Laurie Pressman, Pantone Color Institute VP, shared a variety of images using Greenery, alone or with other colors, everything from furniture and wall coverings to fashion and packaging. Even hair and make-up, although personally, I don't think I am quite that fashion forward!
If you are among the many that wish to capitalize on Pantone's Color of the Year selection for your benefit or that of your customers, be sure to visit the Pantone Color of the Year site for more information.