HP's PageWide Web Press division revealed this week that Georgia Pacific will be the first corrugated company in the Americas to install the HP PageWide T1100S Press, the division's 110" high speed inkjet web for printing corrugated liner. Details of the deal are unknown, except that the company will install the giant press at a U.S. site by the end of 2017.
This development, plus a recent event that HP held for corrugated prospects, spurred InfoTrends to look again at HP and its single-pass inkjet presses, namely ones that use stationary CMYK printheads to print wide webs at high speed. The corrugated customer event with managers of box plants and related enterprises in the audience was a good place to catch up with HP's recent offerings for this market, so we'll offer some key takeaways from it here.
First, we note that catching up really is required, because a lot has happened in single-pass corrugated printing by HP printers in just the past two years. The printers are the HP PageWide T-Series presses that got their start in commercial printing, but they now include two simplex models (T400S, T1100S) that are dedicated to printing corrugated liner media (i.e., the paper layer that is later fed into a corrugator to form corrugated board). For readers not familiar with HP PageWide presses for corrugated, here's a capsule history:
• HP placed the first T-Series presses for commercial printing, HP T300 in 2009 and HP T200 in 2010. Each is CMYK and based on 1,200 nozzle-per-inch thermal inkjet heads.
• The print quality, productivity, and media range of these presses, and of the T400 (2011), drove their adoption for books, catalogs, and other high-volume commercial printing.
• In 2014, HP announced a simplex version, T400S, to print corrugated liner. The first unit was placed at Obaly Morava in Czech Republic, and the second at DS Smith (UK).
• In early 2015, HP revealed its partnership with KBA for a 110" printer for corrugated liner media, HP T1100S. DS Smith was named the first customer for this device.
• At drupa 2016, HP described a "PageWide C500" press, its first wide format single-pass unit for printing fully formed corrugated board media, with 2018 availability.
• Also during 2016, there were three more sales of T1100S (Ghelfi in Italy, Christiansen in Germany, and Georgia Pacific in USA) and one T400S sale to a customer in Asia (to be announced in the coming weeks).
In a key way, there's great inventiveness in this history—the HP PageWide team pioneered the use of color inkjet to print corrugated liner in single-pass digital presses, and so far HP is nearly alone in applying inkjet to this early stage of the corrugated manufacturing process. Regarding the T1100S, its printed rolls are a match for a full size corrugator, and so is its productivity, 1 million square meters or more in about 50 hours of operation. Actual production runs by the T1100S should begin soon, since DS Smith has recently completed the first installation in Featherstone, UK.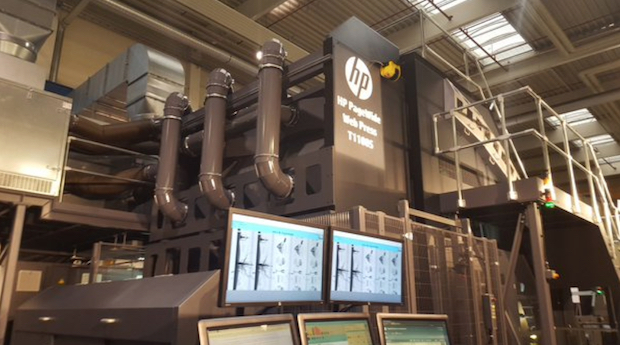 HP T1100S prints a 110" web at up to 600 fpm
Leveraging a CP Technology
The overall message is that HP's PageWide press division now has a dedicated focus on corrugated graphics printing, first through digital pre-printing of liner stock and, in 2018, through printing of finished board ("post printing"). In just a few years then, the PageWide division has built and marketed a print technology for commercial printing, then leveraged it to address an industrial application. In fairness, the CMYK T400S and T1100S use 1,200 nozzle-per-inch thermal inkjet heads, not the 2,400 nozzle-per-inch "HDNA" (High Definition Nozzle Architecture) heads now found in HP PageWide presses for commercial printing.
That said, the corrugated liner presses' jetting heads have their own high nozzle redundancy and print fine graphics; they also benefit from the same bonding and priming agents as their alternates for commercial printing, enabling them to print on standard coated and uncoated liner media.
Finally, the T1100S also uses a job management tool specifically for corrugated, Multi-lane Print Architecture (MLPA). This tool splits the web into multiple print lanes, so different jobs with different box sizes and run lengths can be printed in the individual lanes, and multiple short runs can be queued and printed together, with no makeready in between jobs, all while a long run is printed in another lane.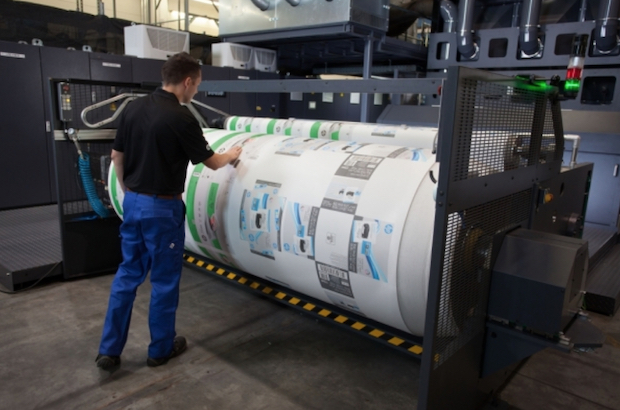 Multi-lane print architecture imposes jobs in lanes, cutting waste
What It Looks Like
Some of the developments at the PageWide Web Press Division are in keeping with basic HP strategies. First, there's a still-developing portfolio of products for different types of users (e.g., T400S and T1100S now and C500 in 2018); if we include the automated, multi-pass inkjet flatbeds of HP Scitex (Israel), the larger HP has tools for everything from prototyping to POP displays to high-volume corrugated box production.
The T-Series for corrugated also aims to give converters tools to upgrade packaging in terms of engagement and customization. A good example is the T-Series' ability to print covert but scannable codes ("digital watermarks") within printed graphics; the consumer can scan the corrugated packaging with a smartphone and connect to digital content without ever seeing a QR or other code. Finally, the HP PageWide team is doing something we've seen before at HP Indigo, namely getting brand owners' attention about digital printing for packaging and generating demand for a new and soon-to-be-influential technology.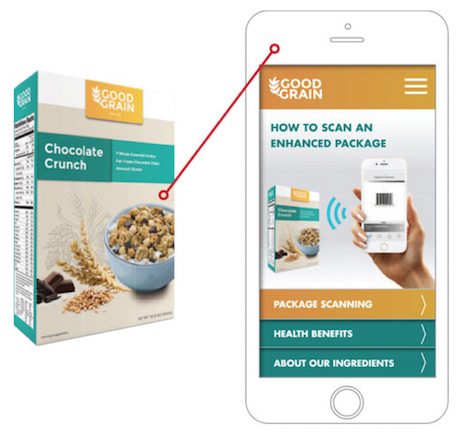 Digital watermarks are scannable and cut out visible codes
Given the productivity of the T400S and especially the T1100S, just a sprinkling of T-Series presses for liner media will soon surpass the annual output of all the multi-pass flatbeds that print corrugated board today. According to HP, that small base will soon be in place, with three T1100S systems operating in Europe and the UK and one in the United States in 2017. HP says it expects the corrugated market's adoption of digital pre-print to accelerate through 2018 and beyond.