This year's SGIA Expo—as we have become wont to say—was the biggest ever, setting records galore, including number of first-time attendees, as we reported from the show. You may also have seen the smattering of press releases that came out at the time of the show, but here is a rundown of some of the highlights. To the extent that there is an overarching theme, one of the big ones was automation. Now that automation has been firmly ensconced in commercial printing (or at least talked about frequently, which is often half the battle), specialty printers are now seeing the need to automate as many processes as possible. We're still in the early phases, but we should expect to see both hardware and software automation solutions appearing.
Here's a mere handful of what was happening on the show floor.
Agfa Graphics spanned two booths and was showcasing its three SGIA Product of the Year-winning flatbed printers: the Jeti Mira MG 2732 HS, which won in the UV Flatbed ($200K–500K) category, the Jeti Tauro H2500, which won in the UV Hybrid/Flatbed High Volume Production category, and the Anapurna H3200i LED, which won in the UV Hybrid ($100–500K) category. The company's theme this year was "We Embody Print," and Agfa booth personnel sported long printed sleeves that made them look heavily tattooed. As always, Agfa was demonstrating a host of unique applications in what it was calling its "Ink Tattoo Parlor." (I wonder if the day is soon coming when someone will introduce a direct-to-flesh printer for digital tattooing.) One application that caught my eye was Agfa 3D Lenses, a new way of printing lenticular images on the Jeti Mira flatbed printer using a software suite and clear varnish, rather than plastic lenticles (lenses). More about that in an upcoming feature.
Durst Imaging was showing for the first time in North America its 5-meter (197-inch) Rhotex 500 soft-signage printer, which uses a type of aqueous inks called Durst Water Technology. Durst was also showcasing the 98-inch (2.5-meter) Rho 1312 hybrid rollfed/flatbed printer, designed for such diverse applications as hard and soft foam sheets, aluminum, acrylic, glass, polycarbonate sheets—you name it. Durst was also demonstrating the 126-inch (3-meter) Rho 312R roll printer, targeted toward digital and offset commercial printing companies looking to enter the wide-format market, and suitable for such applications as POP displays, banners, wallcoverings, backlit displays, and fine art prints.
The big news from Canon Solutions America (CSA) was the announcement of the new UVgel printing technology, which is slated to be featured in a new line of roll-to-roll printers. To be launched early next year, UVgel is a radically new UV-curable ink that instantly gels on the media, the result is said to be precise dot placement. The cured ink is said to have no discernible physical profile—traditional UV inks form a thin polymer film that often has a detectable physical feel—and low ink consumption. CSA says the inks will be cost-effective, non-toxic, durable, colorfast, and produce high-quality prints for a wide variety of flexible applications. In addition to the inks, the UVgel technology also comprises a "next generation" piezoelectric printhead, and a unique LED UV curing sub-system. Look for more news about UVgel sometime in the spring.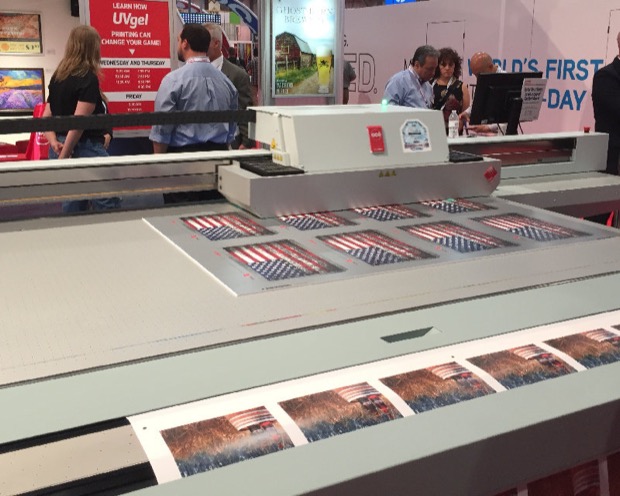 Canon Solutions America was showing the latest in its Océ Arizona line of UV wide-format printers—and looking ahead to a new ink and printhead technology called UVgel.
EFI was coming off its drupa announcement of the single-pass Nozomi inkjet corrugated press, but was also talking up its entire portfolio of nearly 40 wide-format presses and printers, in particular its 65-inch (1.6-meter) HS1625 hybrid printer. EFI has also expanded its recently introduced line of Armor Coatings with the Armor Erase UV clear roll coating, which not only makes printed surfaces graffiti-resistant, but also serves as a dry-erase medium. The EFI Armor series also includes the UVF, UVR, UVT (the latter suitable for thermoformed materials), and WB, a water-based coating.
Epson was showing its three Product of the Year-award winning rollfed printers: the SureColor P20000, which won in the Roll-to-Roll Aqueous (under-64 in.) category, the SureColor F9200, which won in the Roll-to-Roll Dye-Sublimation on Textile category, and the SureColor F6200, which won in the Roll-to-Roll Dye-Sublimation on Metal category. Epson was also previewing a new online storefront from Pulse-Micro called Vivx for automating specialty printed items such as T-shirts, coasters, and other items.
Esko was also focusing on the software side of the workflow with what the company is calling "Sign and Display Simplified." To further automate wide-format workflows, Esko introduced a new software suite called Automation Engine Avant, which automates such wide-format tasks as preflighting, file editing, adding cutting paths, and optimal nesting on a board or sheet. Automation Engine Avant works with Device Manager software, which tracks job status and manages jobs based on cutting time (via Esko's Kongsberg tables) and material. Device Manager also includes a new Estimating software module for wide-format job quoting. Based on its ArtiosCAD for POP and free-standing displays, the new ArtiosCAD Display Store simplifies display design and offers templates and designs. On the hardware side of the table, as it were, Esko was showing a video of a major new addition to its Kongsberg cutting tables: a large robotic arm for board loading and unloading. (The arm was shown on the Esko stand at drupa and, I was told, it was operating so fast that onlookers were a little frightened by it. If it starts randomly wielding the cutting tools, then I'll get nervous.) The robotic arm option will be officially launched in 2017.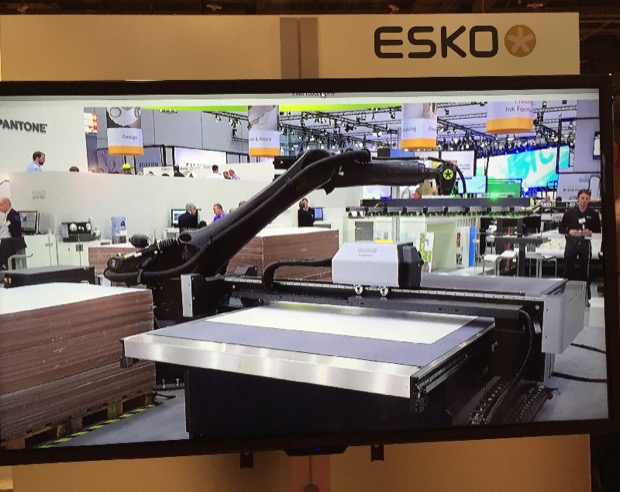 Esko was showing a video of its forthcoming robotic arm attachment for automatic board loading and unloading on its Kongsberg cutting tables.
FLEXcon won Product of the Year awards in two substrate categories: Finishing– Laminates, Adhesives, Films, Coatings or its FLEXmark V 240 R Clear Sharklet Overlaminate, and Media–Non-PVC for its SHIMMERcal 22 Mil Silver Special Polyester Lamination. The Sharklet media has an interesting benefit: based on the finding that the rough texture of a shark's skin makes it difficult for bacteria and other microorganisms to attach themselves, the Sharklet film is also similarly textured, making it suitable to impart bacteria-resistance to high-touch surfaces without adding chemicals to the media or needing people to slather on the Purell. The SHIMMERcal line of self-adhesive glitter films is well-suited for novelty stickers and decals, promotional graphics, and point-of-purchase displays. Glitter colors include black, royal blue, dark red, fuchsia, gold, green, red, silver, and something called "mixed disco." SHIMMERcal media is compatible with most wide-format ink technologies.
Fujifilm was talking up its new Fujifilm Inkjet Technology (FIT), a combination of inkjet printheads, fluids, and software based around the company's Samba single-pass piezo printheads and Uvijet inks. Using a broad variety of inks and color management software, the goal of FIT is image optimization, speed, and flexibility. On the show floor, FIT was on display in the new Inca Onset X3, making its North American debut in Las Vegas. The fastest model in the Onset series of flatbeds, at the show it was pumping out posters at the rate of around one 22-by-28 sheet per second. Also making its North American debut was the Acuity Select HS 30, a higher-speed model in the Acuity Select series of UV flatbeds, said to print at speeds of up to 620 square feet per hour, almost twice that of the Acuity Select 20 series. It is designed to produce a wide variety of applications on a range of substrates up to two inches thick.
GMG was showing its PrintFactory production workflow software suite (developed with FourPees) designed for for banner, sign, and superwide-format printing. PrintFactory includes a centralized color management system, ink optimization technology that is said to reduce the ink consumption by as much as 20 percent, and digital printer/press management that can coordinate printing even at multiple establishments.
HP was showing the latest addition to its Latex 300 series, the 54-inch Latex 315, and 64-inch Latex 335 and 365 printers. The new units offer improved speed and a greater variety of supported substrates, as well as HP Custom Substrate Profiling for automatic ICC profiling and an embedded spectrophotometer (Latex 365) and optimized profiles with HP Quick Substrate Profiling (Latex 315 and 335). The new units also feature an automatic x-axis cutter. In addition to the printers, HP also introduced something new to print on: HP Durable Backlit Fabric, a 100-percent polyester compatible Latex inks
Massivit made a massive splash at drupa with its Massivit 1800 3D printing unit, and the company's SGIA booth saw no small amount of crowd action. Based on the new Gel Dispensing Printing technology (GDP), the Massivit 1800 can print objects up to five feet nine inches tall, four feet non inches wide, and three feet nine inches deep. Your mileage will vary, but the quoted speed of the 1800 is about 14 inches an hour. The size of the bed also allows dual-object printing (optional). Rumor had it there was a large Massivit 3D-printed octopus display somewhere outside the Las Vegas Convention Center (I was not able to find it), and one of its tentacles got stolen. That's an issue that's pretty new to wide-format printing.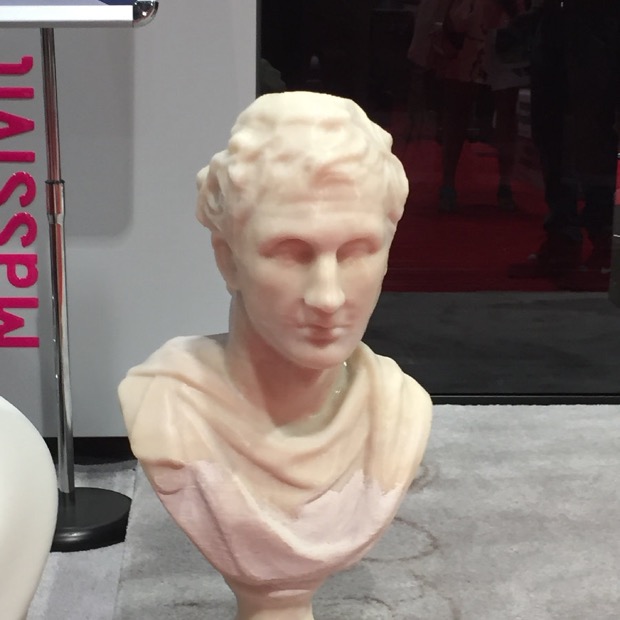 Is this some kind of bust? Printed on the Massivit 1800 3D printer.
Mimaki followed up on a prototype direct-to-textile printer it had shown at last year's show. Finally ready for an official launch, the TX300P-1800 is a 75-inch dye-sublimation printer that prints directly on fabric substrates without requiring a transfer sheet. Its five inksets allow it to print on a host of synthetic and natural fabrics (sublimation dye ink for polyester-based soft signage; textile pigment ink for cotton or hemp-based home furnishings; reactive dye ink for cotton-, silk-, or rayon-based apparel or home furnishings; disperse dye ink for polyester-, nylon-, or acetate-based industrial textile, home furnishings, or high-grade apparel applications; and acid dye ink for silk-, nylon-, wool-, or leather-based apparel and home furnishings). The company was also previewing a forthcoming superwide (3.2m) direct-to-textile printer, the TX500P-3200DS, which will roll out in 2017. Another technology preview was a new Kebab unit, the Kebab L, compatible with the UJF-7151 Plus, which allows the UV flatbed unit to print on cylindrical objects such as YETI cups. Mimaki was also showing a new thermoforming inks for its JFX200-2513, JFX200-2531, UJF-7151 Plus UV printers. Oh, and Mimaki also gleaned a Product of the Year award in the Roll-to-Roll UV (over 80 in.) category with its UJV55-320 UV LED printer.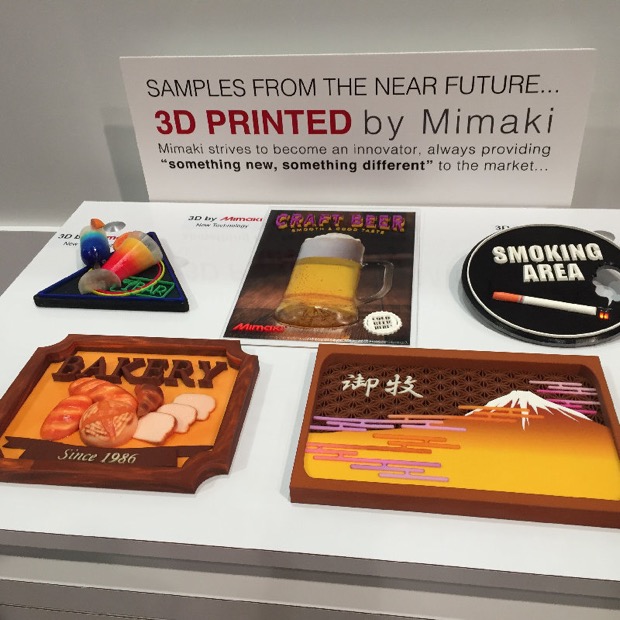 Mimaki wasn't making any official release or preview announcements vis-à-vis 3D printing, but was showing examples of its own forthcoming technology.
Mohawk Paper has expanded its wide-format substrate portfolio with six new products compatible with the gamut of eco-solvent, latex and UV printers and inks. Wide Format Inkjet Textured Lightblock Economy Film is a vinyl substrate with a polyester backing that lays flat and is heat-resistant. It is designed for indoor and outdoor signage applications. Wide Format Inkjet Dupont Tyvek 11 Mil is lightweight, and tear- and weather-resistant, designed for signs, banners, maps, guides, and other applications that require durability. Wide Format Inkjet Magnetic Indoor Strength Outdoor Strength are magnetic media that are completely recyclable, contain no plasticizers, and have a clear matte black coating. The Outdoor strength media is also suitable for indoor applications.
Ricoh was showing its entries in the wide-format printing market with the 63-inch seven-color Ricoh Pro L4160 rollfed latex printer—suitable for signs, banners, wall coverings, indoor and outdoor advertising, POS displays, and more—and the Ricoh 36-inch MP CW2201SP targeted toward architecture, engineering, and construction (AEC).
Roland was basking in the glow of three Product of the Year Awards, two in ink categories. Its Texart Dye-Sublimation Ink won in the Digital Inks–Textile category while its TrueVIS ink won in the Solvent/Eco-Solvent/Latex category. The third win was for the LEJ-640FT, which won in the UV Flatbed (under $100K) category. Roland was also showing the latest tweaks to its CL!CK Content Creator, a cloud-based system that allows users to create customized content—stock photos, video, and audio, all royalty-free—for both printed and digital displays. CL!CK Content Creator also offers easy-to-use design and layout tools that let newbies incorporate digital assets with their own logos and other content.
SA International (SAi), maker of the sign industry's standard design tool Flexi, used the Expo to make the North American debut of its new point-of-purchase (POP) display and box design software, DisplayGenie. Powered by Flexi itself, DisplayGenie offers wide variety of templates for box and POP displays, making it easy for newbies to get into packaging and display design and production without needing to be versed in CAD/CAM software. Print providers or other designers can quickly choose and customize these templates by entering new geometric values, which DisplayGenie software will then use to rebuild the design in seconds.
I am always leery of walking into Visual Magnetics' booth with an analog wristwatch or my hotel keycard, but I know I'm just being paranoid. Anyway, Visual Magnetics was showing its VM-Graphic System featuring its expanding collection of MagnaMedia magnetic substrate options, such as VM-CHALKboard, VM-DRYerase, VM-CANvas, and other magnetically receptive materials with different textures and effects. Visual Magnetics was also launching some new "fixtures" in its VM-SHELF series, three-dimensional objects that contain the company's magnetic InvisiLock system that allows them to be attached to a magnetically receptive surface, such as a wall. VM is launching new fixtures that merge digital printing with reconfigurable fixture solutions for walls, utilizing the InvisiLock technology.
This year's show brought a plethora of new products and previews of exciting new technologies, both hardware and software for the coning year, 2017 is going to be a great year for wide-format printing. SGIA Expo 2017 will be held October 10–October 12 in New Orleans.