See Dr. Joe at Graph Expo
Get a personalized copy of UnSquaring The Wheel by RIT's Chris Bondy, Black Canyon's Wayne Peterson, and Dr. Joe Webb, compliments of HP. The book has been called "the operating manual for the printing firm of the future." Each of the first 100 books ordered online will be personalized for with information provided on the request form (click here). Each book is being printed with HP inkjet technologies and will be available for pick-up during show hours at HP booth #1825. From 10:30am – 12:00pm every show day, the UnSquaring The Wheel team will signing individual copies. If you're not part of the first 100, you can still pick up a complimentary copy of the book at the show.
Inplant printing managers can hear Dr. Joe present the IPMA report "State of the In-Plant Industry: Challenges, Opportunities, and Outlook Survey," sponsored by Canon. The event is on Monday, September 26 at 11:30am. Registration is free for inplant attendees and suppliers. Contact Carma Goin, Executive Director at 816-919-1691 or

[email protected]

for more details.
If you'd like to discuss UnSquaring the Wheel executive development and company assessment, research projects, strategic advisement, or scheduling a future company event, please contact Dr. Webb directly. If your company would like Dr. Joe at your company or association event during GraphExpo, please contact Cary Sherburne about availability and costs.
Straightforward Economics
The economy is still in sideways mode, reeling from two bad quarters of GDP performance of +0.8 for Q1 and +1.2% for Q2. The latter looks like it will be revised down slightly in the upcoming preliminary report this week (Friday 8/26) as some of the components of GDP have been revised downward.
The good news is that the weakness might be ending. Atlanta Fed's GDPNow is running in the range of +3% for Q3. Their GDPNow forecast was uncharacteristically off target last quarter, missing on the high side. It's worth keeping an eye on since Q3's economic data will play a role in the election rhetoric, offering infinite opportunities for bipartison distortion. We're still in a +2% economy that bounces around from quarter to quarter that has no likelihood of breaking upside to the post-WW2 average of +3.3%.
The election is claimed to create a freezing of business decision-making processes caused by the uncertainty of a change in administration. Really? Unless there is a Trump landslide that includes a veto-proof Senate and a commanding majority in the House, business will be as usual. That combination of events is so unlikely, that the business environment actually has a great deal of certainty, not uncertainty, about it. Carry on. The politicians will still be in charge, finding new ways to kick economic cans down the road as they always have.
Remember, entrepreneurship relies on uncertainty. If the world was full of certainty, there would be no need for entrepreneurs. Don't confuse uncertainty with risk. Risk can be measured and is part of business decisions. The insurance industry exists because risks can be measured and priced. Instead, it's best to consider uncertainty as "fear of regret." Entrepreneurs worry that their deployment of resources may not work, which is why they are careful in the manner that they use them. It is often forgotten that part of the entrepreneurial decision is "not now." That decision is not always a matter of timing. Businesses cannot "time the market" or wait for "the right time" because their resources may no longer hold value or can expire if they do not use them. Instead, the "not now" answer is more related to "but how" as to the best use of resources which may not be clear at the time. Don't fall for the uncertainty of economic or social decisions causing business decisions to seize: "not now" and "but how" are valid aspects of all decision-making.
Inflation and Printing Prices
The Consumer Price Index is at +2.2% in the latest release by the Bureau of Labor Statistics. This means that a dollar today buys 97.8% of what it could buy last year. This means that the dollars that flow through all businesses have to make up for the value of salaries and profits in some manner.
The chart shows the dilemma of the industry. The chart shows the CPI and the Producer Price Index for printing with a base period that starts with the beginning of the recession in December 2007. Since that time, in round numbers, the prices of consumer goods are up 13%, and printing prices are up 6%. That 7% shortfall has to be made up somewhere, either through greater productivity, better cost management, and an overall more effective management approach.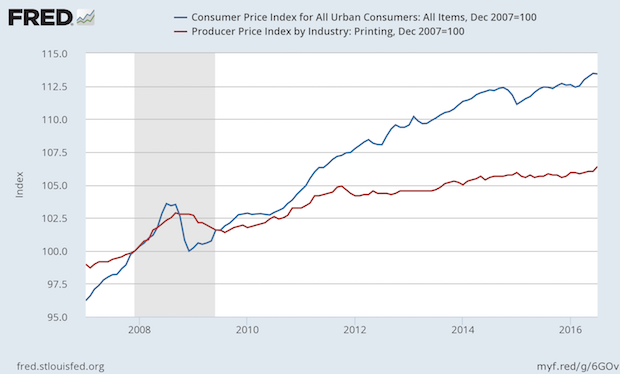 That shortfall in prices has been one of the reasons behind consolidation. Cheaper printing prices can't deliver the returns owners seek, nor can they reward employees for their efforts. Weak companies can't deliver the profits they need or can't adjust to the relative decline in value of the print dollar, so they merge or go out of business, which then shifts their sales to healthier businesses on purpose or by survivorship.
In surveys I have been involved in over the past few years, it's clear that the shortfall is also made up by doing more jobs. Those surveys show that the number of jobs is growing more than the amount of revenues. Even companies losing revenues appear to be doing more jobs. Those jobs are shorter run, and each dollar has a greater percentage of fixed cost coverage.
There are many factors in the decline of printing prices, and a deeper analysis can be saved for another time. The biggest factor is the still-growing disparity between print and digital media, and the usurping of print budgets by postal prices.
Industrial Production Down 11 of 13 Months
Of great concern to the economic outlook has been the steady decline in the growth of industrial production since 2014. The sector has been in contraction compared to the prior year for 11 of 13 months.

This seems contrary to some "talking head" interviews on the cable business channels. There is a common claim that motor vehicle sales are at a record pace. That sent me back into history and look at a population-adjusted report. Cars are better than ever, cheaper to run, with cars lasting more than 100,000 miles now common. For those reasons the rate of replacement is naturally slowing down. Through the years, the population and number of households have been growing. The chart below shows the number of vehicle sales per million people. The red line is at the most recent peak, about 54,375. Vehicle sales started to fall well before the start of the last recession and improved but never recovered, and may be falling from a near-term peak.

Whoops! Can We Have Print Back?
Australia's effort for a fully computer-based non-paper Census failed... and led to calls to return to a paper-based one. Throughout the digital media revolution, there has been a constant theme of simultaneously available multiple media. Whether it's called cross media, multichannel, omnichannel, or something else, there has been a gradual shift from the near-tyrannical control of content owners to the catering to the desires of content consumers. Someone forgot to tell Australia's bureaucrats. Content consumers base their media use on convenience, proximity, time, place, cost, nature of engagement, and many other factors. Content owners now do all they can to fill those characteristics.
But Wait! There's More!
We're coming up on the tenth anniversary of the death of Arthur Schiff. He was one of the most popular copywriters in advertising, inventing the name "Ginsu" for a set of knives and the famous infomercial phrase "But wait! There's more!" I thought the anniversary was worth mentioning in this new world of copy that seems to be shaped more by Twitter and social media posts that trade immediacy for impact. Good, memorable copy still makes a difference. The parameters are just different today. Arthur would have found a way to adapt in today's market.
$1500 for a Sandwich? That's Not Something New at Subway, Is It?
How to make a $1500 sandwich in six months is still a great video that teaches basic economic concepts in less than four minutes. If you haven't seen it, it shows how someone grows all of the items needed to make a sandwich. It's a lesson in division of labor and comparative advantage among many other things. It also explains the nature of investment and fixed cost, and how sharing those costs with others is the way we get the products we use every day It's a great way to show young people how the economy works, and perhaps stimulate their interest in the subject.
Always Be Closing
Clemson University is offering a program where students do the research of sales prospecting for printers. The students get real-life experience using the modern tools of business research. The printers get sales leads. Until I read the whole story, I was immediately skeptical because I've seen sales prospecting in the graphic arts, and it's not pretty.
Though not stated, what Clemson is doing is helping printers put their toe in the waters of business development with a systematic and disciplined approach to the process.
I've been around enough to know when the systematic approach used to be ripping a page out of the yellow pages found in last night's hotel room. (And any time I hear about leads I think about 1992's exceptional movie Glengarry Glen Ross with its all-star cast; there are lots of clips from the movie about sales leads on YouTube, but be advised of the rough language if playing them in your office).
Do sales people really know what to do with new sales leads? Business development strategies consider sales leads to be just the start of a deeper investigation; cold calling is expensive for sales people to do, and they often dismiss the leads at the slightest hiccup.
The Clemson program is worth investigating for many small and mid-size printers, but they should only do so if they have the honest intent of continuing the process after the program is over. Don't make this a one-time event, make it a process.
Congratulations to the folks at Clemson for this approach that looks like an innovative win-win for everyone.