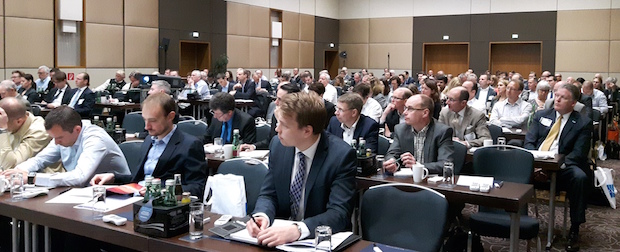 The 2016 AWA Global Release Liner Industry Conference & Exhibition, held recently in Vienna, Austria, started with a half-day workshop and focus group on release liner recycling. Nothing could have been more appropriate, since a number of EU member states have already classified spent release liner as packaging waste as opposed to process waste—which requires liners to be recycled/reused in line with specified EU legislation.
Corey M. Reardon, president and CEO of AWA Alexander Watson Associates, opened the conference program by leading a real-time industry survey with the audience, who used electronic hand-held devices to answer questions on key topics. The responses were instantly shared. They included estimates of business growth from 2% to 4% in 2016 vs. 2015, with film liner usage said by most to be growing faster than paper.
Release liner is a key component in the self-adhesive label stock laminate. This construction features a facestock, on which the actual label is printed; an adhesive layer; and a release liner, which protects the adhesive and holds the "sandwich" together during printing and kiss-diecutting.
Release liner's key role in the reel-fed application of printed, die-cut, self-adhesive labels is to dispense the labels cleanly and accurately onto the product on an automatic label application line. It is so reliable that multiple labels can be applied to a single product: for example, on wine bottles, prime label, back label, and neck label.
Avery Dennison CEO: Time to Overcome "Inertia"
Conference keynote speaker Dean A. Scarborough, chairman and CEO of Avery Dennison Corp., noted that the state of the industry is good. He said that the greatest growth opportunities are seen in higher-value applications such as RFID, although core label business can be expected to grow from 3% to 3.5% annually.
Across the supply chain, Scarborough emphasized, "collaboration is today the key. This industry does not change very quickly." Much of its materials and technology base is as it was 30 to 40 years ago, and in terms of innovation, he said, "there is a little bit of inertia, which is a bit disappointing."
There is a genuine requirement for cross-industry initiatives: to create, for example, next-generation adhesives, improved film liner performance, and more caliper reductions in release liner. In the technology arena, Scarborough said, continuous improvement rather than game-changing activity should be the focus.
Taking a key role in monitoring and analyzing the release liner industry, AWA maintains an up-to-the-minute database of release liner market data. According to Reardon's market update and his summary of AWA's Annual Release Liner Industry Survey, approximately 46 billion square meters of release liners are produced annually worldwide, mostly in label market applications and mostly employing glassine and SCK (supercalendered kraft) paper. The survey also confirmed that sustainability is now the number one issue in the industry. "This is a dramatic change in the survey results since we started it eight years ago," Reardon said.
Market Segments in Detail
The program drilled down into the individual market segments for release liner. Reardon led with an overview of the label market, which in 2015 grew by 4.5%: a healthy figure, but not comparable to the growth in the medical market, at 7.4%, or the tapes market, at 7.2%.
Reardon identified digital direct-to-container printing as a potentially disruptive technology in some applications. He said that linerless labels, though continuing to gain interest, are still a niche. Pressure-sensitive labels, however, continue to offer the best-suited base for intelligent label technologies, including RFID.
Medical Market Developments
Reardon went on to outline developments in the fast-growing medical market, which now represents 3% of the total release liner market. Driven by an aging population and the growing use of disposable medical devices, this is a market where there is no single dominant release liner substrate. The choice is always application-specific, and the cleanliness and purity of the construction are of paramount importance.
The highly specific release liner requirements for the different transdermal delivery systems were discussed in detail by Dr. Thomas Hille (LTS Lohmann Therapie-Systeme). Transdermal delivery systems are medicated adhesive patches that, when placed on the skin, deliver medications such as analgesics and nicotine through the skin and into the bloodstream.
Here, release liners are defined as a part of a pharmaceutical drug product, not as part of a container closure system, and they are, in fact, in contact with a drug-loaded pressure-sensitive polymer. Choice of substrate, and siliconization, are both critical, and must be documented in a drug master file. In this market, said Dr. Hille, any changes in raw materials in manufacturing require the approval of clients.
Self-Adhesive Graphic Films
Moving on to the field of self-adhesive graphic films, Sami Mulari, AWA's manager of market research and consulting, identified the sector as a key growth area for release liner applications. While advertising and branding applications continue to hold the majority of the market, decorative applications—on interior walls, furniture, etc.—are expected to lead future growth. Clay-coated paper release liner and PE coated release liner are the dominant constructions used in graphic film applications.
Martine Bouvet and Jean-Cristophe Minor (MACtac Europe) addressed making the right release liner choice in the diverse graphic and decoration market. Like CAD/CAM films and digital and screen printed media, release liner must aid the application of protective overlaminating films to printed or computer-cut graphics. In this particular area, they said, the choice of liner could be a PET film because film is usually much smoother than paper.
Tape Market Overview
AWA consultant Aila Vapaaoksa provided an overview of the specialty tape market. Here, she said, Asia will dominate growth through 2020. End-use markets are continuing to use tapes instead of mechanical fasteners—particularly in automotive, aerospace and aviation applications—with consumer electronics and building and construction applications showing attractive growth in the developing economies.
Automotive Update
The automotive industry is a major user of specialty industrial tapes. Nathalie Barrois (Groupe Renault) reviewed the state of the art in pressure-sensitive adhesive usage at Renault; future opportunities; and the company's expectations of its suppliers.
For "joining" applications, Barrois said, the basic requirements for tapes are worldwide availability; high performance and reliability across a range of different materials; time and weight savings; customization; and cost savings. She emphasized that collaboration and knowledge-sharing with release liner suppliers are key enablers.
Industrial Market Overview
AWA consultant Jos de Vries reviewed the industrial release liner market as a whole. This involves a broad range of applications from pre-preg (pre-impregnated) carbon fiber, aerospace, and automotive to wind energy, electronics, and new-build and repairs in the construction market. Release liner's role in partnership with adhesives is often critical, deVries said, and is a key growth area.
Building and construction
Specialty pressure-sensitive adhesives for building and construction were the topics covered by Gerald Hacker (Henkel Adhesive Technologies). His presentation reminded delegates of the exceptional demands in terms of strength, weather resistance, high- and low-temperature resistance, and simple reliability that are requirements in this sector.
The 2016 AWA Global Release Liner Industry Conference & Exhibition attracted a strong attendance from across the supply chain—not just to listen, but also to network and visit the accompanying tabletop exhibition. The event was sponsored by a number of leading companies in the sector, including Avery Dennison, Dow Corning, Mondi, UPM, Billerudkorsnäs, Bluestar Silicones, Felix Schoeller, Infiana, Loparex, Sappi, Starkraft, and Wacker.
The Global Release Liner Industry Conference and Exhibition is complemented annually by the AWA Label Release Liner Industry Seminar, held just prior to Labelexpo in Chicago and Brussels. The 2016 event will be held in Chicago on September 12. Registration is open now at www.awa-bv.com.