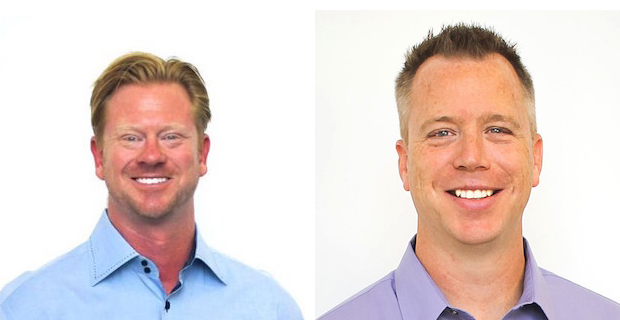 If you've ever been to a Super Bowl or watched it on TV, do you wonder who prints all those great graphics? Well, now you will know! Arizona-based bluemedia is the preferred NFL partner that produces all of the Super Bowl graphics including five linear miles of mesh to decorate the security fences surrounding the event. They also support other NFL events, college bowls, golf tournaments and many other venues with outstanding digitally printed graphics. I had the opportunity to speak with Darren Wilson, Partner, and Hayes Holzhauer, EVP of Operations, to get the inside story on the company's unique approach to large format workflow.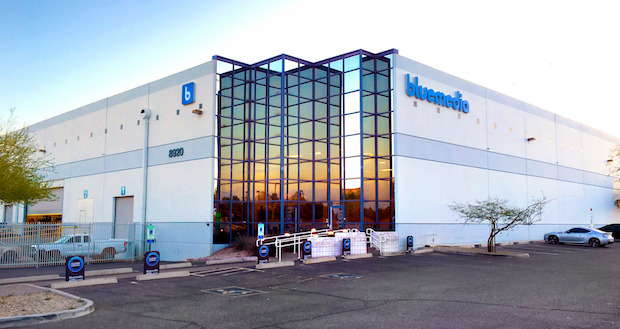 First, a bit of history. The company was founded in 1997 by Jared Smith and Lance Davis as a golf company, procuring signs, shirts, hats and other items to support golf tournaments in Arizona, of which there are many, as you might imagine. At the time, large format printing didn't really exist, and it was hard to even buy quality posters in the short runs that were needed. "The initial founders neither played golf nor knew much about printing," Wilson explains. "They brought on RJ Orr as a partner to solve the golf expertise issue, and at the time, I was a client. As they began thinking about how to expand the business beyond golf, they felt my background in branding strategy, graphic design and marketing communications would add value, so I became the fourth partner in 1999, and we have been together ever since. We're lucky to be doing something we really love, working in the creative world, finding new challenges and with new things to talk about every day."
Today the company employs 130 people, expanding up to as many as 170 during its peak period of December through March. The company has an impressive fleet of 13 wide format printers, including five HP printers (Scitex roll and flatbed, as well as Latex), an EFI VUTEk GS3250, a Printer Evolution EVO33, a Monti-Antonio 91 Transfer Press and various 64" printers from Mutoh and Roland. There is also a range of finishing equipment including Zund cutting tables and laminators. bluemedia prides itself on quality, fast delivery times and an end-to-end service including installation. The company's primary markets are sports and events, fleet graphics, office revitalizations, and decoration of interior spaces and retail. Growth plans include expansion outside of Arizona and investigation into new markets and products.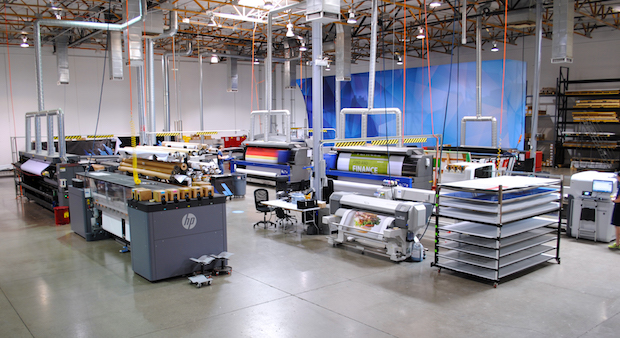 According to Wilson, one of the reasons bluemedia initially chose to work with HP had to do with the cachet of its brand and its brand recognition in both B2B and B2C. "That was a key piece for us," he says, "to be able to talk about that partnership and affiliation. It immediately added credibility to our process, our equipment and what we stood for."
Mission Control: Do You Read Me?
Perhaps because the bluemedia principals came from outside the industry, or perhaps because they simply thought differently about the business, they established a unique Mission Control within the production facility that is the heartbeat of the operation.
"We've centralized a number of functions into Mission Control that are typically distributed in most organizations," Holzhauer explains. "Our managers spend most of their time on the floor, but they don't have offices and can be found in Mission Control when not working on the floor."
"We didn't see the need to use 3,000 square feet of space for little-used offices," Wilson adds. "Mission Control is like an office on the floor. Because we brand everything on earth, we thought it would be cool to call it Mission Control. It helps build the ideology in people's minds. It's where you come if you have questions, challenges or successes to share. And we want the leadership team to be able to quickly share information with each other, making informed decisions about how to manage workflow and get projects completed without having to run all over the place."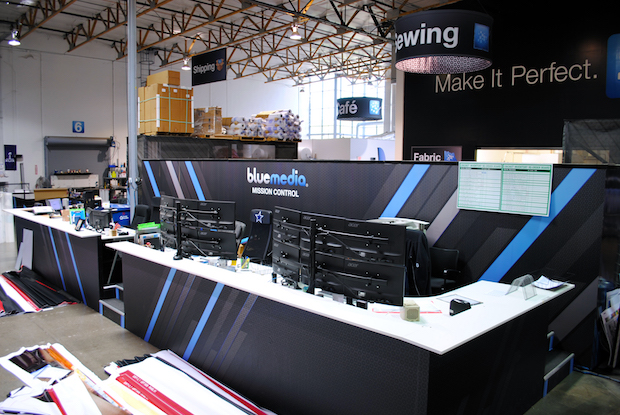 Wilson points out that the leadership team needed to be able to see the floor from Mission Control, and since the company is in the business of building stages, among other things, they constructed it as a stage a few feet above floor level. "From Mission Control," he says, "you can see where all the projects are in the building."
The bluemedia team is also very proud of the overall look and feel of its facility. Wilson states, "We have built an environment that is very welcoming to an agency, branding firm or brand owner, and people feel comfortable here. We want it to feel like a creative fantasy factory and not look like an unappealing industrial print shop. That starts with our exceptionally clean and polished floor all the way up through the way the equipment and work spaces are laid out."
Centralizing Key Functions
By using Mission Control to centralize key functions, the company achieves a number of benefits, including more consistent quality, less rework and reduced administrative costs.
"One thing we have done that I think is fairly unique is to centralize the RIP function in Mission Control," Holzhauer says. "We want our printer operators to focus on printing. We have two ColorGATE servers that manage all 13 printers and one operator overseeing both. If we add another printer, we simply add more capacity to the scalable ColorGATE servers."
Today, the ColorGATE operator balances workload across the two servers and bluemedia has been running this configuration for about two years. "We have the RIPs ganged up on two servers, and we can drive all of our printers from one location," Holzhauer explains. "We can RIP and process multiple jobs simultaneously. We primarily use one server for jobs that require higher resolution, and the other for lower resolution work such as billboards. With this configuration, we have been known to RIP eight or more files simultaneously with four or five printers on each RIP, and we rarely have instances where it can't keep up."
Another advantage of this approach has to do with training. Holzhauer adds, "One thing we struggled with in the past was consistency. You really need to be an expert on the RIP software to get the level of quality and consistency we need. Even though operators were doing things well, and even if you had detailed SOPs in place, you could still get variances. We can now control that. The procedures are very rigid so we are not having the same job RIP'd different ways with regard to nesting and the million other settings available. And when special requirements arise, our experts know how to adjust for them."
Mission Control also has a master scheduler that schedules all labor, equipment and materials resources for all jobs. Further enhancing communication are the quick stand-up production meetings that are conducted in Mission Control a couple times a day.
Holzhauer is also looking to increase the level of automation in the future, especially for products that are consistent in size and finishing. "We're in the process of implementing Tucanna prepress automation tools that will eliminate a lot of the back-and-forth associated with proofing and will deliver a final production file to a hot folder for the ColorGATE RIPs. Those files can then be RIP'd in the background and go right into the schedule for production without being touched."
Color management is another centralized function. Holzhauer says, "We employ the G7 methodology here, and our ColorGATE RIPs have quality assurance built in. At any time, we can check the accuracy of a printer using the same ISO controls any other printer would use. We print a control wedge, run it up to Mission Control, give it both a visual inspection and check it with our X-Rite i1Pro 2 spectrophotometers, and if it is out of spec, we can run an abbreviated calibration using a smaller set of patches, and then adjust the profile. This is all done from Mission Control. The test sheets show up in the queue like any other job, and the operators know what to do once it is printed."
Holzhauer stresses the importance of setting the proper customer expectations with respect to color. "I will never say we can match everything," he states, "but I can get it well within the G7 spec and still keep the customer happy if the expectations are set right from the beginning."
bluemedia is very much a team-oriented organization. "We work on some of the most beautiful projects in the world, like the Super Bowl," Wilson says. "The 100 or so people that make these projects beautiful care about color and care about helping the client achieve their goals. But they rarely get to see the installations live. So we installed two 60" plasma screens behind Mission Control that are viewable from the shop floor to share the work we have all worked on together and to celebrate our success and how hard we all worked to get it done."
The Super Bowl Requires Super Efficiency
While bluemedia is used to handling large projects, perhaps its largest and most daunting project is producing graphics for the Super Bowl. "We start pushing to get designs in October and want to start printing by Thanksgiving," Holzhauer says. "Especially for the mesh fence decoration –five linear miles is a lot of print, and it takes us four to six weeks to print it! This is for the double security perimeter of 6-foot tall fencing around the venue." bluemedia is the NFL's preferred graphics partner. In addition to venue graphics, they also produce graphics for the airports, hotels, practice facilities, locker rooms and opening night. That adds up to several hundred thousand square feet of printed materials.
Advice from the Front Lines
Wilson stressed the importance of listening to your staff in order to have a best-in-class organization, saying, "Hire fantastic people and listen to them. Celebrate moments of success and set your people up for success by building a work environment where people look forward to coming to work every day. You want them to be proud of what they do, and that doesn't just happen by itself. The facility needs to be clean and there needs to be true open communication. It has to be an integral part of your culture, and it takes time to build. It's also important to weed out those that don't fit in this kind of culture. You can quickly tell who won't fit and would likely be a disruptive force in the operation."
Holzhauer adds this advice: "Installation is where things can often go wrong, and you need to engage installers early in the process. For example, if you are wrapping a building, they can help you think through how the images should be tiled, what kind of overlaps are needed, and how things should be marked and packed for the most efficiency. Engaging installers early leads to fewer fire drills. They are often hanging buildings in the middle of the night, and you don't want to be getting that call at 3AM!"
Looking Ahead
In speaking about the future, Wilson says, "We have to continue to be cognizant of how digital signage is evolving in the market, and that aspect of the market is growing. But there will always be a place for printed graphics and branded environments. On the B2C side, we will continue to push the limits of building really cool spaces and environments, whether in pop-up retail or permanent venues. Fabrics are huge and will gain in importance, and there will be other types of outdoor and large format opportunities, whether it be projection or print. Our goal is to create never-before-seen consumer experiences."
A bold statement, but bluemedia is well positioned to live up to it!