In many instances, predictive analytics is discussed in reference to improving marketing and/or sales performance. However, numerous industries today are benefiting from the use of predictive analytics to improve operational efficiency. The issues that these solutions are designed to solve have striking resemblance to the types of issues faced by commercial print providers (who use digital/analog presses, commercial wide format printers etc.) – and specifically the service departments within these organizations. Some of these key issues include:
High cost of unplanned maintenance and downtime
Inability to accurately forecast printer/press downtime
Too many manual processes and information sources
No visibility on what part will fail or when it will fail in a specific printer/press
High inventory of spare parts
The fact is that on average a commercial printer/press is only productive (generating revenue) 60% of the time.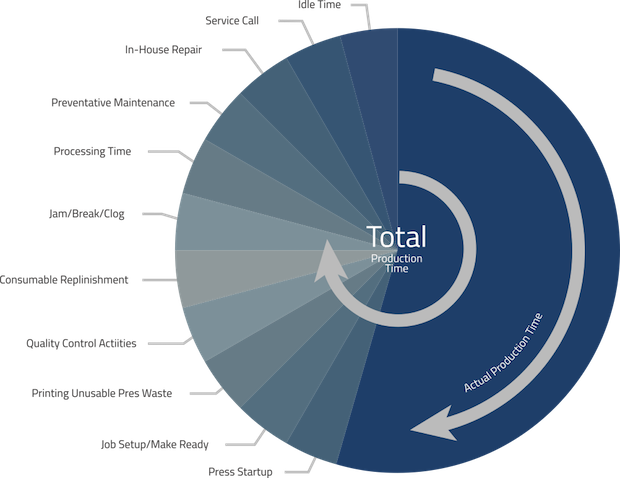 Source: Spenser Lab Digital Color Laboratory
There are really two broad ways in which predictive analytics can benefit a commercial print provider. The first method is by predicting downing events so that maintenance can be planned ahead of time, and device uptime can be increased. Due to the large volumes that are printed on commercial devices - whether these are analogue offset presses, digital presses, label presses, web presses, etc. – a small improvement in device uptime has a significant impact on the revenue potential for the device. In fact, increasing uptime for a single device can increase the revenue opportunity for a company by hundreds of thousands of dollars per year, see Figure 1.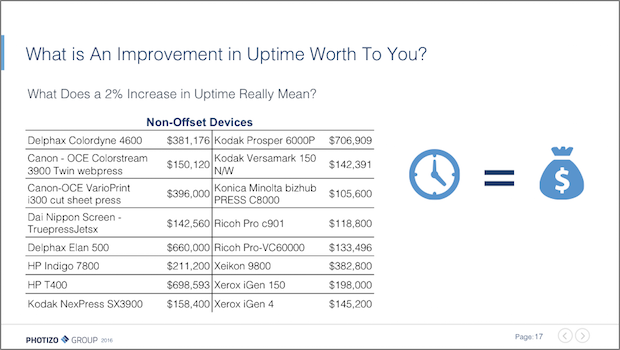 Value of Increased Uptime through Predictive Analytics
For offset devices, the increase in revenue opportunity is even greater. Based on our analysis of offset devices from manufacturers including, but not limited to, Komori, Heidelberg, Ryobi, Manroland, Goss and others, the improvement in revenue opportunity ranges from $500,000 to north of $9 million per device per year. The variation in additional revenue opportunity has to do with the type of press, its capacity and its duty cycle.
These are staggering figures, and this is the reason that Photizo Group recommends focusing on device uptime as the first application of predictive analytics for commercial print providers.
The second method for utilizing predictive analytics is focused on improving efficiency and reducing operating costs. There are numerous ways in which this can be achieved. The three broad categories in which predictive analytics can enable improvements include:
Reducing service personnel costs
Reducing inventory costs
Reducing supplies waste
Some examples of expected benefits achieved by implementing Predictive Analytics in a commercial print environment: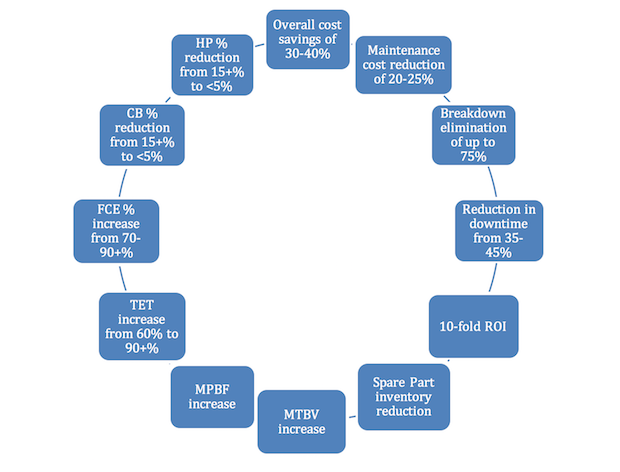 MTBV – Mean Time Between Visits
MPBF – Mean Prints Between Failure
TET – Technician Effective Time
FCE – First Call Effectiveness
CB – Call Back (Service)
HP – Hold for Parts
Reducing service personnel costs can be done in a few ways. The first is by increasing first call effectiveness (FCE) percentage, which is a measure of how often a service tech will fix the problem on the first visit. Service call costs will be reduced significantly since, through the use of Predictive Analytics, service deployment can be consolidated for multiple machines, costly expedited service can be reduced/eliminated, and, since service techs will know what part will fail, they will have the right part at the first visit. The use of predictive modeling allows commercial print operators to anticipate device-downing events and be prepared and able to plan maintenance. This includes knowing how a specific device will fail and what service will be required. This same capability can also reduce the hold for parts time the print operators currently endure.
Reducing inventory costs utilizes a similar methodology to the example above. Using predictive models to anticipate maintenance empowers service personnel to order inventory parts on an as needed basis rather than stocking many parts as done in a reactive maintenance mode of operation.
Supplies waste can be reduced in a couple of ways. One way is by using predictive models for quality control. By utilizing automated sensors combined with predictive models, printed materials can be analyzed during and post production to reduce wasted prints. Additionally, reducing downing events (ie. web breakage in the case of a web press) can also decrease the amount of wasted, costly supplies and media during a print run.
Predictive analytics is a powerful technology that has multiple use cases for commercial printers. Throughout this article we have discussed ways in which other industries have achieved significant benefit by using predictive models in a manner similar to the commercial print industry. HP has already proven that they see the value in this capability through the formation of their Predictive Press Care Service. Photizo Group expects this technology to become mainstream in the commercial print space in the years to come. Visit our web page at www.photizogroup.com to download our latest webinar on predictive analytics or to leverage our other predictive analytic resources.