By now you have probably heard that Xerox will be splitting into two publically traded companies: A Services company and a company dedicated to the business of its roots, printing and copying equipment and processes. In light of that welcome news, it may make sense to look at Xerox as a new company with lots of new opportunities.
In my first article on Xerox, I looked at the company history and CiPress, its initial entry into production inkjet. Subsequently I wrote a deep dive introduction into Impika, its products, and its extensive experience in inkjet technologies. Since those initial articles in 2012, Xerox acquired Impika, creating a company with an incredible breadth of inkjet technologies to tap into. At the 2015 Hunkeler Innovation Days event in Lucerne, Switzerland, Xerox released its first Xerox-branded product, the Xerox RialtoTM 900, to industry accolades. It is a unique 'business color' roll-to-sheet production inkjet press in an A4 format with a small footprint. It was also one of the first production inkjet solutions offered at a price point well below $1M ($600-700K). With that introduction, in my estimation, the reintroduction of Xerox began, and its redefinition of the production inkjet marketplace as well. At drupa 2016, Xerox will be presenting more examples of its vision of the new production inkjet marketplace.
Imaging
As I mentioned earlier, Xerox has an extensive breadth of inkjet technologies available to tap into for product creation. These include the 'phase change' technology originally acquired with Tektronix, the flexible and intelligent application of 3rd party inkjet heads acquired with Impika, research and product development being done at Xerox PARC, and access to partner Fujifilm's Dimatix division if they so desire.
In its currently available production inkjet product line up, Xerox is using a range of these technologies. CiPress continues to use the waterless phase change DoD 600 dpi printhead which allows printing on lower-cost offset media without any priming. The Rialto 900 and the new Brenva HD use the piezo electric DoD Kyocera KJ4B printheads which are native 600 dpi, printing 4 grey levels. The Evolution, Compact, and Reference presses as well as the new Trivor 2400 use the Panasonic DoD series 420 printheads and prints a variety of fixed selectable drop sizes and resolution at native 600 dpi.
However, if you have been reading this series, by now you understand that it's not just which printheads you use but rather, how you use them that affects the printer's quality and performance. For example, many other printer manufacturers use the Kyocera KJ4B and like Xerox have creatively enhanced the printhead operation. An example would be the addition of 'pre-fire' by Canon on the ColorStream 3000, or multi drop modulation on the VarioPrint i300. On the Brenva HD, Xerox brings the flexibility to adjust the drop size, speed and resolution based on the needs of the job. On the Compact, Reference, Evolution, and Trivor 2400, Xerox employs the Impika-developed VHQ mode, which uses two different channels on the Panasonic printhead to send two different drop sizes, instead of one nozzle for three drops in a standard grayscale mode. The benefits are minimization of any nozzle drop flight time effects, better registration and a higher quality visual appearance. Since VHQ requires two printhead channels, currently VHQ is available in full color only on the Evolution, and monochrome on the Trivor, Compact and Reference. I would assume that it will become a full color option on their other models as they continue their new product and feature development. Finally, this year Xerox increased the printhead frequency from 30 kHz to 40 kHz, increasing the press throughput by about 30%.
Inks
Xerox and Impika have been making and improving toner and ink performance for years. In 2012, Impika introduced HD pigment inks, which included nano pigment particles to improve the pigment loading in the ink, while still allowing for it to flow through the nozzles. This year, in time for drupa 2016, Xerox is introducing a new HD ink with even better performance, a wider gamut and better print contrast.
At drupa 2016, Xerox will be showing a technology demonstration of their new Xerox High Fusion Ink, an impressive attempt at creating an ink that will print on standard offset matte, silk or gloss coated media without any priming or post coating. Of course it is not just about the ink itself, it is a combination of the ink, the head, the dryers, and even chillers in the case of Xerox. This is a goal that all production printer manufacturers aspire to, and we look forward to seeing how this will all come together. I did get a chance to see a sample of the new Xerox High Fusion Ink they will be demonstrating at drupa 2016 on an untreated matte coated stock and the results were impressive. Xerox® High Fusion Ink is currently scheduled for beta in Q4 2016, with a commercial release in 2017.
Press Models
Xerox undoubtedly has the broadest, and perhaps the most complex portfolio of production electrophotographic (EP) presses in the market. This includes 11 monochrome and highlight color models and 10 full color models. At the high volume end of the EP color production product line, the Xerox iGen 5 , released in 2015, is the flagship model. At the mid level, the Xerox Versant 2100 currently holds the position, and at the low end it is the Xerox C60, with the other models distributed between.
However, with the inclusion of the production inkjet presses, a whole new product category and scale of measurement is required. In the production inkjet portfolio, Xerox currently has eight models. In its currently available continuous web-fed lineup, the company continues to sell the CiPress waterless phase change press in both 325 fpm and 500 fpm models. The portfolio also includes three of the aqueous ink DoD presses that came over with the Impika acquisition. They are the Xerox Impika Evolution which has a rated speed of up to 833 fpm (254mpm), the Xerox Impika Compact and Xerox Impika Reference both rated up to 416 fpm (127 mpm). The current portfolio also includes the previously mentioned Xerox Rialto 900 roll-to-A4-sheet press, which has speeds up to 157 fpm (48 mpm). Add to that, the Trivor 2400 web fed and Brenva HD cut sheet presses discussed later.
Next Generation models
For drupa 2016, Xerox is introducing two new production inkjet press models. While the previously released Rialto 900 was basically the Impika Genesis concept machine introduced at drupa 2012 with a new Xerox skin, these two presses are truly new collaborative designs from the newly structured company. As Xerox starts to build its 'new' production inkjet portfolio, these first two new models were designed to target market sweet spots, address existing customer feedback and highlight strengths from each of the two companies.
Xerox TrivorTM 2400
This newly-designed product has its roots in the original Impika Compact, although it has developed into a significantly more robust machine. First off, it retains the compact design, with the base size of only 11.5 ft (3.5m) in length and 8.8 ft (2.7 m) in width, making it the smallest footprint production inkjet press in the market. It is able to do this by removing the turn bars and optimizing the paper path.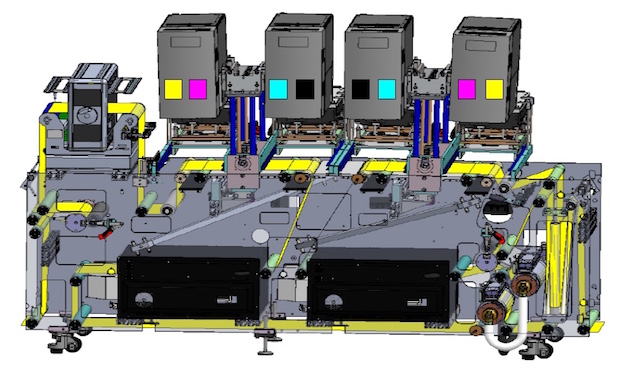 The footprint is a significant issue for many companies, especially in Europe and Asia, as they think about transitioning to inkjet. Floor space is almost always an issue in any company, and since the bulk of the machines being replaced with inkjet today are smaller EP machines, this compact size takes away that obstacle.
The press is available with 4/4, 4/0 and 1/1 field upgradable configurations. The Trivor has a variable press speed adjustment, which allows the operator to slow it down to check the print or speed it up to get maximum productivity. As previously discussed, this press uses native 600 dpi resolution Panasonic inkjet heads, but it also supports variable quality running modes. The press speed at productivity mode 360 x 600 dpi is 551 fpm (168 mpm), 328 fpm (100 mpm) at 600 x 600 dpi, and 164 fpm (50 mpm) in quality mode 1200 x 600 dpi. In a monochrome configuration, the speeds are 656 fpm (200 mpm), 656 fpm (200 mpm), and 328 fpm (100 mpm), including previously discussed VHQ.
DoD inkjet heads need to be exercised when they are not printing to operate at an optimal state or you get nozzle dropouts. So this press includes Clear Pixel Technology, which exercises the heads at regular intervals with a random spray that is invisible to the naked eye. It also includes the Xerox Intelligent Scan Bar technology, adding missing jet detection / compensation and inline density optimization on demand. While most piezo electronic DoD print heads have a fairly long operating life, usually measured in years, Xerox also offers a print head refurbishment program to minimize operating costs.
The Trivor doesn't include a built-in media priming station; however, the Trivor and the improved HD ink is optimized to work with plain offset paper. Xerox claims this new ink has the longest open time of any production ink in the market, which should help minimize the need for purging and keep the nozzles open, but may also limit some of the non-inkjet treated media you can run, especially coated stocks. Although this could be remedied with the new Xerox High Fusion Ink.
The Trivor transport includes improved web cleaning, and better paper path steering to increase reliability and performance. It uses a combination of IR and hot air drying. It is designed to work with many industry partner finishing solutions. Paper weight range is extended to 40 – 230 gsm as a result.
The Trivor front end is the Xerox IJ Print Server powered by Fiery®. This is a scalable print server that can be configured to ensure the press is running at full speed for all print requirements. Xerox offers 6 different configurations to meet those requirements.
Xerox BrenvaTM HD

This is Xerox's first sheetfed production inkjet machine. The first thing you notice when you see this new press is that it looks remarkably like the iGen, and it should. Instead of developing a completely new press design, Xerox decided to stick with something that works and has been very successful. As a result, it was designed on the very familiar and reliable iGen paper path transport chassis. It is approximately the same length as the iGen which, like the Trivor, should help take the floor space equation out of the decision process.
The Brenva is a duplex press that supports printing up to a B3+ ( 14.33 x 20.5 in) sheet, with a top speed of 197 A4 images per minute. It is positioned to produce 'business color' and 'light direct mail' quality, similar to the Rialto, which makes sense since they both use the same 600 dpi Kyocera KJ4B printheads, imaging technology and aqueous based inks. The four print bars have dedicated motors to control roll and stitch, and the press is constantly monitoring and adjusting the printheads as needed to maintain optimal alignment and quality. The imaging system supports variable drop sizes, allowing for multiple size drops to be placed at any pixel location, increasing the print quality and creating smoother lines as desired. It also uses the Intelligent Scan Bar technology to identify and compensate for missing jets. There is an inline spectrophotometer which automatically reads target charts generated during the linearization and profiling of new media.
For those of you who are unfamiliar with iGen operation, it is a straight paper print path as seen in the video below.
The transport is also configured with advanced registration and dynamic belt steering which senses correct sheet position when entering the marking area to eliminate lateral movement under the print heads.
It can print on inkjet treated media and uncoated smooth, regular and rough media. It has a 20,000 sheet input capacity with eight pick points that allows loading media while running. It also includes the Xerox production stacker that has a 5,500 sheet capacity that can be unloaded while the press is running. Xerox announced that it can be fitted with the CP Bourg booklet maker, and I would expect other inline finishing options to be made available over time.
The Brenva front end is the Windows-based Xerox FreeFlow Print Server and Software. This newly designed version has a new Web UI and includes many of the intelligent imaging algorithms and correction tools that existing Xerox customers are enjoying in their current DFEs.
And all of this for about $ 649K, making it one of the lowest cost cut sheet production inkjet presses in the market today.
Workflow
In addition to the individual DFEs for each press, Xerox has continued its development of Xerox FreeFlow® Core, the centerpiece of its workflow automation suite. This new technology was designed from the ground up to power a new platform of product offerings and shouldn't be confused with FreeFlow Process Manager, a legacy Xerox workflow application.
FreeFlow Core has capabilities to enable fully flexible and 'rules based' variable workflows. In taking this approach, Xerox is recognizing that workflow is not "one size fits all," and allowing a more modular approach to workflow deployment.
At drupa 2016, Xerox will be announcing the new FreeFlow Core 5.0 release that, will offer additional Cloud configurations, building on the initial 2015 Cloud announcements. It also includes new output management functionality and broader-based integration and control of an expanded range of third party partner finishing solutions.
Xerox does folding carton?
As a part of the research I did for this article, I found what I thought was one of Xerox's biggest secrets. While the company doesn't make much noise about it, it has about 60 customers (mostly in Europe) that are using the iGen platform in their folding carton production lines. While I could write a whole article on this alone, I think the following video tells the story nicely.
But it doesn't stop there. Xerox recently announced a joint venture with KBA to create the KBA VariJET 106 hybrid press, Powered by Xerox. This unique combination of production inkjet and offset press was designed specifically to address the needs of the folding carton industry. The hybrid concept is impressive, raising the bar on folding carton press design. As more details are unveiled, we will update you.
Conclusion
While Xerox has been a leader in EP production printing from the beginning, in the production inkjet space the company has some catching up to do. And when you look at the real economic breakthroughs in production print, they are centered around production inkjet and automation. With the release of the Trivor and Brenva, it is apparent that it would not just take the Impika portfolio and put new skins on it. If you add to that the new KBA Powered by Xerox VariJET 106 Folding Carton Press, you can see that Xerox truly wants to set the new baseline for production inkjet presses, as it did with EP. And it seems to be doing this with an understanding that the key, in the short term, will be getting the existing EP and short-run offset base to move to inkjet with as few obstacles as possible.
On the other hand, the challenge of the 'new' Xerox will be getting that information out to the market. It might be time for the company to take a look at its increasingly broad portfolio, and create a more coherent message about who this new company is and how it is in the best position to serve the new market requirements. Doing that through their own branded production inkjet product line and through joint ventures using the Xerox Impika or other Xerox developed imaging technology could be a great first start.
I will be bringing you more detailed information as we have done in the past to prepare you for your visit to drupa, or if you are not going, to prepare you for your investigation into production inkjet and other investments. As a refresher, I would suggest that you do a 'review' of the original production inkjet and workflow series. It not only covers the vendors and machines that have made it to market, but also the driving technology, requirements and impediments.
Stay tuned for lots more in-depth information on other production inkjet solutions as the information becomes available and as we get closer to drupa 2016.