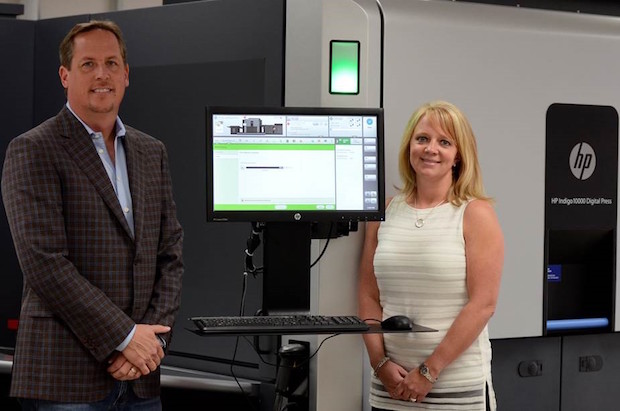 Denver-based Hampden Press, founded in 1977, is a privately-owned full-service printing company providing digital, offset and large format printing solutions, specializing in the production of high quality marketing collateral, including variable data direct mail programs.
While the company had already introduced digital printing more than a decade ago, about eight years ago a homebuilder approached them and offered to send the company all of its printing if it would acquire an HP Indigo digital press. "We purchased two HP Indigo 5600s to address this customer's need," says Nicole Jenni, Vice President. "Unfortunately, the timing was not good. It was just about the time of the housing crash and we never ended up getting any work from that potential client. But we were glad we made the investment anyway, because it significantly improved our digital printing quality. Customers were very receptive, and it put us on an accelerated path of converting offset to digital, with shorter runs and more personalization."
Today, the company operates with a 6-color Heidelberg Speedmaster, a Heidelberg duplicator, its two Indigo 5600s, and a brand-new HP Indigo 10000.
"We had the opportunity to be the first in the Colorado market to acquire the Indigo 10000," adds Vice President Matt Blue. "Not only that, but we were at 100% capacity with our existing equipment and needed the expanded capacity. We saw an operating cost advantage with the larger sheet size of the Indigo 10000, plus it opened the door to a range of digital products that are unique to that platform, such as short-run pocket folders and other large collateral that doesn't fit on a small digital press."
Jenni reports, "Another interesting coincidence that occurred right as we were acquiring the Indigo 10000 was a customer coming to us with the idea of doing custom wrapping paper during the holidays. That was something we hadn't considered that we were able to do with the Indigo 10000. In addition to the exciting new applications we can now produce, the new press also gives us that extra capacity we need to handle last-minute projects. We don't like to say no."
Hampden Press installed its HP Indigo 10000 at the beginning of its fiscal year, and business is already up 10% over the previous year. "A great deal of that growth can be attributed to the Indigo 10000," Blue says.
Blue and Jenni are also intrigued by the recently announced HP PrintOS. "It looks really interesting," Blue comments. "We are going to try to leverage it to tie everything together. We like the idea of full transparency across the shop, the increased amount of information that will be available to us to help us better manage our business, its open architecture and the promise of a wide array of HP and partner apps that will allow us to continue expanding our business moving forward."
Looking ahead, Jenni says, "I could see adding another 10000 to replace the Indigo 5600s because of space constraints. We didn't think our business would ever be in a place where the 10000 would fit from a capacity perspective. The fact that we are considering adding a second one speaks to the change in the business and the growing shift to digital."