As is the case in many Japanese companies, Fujifilm operates very conservatively, with minimal marketing fanfare. As a result, some may overlook them when reviewing the print production solution landscape. However, Fujifilm is a real powerhouse in graphic arts, electrophotographic printing and production inkjet. In my first article on Fujifilm, I looked at the company history and product lines including its continuing and significant relationship with Xerox (FujiXerox). In that article, I also covered the strategic acquisitions that were made to support the emerging Fujifilm production inkjet business. Fujifilm provided a technology demonstration of its first sheetfed production inkjet press, the J Press 720, at drupa 2008, which then became commercially available in 2011. At drupa 2012, the company previewed the J Press 540W, a web-fed production inkjet press, as a technology demo that became commercially available during the first half of 2013.
Since that last article, Fujifilm has been very busy. In November of 2013, the company announced a joint partnership in production inkjet development with Heidelberg, and that effort began to show fruits with the recent introduction of the B1 format Heidelberg Primefire 106. While Fujifilm was very early -- perhaps too early -- to market in sheetfed production inkjet, that experience enabled a better understanding of what the market wanted and how to best deliver a great solution for it. With that new understanding, Fujifilm did a soft release of the new J Press 720S in November of 2014 and has been busy building market awareness and customer acceptance throughout 2015. Add to that a technology demonstration to be highlighted at drupa 2016, and you can see they are on a mission to gain a significant position in the inkjet marketplace.
Imaging
If you have seen the impressive photographic quality print output from the J Press 720S, or the Heidelberg Primefire 106, it can primarily be attributed to the Fujifilm Dimatix SAMBATM G3L printheads. If you haven't, you should.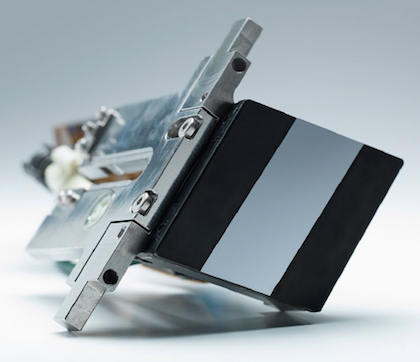 The SAMBA is a 1200 native dpi piezo-electric DoD (drop on demand) printhead. And while the Landa presses have a unique imaging process, they use the SAMBA printhead as well. There are many advantages to its MEMS design, including VersaDropTM which delivers multi-level grayscale through the ability to support multi-drop and fixed drop sizes from 2.4 to 13.2 picoliters. Another significant advantage is RediJet recirculation, which continuously recirculates the ink behind the nozzle to keep the printhead primed, with minimal ink waste and improved reliability. I covered the similar Canon 'pre-fire' head technology earlier in this series. In addition to this recirculation technology keeping nozzles open and saving ink, it also allows the inks be manufactured with a lower level of humectants, which can make it faster to dry on a variety of media. However, that still doesn't ensure good ink adhesion to the wide variety of media that will be used in a sheetfed press. That is why Fujifilm, Canon, and most of the other sheetfed production inkjet press manufacturers include a primer solution as well. Each SAMBA G3L printhead has 2048 nozzles and a print width of 1.7 inches. The unique parallelogram nozzle plate of the SAMBA was designed to support large arrays of printheads with simplified printhead stitching, resulting in a very narrow print bar. This gives the OEMs a lot of design latitude. While each of the vendors mentioned above are currently using aqueous inks, the printhead also supports UV-curable inks, organic solvents and latex, making it flexible for a variety of applications.
Inks
As discussed in the last Fujifilm article, the company purchased the Avecia and Sericol ink companies in preparation for its entry into production inkjet press development. One result of those acquisitions is Vividia pigment ink which was designed to work in conjunction with the Dimatix printheads, including the SAMBA, and provide exceptional print quality, a wide color gamut and good media adhesion.
J Press 720S
In conjunction with the J Press 720S B2 format sheetfed production inkjet press release, Fujifilm did a fork lift upgrade of all of the installed J Press 720's in the field. This new model has apparently taken the market by storm. Since the introduction of the J Press 720S about 12 months ago, Fujifilm has installed more than 70 units, and the orders are still coming in. The JPress 720S design, aside from imaging, is consistent with a sheetfed offset press as seen in the following video.
Video Provided by Fujifilm
The JPress 720S is a B2 ( 20.9 x 29.6) press that can print up to 2700 sheets per hour, at 1200 x 1200 dpi with 4 level grayscale. It can print on coated (matte, silk and gloss) and uncoated papers. It supports media thickness of 84 gsm – 300 gsm. The press includes a Rapid Coagulation Priming station via anilox roller that primes the media before it reaches the four print bars (CMYK), each containing 17 SAMBA printheads. This allows the press to print very sharp dots and line art with great print contrast on a very wide range of media. The press includes an ILS (inline sheet scanner) that detects problems and makes any adjustments in real time to ensure they are applied to the next sheet. The drying has been optimized with infrared drying and a hot air knife across the sheet width. There is also a paper cooling station that cools the paper with a bank of fans before its delivery. This stabilizes the sheet and helps the drying performance.
Version 2 Improvements
There have been a number of fairly significant quality, productivity and reliability improvements added since the first version of the JPress 720. To improve the print quality, Fujifilm changed the jetting order as well as the design of the printhead modules to allow for individual printhead modules to be individually changed without removing the entire print bar.
The company also made a number of modifications to the print drum to get better feeding, prevent deformation of wetted paper into vacuum holes and improve vacuum control. They also improved paper height safety detection, which is always critical on sheetfed inkjet presses.
The press now includes a variable data scanning solution that prints a small barcode in the non image area of the sheet to identify each sheet, to ensure the correct front to back match, a feature that was missing from the initial press. It works even if the sheets are mixed in the lift before the back side is printed. This included introduction of higher powered data servers to allow for variable data printing at full speed.
In April of 2016, the JPress 720S was the first production inkjet press to receive the Idealliance® Digital Press System Certification and to meet the GRACoL 2013 specification. This test showed that the press consistently met the specification throughout the 1000 sheet run, and it repeated the results the next day as well.
J Press 540W
As previously mentioned, Fujifilm presented a continuous feed web production inkjet press technology demo at drupa 2012. This became the J Press 540W and was made commercially available in 2013. This 20.5-inch web duplex press (single tower) has a small footprint, and prints at up to 328 fpm (100 m/min) duplex at 600 x 600 dpi or 417 fpm (127m/min) at 600 x 480 dpi, and all of this in a footprint of 21.6 ft x 8.9 ft (6.6m x 2.7m)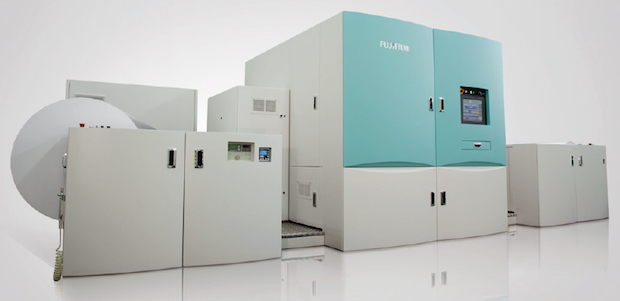 The J Press 540W based configuration is roll to roll, but it can be ordered with a sheet cutting unit, and many third-party finishing options.
New Technology Introduction
In line with its historic trend of introducing a new technology demonstration at drupa, this year will be no different. Expect that Fujifilm will be showing a new 20-inch continuous feed press with a resolution of 1200 dpi to produce much higher quality print, at an increased speed. The company is also considering showing some robotic front-end technology.
Fujifilm XMF Workflow
The press has its own controller that manages the press functions and serves as a touch screen press console for the operator. It has a scalable Windows-based architecture to support user requirements.
Preparing the files and feeding the data to this press is the Fujifilm Workflow XMF. This complete premedia workflow solution has the Adobe PDF Print Engine (APPE) at its core. In addition to supporting the J Press 720S and the J Press 540W, it is also designed as a complete plant workflow solution. The JDF-based system includes most functions needed to run the business and production aspects of a multi-device plant.
Conclusion
We have been watching the changes in production inkjet technology to identify when the cost and quality would be satisfactory for different print applications. One of the highest quality targets each new print technology has had to meet has been photo book work at the offset print quality bar. We initially saw Indigo enter, and for a while own, that market. Subsequently, many of the electrophotographic presses were able to reach the quality level required to participate in that space. With the new J Press 720S, I have no doubt that sheetfed production inkjet has reached that level as well. Of course that doesn't mean that the J Press 720S is targeted at the photobook market. In fact, the printers I spoke with are displacing their Indigo, iGen, and offset press production with this one for high quality commercial work.
But as we have seen in the past, Fujifilm is not sitting idly by. The company is continuing to not just develop new technology, but even lead the industry in terms of print technology developments.
I will be bringing you more detailed information as we have done in the past to prepare you for your visit to drupa, or if you are not going, to prepare you for your investigation into production inkjet and other investments. As a refresher, I would suggest that you do a 'review' of the original production inkjet and workflow series. It not only covers the vendors and machines that have made it to market, but also the driving technology, requirements and impediments.
Stay tuned for lots more in-depth information on other production inkjet solutions as the information becomes available and as we get closer to drupa 2016.