In my first article on Kodak production inkjet, I took a look at its history and the broad range of products which include the VERSAMARK and PROSPER product lines. That article was written before Kodak filed for bankruptcy in 2012. When the company emerged from bankruptcy in 2013, Antonio M. Perez, the Chairman and CEO at the time, announced "We have emerged as a technology company serving imaging for business markets – including packaging, functional printing, graphic communications and professional services,…". Fast forward to March 15, 2016, and Kodak announced that it was in talks to sell the Enterprise Inkjet Business. If this sounds confusing to you (and it should), in the conclusion to this article I will share my take on the proposed sale.
More importantly, in this article, I will focus on what the Enterprise Inkjet Systems Division (EISD) has been doing, and where it is ultimately headed. In late March, along with a small group of analysts, I had an opportunity to visit the home of EISD in Dayton Ohio to see what they were working on, and what they are planning to be showing at drupa 2016. In short, I was very impressed with what I saw, and what they have accomplished during the relatively quiet and trimmed down years of bankruptcy and reorganization. I can't wait to see what else they will be able do when they can put all of these other Kodak corporate distractions behind them.
Beyond the PROSPER line of printheads and presses, EISD has been working quietly, and not so quietly, with a few companies to OEM its Continuous Ink Jet (CIJ) technologies. These include press manufacturers, like Timsons for its newspaper press, and Bobst for their new line of packaging presses, which includes corrugated liner, folding carton, and flexible packaging presses. However, Kodak has have also been working with other companies in the decorative and functional printing space on OEM relationships that are not ready for public announcement at this time. With its scalable ULTRASTREAM Technology printing modules for OEMs, they will support print bar widths from 8 inches to 97 inches, which opens it up to lot of potential applications. Some of these new areas include; industrial substrates, printed electronics, biomedical and 3D applications, just to mention a few.
Kodak Continuous Inkjet Imaging
While Kodak continues to sell and support the VERSAMARK piezoelectric (piezo) inkjet products, the current efforts of and future successes for EISD are really centered around the Stream CIJ technologies.
At the heart of the EISD and PROSPER technology is the CIJ print head technology. As a refresher, most of the inkjet head technologies fall into two primary categories Drop on Demand (DoD) and CIJ. In DoD, there are two main categories of technology, thermal and piezo. In a thermal printhead, a tiny heater vaporizes a thin film of ink. A vapor bubble fills the chamber like a piston to force ink through a nozzle. Air bubbles are also forced out on every drop ejection cycle. In a piezo printhead, there is a piezoelectric material in an ink-filled chamber behind each nozzle instead of a heating element. When voltage is applied, the piezoelectric crystal vibrates, which generates a pressure pulse in the fluid forcing a droplet of ink from the nozzle. Piezo inkjet enables a wider variety of inks, including UV, than thermal inkjet. Thermal ink needs to be heat resistant and non-volatile. On the other hand, the piezo print heads are more expensive to manufacture due to the use of the piezoelectric transducer.
Continuous Ink Jet (CIJ), takes a different approach. There is no start and stop of drop generation as in DoD. Instead the printhead continuously generates a flow of ink through the nozzle at a high pressure to reduce nozzle clogging. Heaters warm the surface of the fluid jet as it exits the nozzle creating a pulse that modifies the surface tension of the jet stream causing a disturbance down the jet filament and breaking the stream into droplets. The drop size is proportional to the time between ink pulses and the stream velocity, and it is easily controlled. Ink drops not used are recirculated for reuse.
The following video demonstrates the differences between DoD and CIJ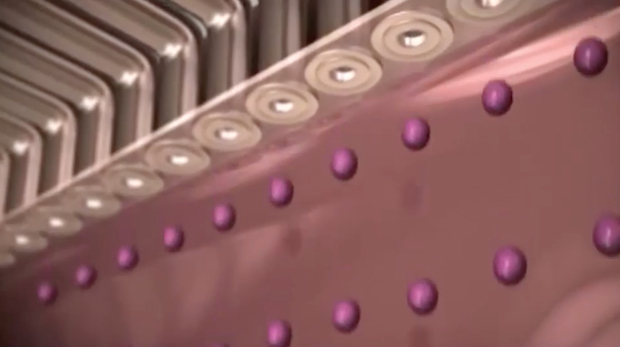 Click to open video demonstration
There are very few limits on CIJ ink jetting chemistries, making it ideal for a wide range of applications beyond commercial print. Regular head cleaning should provide for hundreds to thousands of hours of print reliability. If the heads can't be cleaned, they are refurbished by Kodak. Kodak currently has two adaptations of continuous inkjet print heads, Stream and the newly introduced ULTRASTREAM Technology. All of the PROSPER products to date have shipped with the Stream technology.
Stream
As previously discussed, the Stream printhead continuously generates drops, and then uses an air stream to direct the unused drops for reuse. The S-series Stream printhead prints 600 x 600 dpi at speeds up to 1000 fpm, Kodak's Prosper Press supports both 600X900 and 600X600 resolution at speeds up to 1,000 fpm, they claim it prints at the equivalent of 175 lpi at speeds up to 1000 fpm.
ULTRASTREAM Technology
This fourth generation, newly announced High Definition CIJ technology has been a high value project in the EISD labs for a while. Unlike the Stream technology that uses an air stream to deflect the unused drops, ULTRASTREAM Technology uses a charge electrode to create charged and uncharged droplets. The charged droplets are deflected and recirculated, the uncharged drops are deposited on the substrate. According to Kodak, it delivers more than 400,000 drops per second per nozzle, with a print frequency 3X faster than the fastest DoD technologies.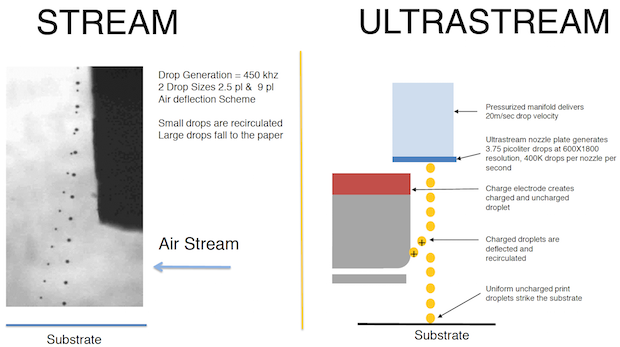 The ULTRASTREAM Technology printhead currently prints at 600 x 1800 dpi at speeds up to 500 fpm, on a wide variety of paper and plastic substrates. It will also be available in a scanning head configuration to enable wide web printing with multiple heads on a moving carriage. Kodak also believes that this technology is suitable for sheetfed press configurations.
Kodak estimates that the ULTRASTREAM Technology printhead life to be approximately 2000 hours, and the cost to be equal or better than DoD with a higher resolution and better productivity. As previously mentioned the heads are not discarded as with other inkjet heads, but are refurbished by Kodak at about 50% of the cost of a new printhead.
The printed samples that we saw coming off the test bed were very impressive and will be shown in the Kodak booth during drupa 2016. OEM kits will be available in the second half of 2017, with the first OEM products shipping by 2019.
Ink
Sometimes we forget, but at its roots Kodak is a chemical company. As a result, developing a variety chemistries for different applications to work with its CIJ heads is in Kodak's wheelhouse. As the company continues to engage in OEM relationships with others supporting differing deposition requirements, it is positioned to be an ideal partner for creating and supporting both the print head and deposition materials.
Kodak developed patented inks especially for Stream Inkjet Technology. They are manufactured using a micro-media milling technology. The Nano particulate (10 – 60 nm median particle size), pigment-based inks also include polymeric dispersants to enhance image permanence, water resistance, and reliability. The inks have an exceptionally wide gamut, claimed to be 35% larger than a comparable 175-line offset printing on coated stock. The water-based ink offerings are currently pigmented process inks.
Due to the CIJ process, the nozzles are always wet which eliminates the need for firing between printing and also reduces the need for a high level of humectants. Humectants are used to keep the ink from drying in the nozzles, but also affect its drying on the sheet. By reducing the humectant levels in the ink, you can reduce the cost of the ink and also allow it to dry faster on glossy substrates.
XGV (Extended Gamut and Varnish)
The Kodak's XGV Hybrid System was designed using the PROSPER S10 print systems, and can print up to 500 fpm on paper or flexible films for production packaging applications. It use a water based inkjet solution that prints CMYKOGV, plus digital varnish. The extended gamut can match more than 98% of brand colors without changing inks. The inks are compliant with indirect food contact regulations. As with all of the Kodak pigmented inkjet inks, they have superior light fade resistance.
While this system was initially designed to be integrated in-line or near-line with a gravure or flexo press without slowing down the presses, it can be configured as a stand alone system. The XGV technology system will be running live as a technology demonstration in the Kodak booth during drupa 2016.
Products
I have covered the current Kodak PROSPER line of presses including; PROSPER 6000C designed for high coverage commercial catalog applications, PROSPER 6000P designed for lower coverage publishing applications that use newspaper weight papers, and the PROSPER1000 Plus which is marketed as the world's fastest black and white inkjet press.
The PROSPER S series printing systems are also available, and there are more than 1300 PROSPER S-series heads are installed on a variety of flexo, gravure and offset presses. Additionally, they have been implemented to do variable print on folding and finishing equipment as well.
The PROSPER Image Optimizer Station (IOS), is available in either an inline or offline version. These provide a flood coat priming station to allow the user a much wider media selection and better imaging performance of running media.
DFE
The PROSPER series inkjet heads, both Stream and ULTRASTREAM, are driven by the scalable Kodak 700 Print Manager DFE. The 700 accepts all of the necessary file formats including AFP, IPDS, IJPDS, PDF, PS, PPML and VPS. It supports JDF and JMF control and communication. Currently it includes Adobe APPE 3.x, which gives it better and faster support for PDF/VT as well as much more efficient parallel PDF processing.
Conclusion
For those of you that may not understand why Kodak or any company might want to sell off this exciting and promising technology, here is my take. As a part of the Kodak exit from bankruptcy, there was a financial lending arrangement that placed significant control of the company in the hands of a group of private equity investors, which included, GSO Capital Partners, a subsidiary of The Blackstone Group, BlueMountain Capital Management, George Karfunkel, United Equities Commodities Company, and Contrarian Capital. As most of you know, private equity firms are usually very focused on short-term financial gains, which is not usually in the best interest of an emerging technology company. It is this contradiction in goals, and a lack of understanding of the potential, that has driven EISD to look for a new home, with a 'strategic' partner. In essence they are seeking a company that fully appreciates what the Kodak Stream and ULTRASTREAM Technologies are, and how they can evolve it into short-term profitability and longer term return on investment.
Since its inception, whether under the logo of Mead Digital Systems, Diconix, Kodak, Scitex, or Kodak, EISD will continue to innovate and sell and license exciting technologies, as it has since the 1970's.
I hope to bring you lots more detailed information as we have done in the past to prepare you for your visit to drupa, or if you are not going, to prepare you for your investigation into production inkjet and other investments. In advance of the next wave of articles, I would suggest that you do a 'review' of the original production inkjet and workflow series' as a refresher. It not only covers the vendors and machines that have made it to market, but also the driving technology, requirements and impediments.
Stay tuned for lots more in-depth information on other production inkjet solutions as the information becomes available and as we get closer to drupa 2016.