While HP has been around since 1939, the company has been evolving ever since. In my first HP article in the production inkjet series, I covered its evolution in thermal inkjet, and its lead up to production inkjet press developments. I continued that discussion in the most recent article. Production inkjet was not HP's first foray into production print. The company has actually been in the business of producing production printing equipment since it acquired Indigo in 2001. Since the introduction of what is now the HP PageWide Web Press line, HP has maintained parallel efforts in the production print space in both inkjet in San Diego, California, the home of the PageWide production inkjet print line, and in Ness Ziona, the home of the HP Indigo liquid electrophotography (LEP) line of presses.
HP Indigo Presses
The Indigo presses have been part of the production print landscape since Benny Landa unveiled them in 1993, then passing the mantle to HP in 2001. According to IDC, there have been over 10,300 Indigo presses installed in the over 20 years since the initial introduction, of which approximately 2000 are label and packaging presses. Although the current installed base includes about 7500 presses at 4500 customers, spanning 120 countries. This includes the B2 format presses announced at drupa 2012: the sheetfed HP Indigo 10000 Digital Press designed for commercial print, and the HP Indigo 20000 continuous web and sheetfed HP Indigo 30000 Digital Presses designed for packaging. Combined, more than 300 units of these B2 presses have been installed.
HP Indigo Imaging
HP Indigo LEP/liquid toner imaging has always been one of the most important strengths of the press line. In the early days of digital imaging, HP Indigo was at the forefront of quality production. And while many of the dry toner technologies have attempted to level the quality playing field, even today more than 75% of the photo books worldwide are produced on HP Indigo digital presses. In addition to the initial drive of commercial digital print and photo books, many global brands have also built personalized campaigns on the strength of HP Indigo imaging. This recognition is not just for collateral material; it is also for unique packaging design and production. Some of the brands whose award winning campaigns have been produced with HP Indigo imaging include Bud Light, PepsiCo/Frito Lay, Mondelez/OREO, and Coke, just to mention a few.
HP Indigo imaging uses a unique Liquid Electrophotographic Process (LEP). HP ElectroInk®/liquid toner is comprised of polymer pigment resins that are milled to a particle size of 1 to 2 microns which are electrically charged. The ElectroInks are distributed in canisters as a concentrated paste to reduce shipping costs and ease of handling on press. The paste is then automatically mixed in an ink supply tank with a fuser oil and a charging control fluid to create a liquid toner ready for printing.
The first step in the imaging process is the Photo Imaging Plate (PIP) charging, which consists of a depositing a uniform static electric charge on the photoconductor using a charge roller, or for older presses a scorotron. In the next step, using an array of laser diodes the image is exposed onto the PIP, a re-image-able plate mounted on the imaging cylinder. These PIPs are consumables, and their useful life is determined by the volume and type of print. For example, static print can reduce the life more than variable print. The PIP needs to be changed when it loses the ability to uniformly accept the charged ink. The general consensus of users is that they average between 80,000 to 115,000 impressions per PIP. Each color is calculated as an impression, so a 4/0 image would be 4 impressions. Since the user is charged a click for each impression, the PIP which is included in that charge, can be replaced by the user at no extra cost. Once exposed, the Binary Ink Developer Units (BID), one for each color, transfer the electrically charged ink from the BID roller to the PIP. The electrically charged ink is attracted to the exposed plate areas.
Just before the image is transferred to the blanket, a set of diodes in the pre-transfer erase unit is used to dissipate the charge on the PIP, which enables the inked image to transfer to the heated blanket where some evaporation of the imaging oil occurs, and the ink particles that comprise the image remain. The result is a thin layer of tacky polymeric film that is then transferred to the media on the impression cylinder, at which point the ink film image solidifies. Once the image is transferred to the media, any residual ink is automatically removed from the PIP in preparation for the next imaging cycle. This all happens in a matter of milliseconds, which is pretty impressive.
Depending on whether the HP Indigo digital press is sheetfed, continuous feed or has a special media requirement, there are slight differences in the imaging process. In Multi-Shot imaging, the media stays on the impression cylinder for several rotations of the press drums to receive each separation from the blanket one after the other. Once the final separation is printed, the substrate is either flipped and reimaged for duplex printing or delivered to the output tray.
The continuous feed web press models employ the One-Shot Color process, as it is not possible to wrap the material around the impression cylinder for multiple passes. In this case, the PIP cylinder rotates several times, transferring each of the separations to build them up on the blanket before they are transferred to the media all in one impression pass. One-Shot can also be used on all sheetfed models aside from the 3600 when it is necessary to support printing on heat sensitive materials, metalized substrates and synthetics.
Unlike dry toner electrophotography (EP), the liquid toner electrophotography transfer process is not affected by air flow, so this process produces a much sharper image which transfers to the surface of the media. In that regard, it is somewhat similar to the Landa's Nanography process covered in a previous article. However, in this case, it is sort of a hybrid EP and offset imaging process, instead of an inkjet and offset hybrid.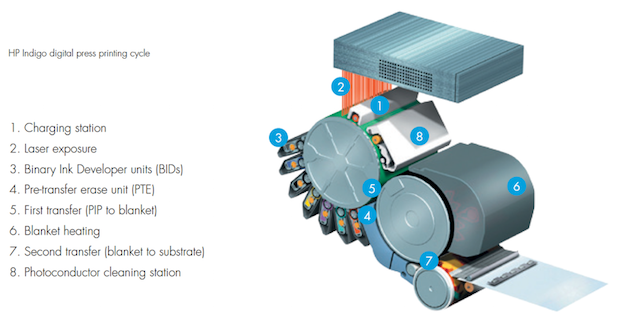 The HP Indigo digital presses can support up to seven ink stations, which can produce up to 97% of the range of Pantone® colors. HP Indigo currently manufactures HP ElectroInk in the standard process colors (CMYK), the 3 extended colors (OGV) as well as photo inks (Light Cyan, Light Magenta, Light Black and the new light-light black). They also produce 2 white inks, a new White for Sleeves and the new Premium white for a very wide range of opacities. HP Indigo manufactures light-fast inks for applications requiring heavy outdoor use, and special colors like the new Fluorescent Pink. With the IndiChrome off-press mixing kit, you can mix customer-specific spot colors.
Since the HP Indigo introduction, the company has consistently been increasing print quality and application support. With the new innovations and hardware releases that will be shown at drupa, HP is raising the bar again. In fact, Alon Bar-Shany, general manager of the HP Indigo division, stated that this round of innovations and announcements is the largest they have had in 20 years. The new product innovations that will be introduced at drupa 2016 continue to focus on quality, new print applications, and faster throughput, media range.
The quality innovations include BID and blanket improvements, and an upgrade from an 812 DPI to a 1600 DPI High Definition Laser Array that will be available in 2017 for the HP Indigo 12000 Digital Press. Also being introduced is an inline scanner to detect defects and alert the operator. For packaging presses, there is an AVT based machine vision solution that compares the print with the original file, and an inline spectrophotometer to monitor imaging consistency and assist in characterizing new media. In terms of supporting new print applications, HP Indigo is introducing an in-line primer using one of the ink stations to enable a wider range of media options. Also in that arena, a few new inks are being introduced, including the previously mentioned premium opaque white with an opacity of 81% rivaling silkscreen, and the new Fluorescent Pink ink to further expand the available color range.
All of these new enhancements will be made available as upgrades to older model machines in the field, which has been a hallmark of HP Indigo's strategy for some time to help customers maximize the lifetime of their investments.
HP Indigo Presses
The HP Indigo hardware will also see some significant refreshing at drupa 2016. It is important to understand that in general, the HP Indigo digital press platforms are designed around applications. There are two overarching applications for HP Indigo: Commercial print, which primarily uses sheetfed presses; and labels and packaging which primarily use continuous feed web presses. Of course, there is some cross-application overlap, like photo products which can go on either platform, and some label or packaging applications as well. For example, the web fed W7250 is designed for duplex commercial publishing and photo applications, the HP Indigo 20000 Digital Press now supports commercial printing applications in addition to labels and flexible packaging applications and the HP Indigo 30000, which is a sheetfed platform, for folding cartons, but can also print other applications.
Since HP Indigo promotes and markets the application and jobs focus of its presses, in some cases it is difficult to compare performance, either against competitor machines or even across HP's own platforms. It should also be noted that on all of the HP Indigo presses, the maximum throughput speed is affected by the number of colors you print. For example, printing monochrome is faster than printing with two colors, which is faster than printing with three colors, etc., up to the maximum of seven colors. The newly introduced in imaging primer is handled like any other color in terms of BID use, click charge and press throughput. HP Indigo does support a three-color Enhanced Productivity Mode (EPM) available on its presses which can be used to reduce time and cost when it is compatible with users' requirements. When used in conjunction with a preflight solution from Enfocus, customers can decide more easily which jobs are suitable for EPM printing. Typically, EPM uses CMY to create the process colors, eliminating one imaging cycle, saving time, ink, and cost with minimal impact on quality.
For ease of comparison, I will attempt to normalize the information using sheets per hour (sph) for sheetfed and fpm (fpm) for continuous feed. I have also calculated the throughput speeds printing 4/0 at the maximum sheet/web size for that press model. The speeds in each press series are fixed by the imaging system. The value-added features bundled in each press model are continuingly being upgraded to target specific application requirements. Depending on your specific application requirements, you may need to do some additional calculation for a good comparison.
Cut Sheet
With the new introductions, HP Indigo now has three A3 (13 x 19) presses in its lineup. As discussed, they are each configured with value-added features that are targeted at specific application requirements.
The Series 2 presses, the HP Indigo 3600, and 5900, run at 2040 sph. They support media from 40 lb. text to 130 lb. coated cover (60 - 350 gsm, while the 5900 can also support material up to 550 microns). The entry level 3600 model is the only press in HP Indigo's lineup that supports two paper drawers and a maximum of 4 colors and not the 7 discussed above.
The Series 3 press, the HP Indigo 7900 model, runs at 3600 sph and also supports media from 40 lb. uncoated text to 130 lb. coated cover (60 - 350 gsm). They were able to increase the speed in this series 3 press over Series 2 presses by enlarging the PIP and blanket cylinders to allow for two colors to be printed in tandem, and then transferred to the media.
There are three Series 4 presses, all are B2 press formats (20.8 x 29.5) and run at 3450 sph 4/0. The HP Indigo 10000 and the new HP Indigo 12000 support media from 50 lb. uncoated text to 150 lb. coated cover (74 – 400 gsm). The HP Indigo 30000, which is designed as a folding carton press supports paper weights from 40 lb. text to 160 lb. coated cover (150 to 450 gsm), and assorted plastics up to 880 gsm depending on the specific material.
Continuous Feed
With three new introductions, HP Indigo now has four models in its continuous feed lineup. All of the models have a base roll-to-roll configuration; however, there are many optional third-party solutions for inline and near-line finishing. These include lamination, slitting, embossing, etc.
Both the HP Indigo WS7250 and the new HP Indigo WS6800 support a maximum web width of 13.4 inches, and a maximum repeat length of 38.6 inches running at 98 fpm. The WS7250 press supports paper weights of 27 lb. text to 110 lb. cover (40 – 300 gsm), and is aimed at the publishing market. There are two versions of the WS6800; the WS6800, introduced in 2014 is targeted at narrow web labels and packaging, while the newly introduced WS6800p is targeted at photo. These presses support 27 lb. text to 130 lb. cover (40 – 352 gsm).
The newly introduced HP Indigo 8000 contains two imaging engines in line to increase throughput, and an optional priming unit. Like the previous two Series 3 web models, it supports a maximum web width of 13.4 inches and a maximum repeat length of 38.6 inches, and can run at 197 fpm.
There two larger size continuous feed presses, the HP Indigo 20000 which was introduced at drupa 2012, and the new HP Indigo 50000. Both of these support a 30-inch wide web width, with a repeat length of 21.6 inches. This allows both presses to produce the equivalent of an oversized B1 sheet. The 20000 prints on one side, but the 50000 is configured with two tandem imaging engines that can print in simplex or duplex modes. The presses run at a speed of 112 fpm, or can produce the equivalent of 2300 B1 sph.
DFE and Workflow
The presses in the HP Indigo line, except for the 3600, are now bundled with the HP SmartStream Production Pro Server 6.0. This is newly designed to work with their new Press Manager and the newly introduced HP PrintOS (will be covered at a later date). HP Indigo has a wide complement of other productivity software that is available and targeted at specific application needs. These include solutions to create and streamline static and variable data campaign and job handling. For labels and packaging, HP Indigo offers the HP SmartStream Label and Packaging Print Server, developed with Esko.
Conclusion
After 23 years, HP Indigo still has great technology and a strong product line. The company has continually managed to find its competitive niche with the right timing and a strong product portfolio. Whether it was its initial products competing with dry toner electrophotography, short and variable print, or subsequent products that targeted labels and packaging, HP Indigo has been one of the leaders of the pack. However, the landscape is changing; and with inkjet either participating or starting to enter many of those markets, it will be interesting to see how HP Indigo continues to evolve, find its niche, and compete.
I hope to bring you lots more detailed information as we have done in the past to prepare you for your visit to drupa, or if you are not going, to prepare you for your investigation into production inkjet and other investments. In advance of the next wave of articles, I would suggest that you do a 'review' of the original production inkjet and workflow series' as a refresher. It not only covers the vendors and machines that have made it to market, but also the driving technology, requirements and impediments.
Stay tuned for lots more in-depth information on other production inkjet solutions as the information becomes available and as we get closer to drupa 2016.