We are operating in an economy that forces a steep learning curve. It seems like every day there is a new technical concept invented that is the next hot thing that we are supposed to track, implement, or at least know about. In times like these, we can't and shouldn't go it alone. There has never been a more important time to collaboration with peers who have similar challenges.
Industry events are a great place to learn and to seek out, find, and establish critical peer relationships that can serve you throughout the year. I speak at many industry events but the #1 reason you should attend events is NOT for the speakers. The #1 reason you should attend events is to find other people who are running businesses similar to yours, faced with similar challenges so you can give and take – solve things with a team instead of in isolation.
The most important aspect of the industry event looks something like this: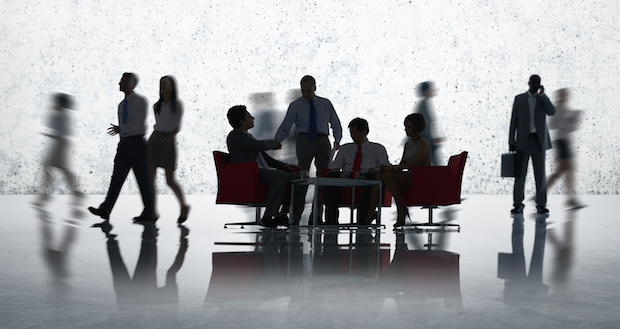 It's not a famous speaker in the front of the room, it's a casual setting where folks are meeting between sessions. This is where you introduce yourself to the woman who asked the question in the previous session that you were dying to know the answer but failed to ask. This is where you randomly meet another printer from another part of the country that has the exact technology stack you have (same Print MIS, same web-to-print, same production workflow, same CRM, everything!) And as you get talking you realize they have solved some of the challenges you've been having and you have solved some of the challenges they have today. Undoubtedly both of you bond over the frustration with the help desk support from your common vendors.
Better yet, from my standpoint, you bring you lead technical employee to the meeting with you (if you're planning on attending Dscoop San Antonio, it's not too late to invite you lead technical person to the show. Leading the technical side of a modern print business is the position that is in the most need of a peer group. Why are folks trying to figure the complexities of Kodak's Rules Based Automation (RBA) in isolation? Why do technical people rely only on what the vendor's help desk folks say about the product, rather than having a peer group who quite possibly has more experience with the product than most people currently employed at the vendor to help them?
I know print owners seek out peer groups, I see it all the time. They discuss new press investments, financing, vendor pricing, even customers and business. This peer group mentality and collaboration needs to feed into other layers of the business. Wouldn't it be so cool if your estimator had a peer group of other print estimators who were not working for competitors? They could share best practices or at least have someone outside the organization to complain to.
Too often this is what I see at print industry events: (everyone buried in their devices)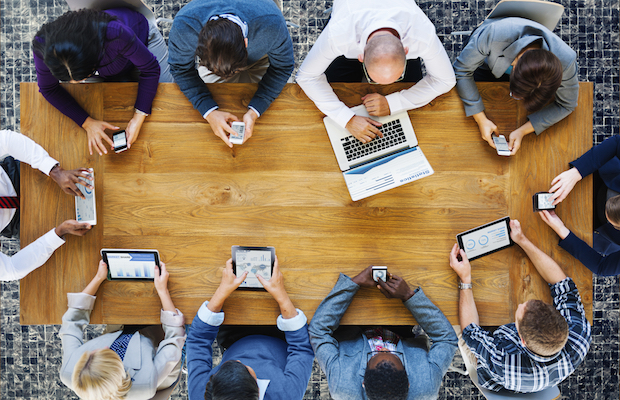 We all have businesses to run, they don't stop because you're out of town AND you aren't going to meet anyone if your head is buried in your device the whole time you're at the event.
Go to industry events with a goal in mind to meet peers (who are not direct competitors) with whom you could collaborate with on. Most events now have a mobile application which gives the opportunity to research other attendees before the event. Simply throw out on the mobile app challenges you're having that you want to discuss at the event, make technology work for you by giving you the chance to find peers in a crowd.
Every print business is becoming a technology business, whether you like it or not. We are in the information age now and in the information age value is based on what you know, when you know it, and how you utilize it to sell products and services to your customers in the form of INFORMATION. There has never been a more important time to team up to collectively evolve from a manufacturing focus to an information focus.
Hope to see you at Dscoop in San Antonio next week:
My sessions @ Dscoop
Your Print Business in the Information Age: Print Software as Infrastructure, Mobile, and Cybersecurity
Friday, April 15, 4pm - 5pm
Jennifer Matt, Chris Reisz-Hanson, and Jane Mugford

Video Content Marketing: Create Compelling, SEO Optimized Content that Educated, Engages, and Entertains
Saturday, April 16, 9am - 10am
Jennifer Matt, Valerie DiCarlo, Ken Meinhardt, and Jono Matt
Friday, April 15 - Collaboration Station Show Floor Theatre (moderated by Jennifer Matt)
10:00am Marketing is Now About Telling Stories Online
10:30am The Hidden Costs of Multiple Web-to-Print Solutions
11:00am Every Order Doesn't Deserve an Estimate
11:30am Why Your Print Business Website Probably Sucks
12:00pm Supporting Mobile: Responsive Design vs. Native App
12:30pm Is Your Print MIS Workflow for You? (do your own audit)
01:00pm What Every Print Business Owner Should Know About API's
01:30pm How do I get Good Technical Talent to Work for my Print Business?