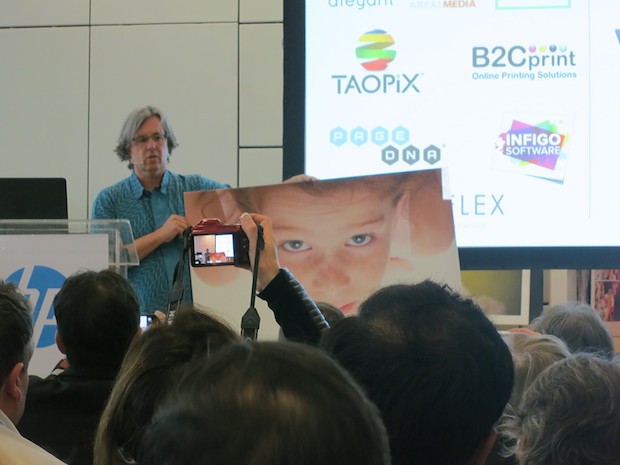 Alon Bar-Shany, General Manager, HP Indigo, keynotes the pre-drupa briefing
On March 21 and 22, HP hosted journalists and analysts from around the world at a media event that previewed the production printing technologies the company will present at drupa 2016. The briefings and product demonstrations took place at HP Indigo facilities in Kiryat Gat and Nes Ziona, Israel, the country where Indigo was based when HP acquired it in 2001.
At the event, HP promoted a mix of new and upgraded devices in its Indigo and PageWide Web Press lines. It also introduced a fast-turnaround laminating solution for flexible packaging and a collection of production management apps that it calls PrintOS. Following is a summary of those announcements.
HP Indigo
With the debuts and upgrades, the HP Indigo family of liquid electrophotographic (LEP) presses now consists of 12 sheetfed and web machines for commercial print and label and packaging applications. Of these, the newest are:
• HP Indigo 50000, a duplex, roll-fed press that prints in an oversize (29.1" x 44") B1 format
• HP Indigo 12000, a 1,600-dpi enhancement of the HP Indigo 10000 B2 sheetfed press, which remains in the portfolio
• HP Indigo 8000, billed by its manufacturer as the most productive digital narrow web press in the market
• HP Indigo 7900, an ultra-high-quality addition to the 7000 sheetfed series
• HP Indigo 5900, an entry-level sheetfed press
• for photo printing applications, the HP Indigo WS6800p, a variant of the HP Indigo WS6800 narrow-web label and packaging press
Also announced were significant quality and productivity upgrades for the HP Indigo 20000 web and HP Indigo 30000 sheetfed packaging presses. Completing the LEP portfolio are the HP Indigo WS7250, a dual-engine narrow-web press; and the HP Indigo 3600, another entry-level device.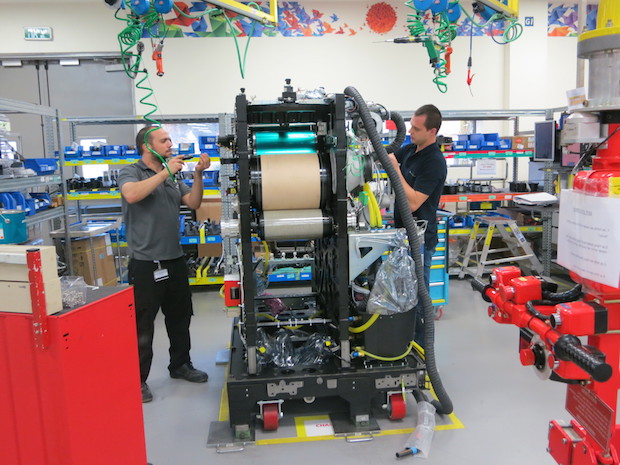 Building an HP Indigo color digital press at the factory in Israel
The print quality of HP's LEP printing solutions hinges on the performance of ElectroInk, the liquid-toner marking fluid manufactured by HP in Israel, Singapore, and the US (Rochester, NY). HP says that with the seven colors of the full ElectroInk ink set, it's possible to reproduce almost the entire Pantone gamut.
The newest ElectroInks are ElectroInk Fluorescent Pink; a "light light black" for enhancing shadow and contrast in photographic images; a last-down fluid that protects the printed substrate like an aqueous coating; and a premium white ElectroInk, pumped to the press from a separate unit, that comes close to the opacity of silk screening in multiple hits. There is also a new formulation of ElectroInk Primer, a fluid that HP says assures color ElectroInk adhesion on any paper.
HP PageWide Web Press
Two drupas ago, HP made its initial bid for the production inkjet market by showing a 30" wide web press that could print in full color at 400 feet per minute. Now its inkjet presses, collectively known as PageWide, range all the way to a 110" format at speeds up to more than double that of the prototype shown at drupa 2008. HP says that its PageWide equipment produces about one-quarter of the 205 billion pages being printed on inkjet presses today.
Besides the 110" platform, the PageWide Web Press line also comprises mono and color presses in 22", 26", 30", and 42" web widths. Joining them are three new models that, according to the manufacturer, equal offset lithography in productivity, print quality, and application versatility:
• the 42" PageWide Web Press T490 HD, a 1,000-fpm color duplex press, and a monochrome version, the PageWide Web Press T490M HD
• for commercial, production mail, and book printing applications, the 22" HP PageWide Web Press T240 HD
Each is available with HP's High Density Nozzle Architecture (HDNA), a printhead design incorporating 2,400 nozzles per inch.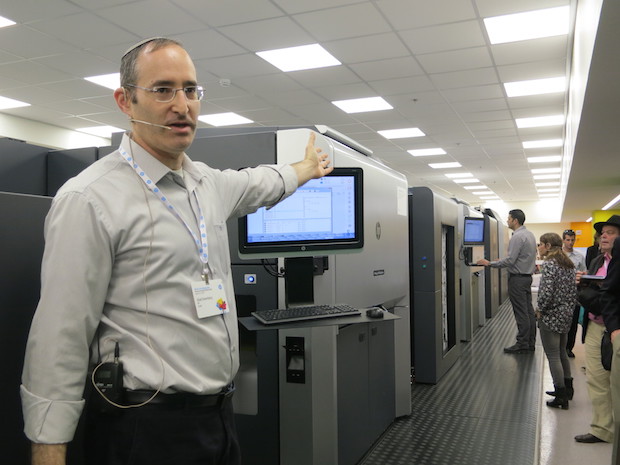 First look at the HP Indigo 50000, a high-output, duplex roll-fed press
HP Indigo Pack Ready
Post-print packaging converting, an entirely new application area for HP, is to be addressed by Pack Ready, a series of solutions it will develop in partnership with established converting systems suppliers. HP's strategy will be to patent the underlying technologies and license them to its Pack Ready partners, which will then manufacture and sell the related equipment and supplies.
The first working example is Pack Ready Lamination, a solution aimed at cutting turnaround time for flexible pouches. The core technology consists of a proprietary structural film and resin that are heat-sealed to decorative film printed on HP Indigo equipment. The bonded layers then can be run from the laminator directly into a retort pouch making machine for continuous inline production, including filling. HP says that because the lamination step requires "zero cure time," the process can trim a standard 10-day pouch making cycle to as few as four days.
The briefing included a running demonstration of a Pack Ready Lamination production line said to be capable of operating at up to 100 linear meters per minute. The solution, scheduled for commercial introduction next year, is aimed both at flexible packaging converters that want to reduce time-to-market and at narrow-web label printers looking for a way to break into flex pack manufacturing.
HP PrintOS
No digital press works any better than its controlling software enables it to—hence HP's intense concentration on developing software to optimize the performance of every printing device it makes. Its SmartStream solutions, for example, streamline the creation and production of variable-data jobs on HP Indigo presses.
In development for the entire production portfolio—HP Indigo, HP PageWide, HP Scitex, and HP Latex—is PrintOS, a collection of tools meant to help users leverage the performance of their devices from the cloud. HP says that PrintOS has three objectives: to increase device productivity; simplify production workflows; and foster innovation, collaboration, and growth for printers and their partners. This is to be accomplished with a series of web and mobile apps that will be available at no extra charge to HP customers with PrintOS-connected devices.
When fully rolled out, PrintOS will comprise about a dozen iOS- and Android-compatible apps that will let customers use their smart phones and tablets to track jobs, analyze machine productivity, match media to jobs, exchange files with clients, create and manage job workflows, set up VDP projects, impose pages, centrally control digital front ends, outsource to other print service providers, and offer Web-to-print services. APIs (application programming interfaces) will enable users to integrate PrintOS components with third-party applications.
Customers attending drupa 2016, where PrintOS is to be officially launched, can request registration of their devices at the show. Indigo and PageWide customers will be brought in first, with Scitex and Latex platform users gaining access in 2017.