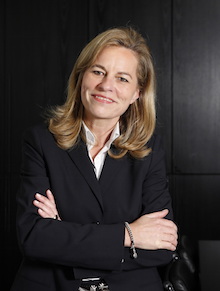 The drupa trade fair has a new, three-year frequency and an updated vision of the role it plays as a venue for developments in print and crossmedia. WhatTheyThink asked Sabine Geldermann, director of drupa 2016, to discuss what kind of event it will be for visitors who come in search of the latest in label and packaging production.
Why will the "new" drupa be a better event for label and packaging printing and converting than previous editions of the show?
Our theme for drupa 2016 is "Touch the Future." This "new" drupa will focus more strongly on future-oriented innovative technologies, which are driving the market forward and opening up significant opportunities and growth potential worldwide.
Worldwide reports and leading statistics are forecasting significant continued growth in the packaging print sector with the rise in consumer spending, population growth, increased urbanization and emerging markets. drupa is recognized as a benchmark for the industry—a monitor of current and future trends—and we integrate our findings into our concepts for the benefit of our visitors and our exhibitors. In this role, we recognize that currently, packaging production and industrial printing applications offer huge opportunities for the industry.
Smithers Pira predicts growth in the packaging sector to rise annually by four percentage points to $975 billion by 2018. They also state that the packaging sector is to a large extent recession-proof and has maintained profitability. We are advised that there is a huge need for intelligent packaging, with global food waste estimated at around $1.3 billion per year due to spoilage or inadequate packaging. Smart packaging would help eliminate at least some part of that waste.
Packaging can also be interactive and used for marketing purposes. Brand owners looking for unique shelf impact will take advantage of the latest technologies for this purpose. That includes such capabilities as variable data, electronic displays and sensors, QR codes, augmented reality and mobile NFC to communicate directly with potential customers. The latest developments in all these fields will be on display at drupa 2016. Visiting drupa will offer a consolidated overview of all of these developments to both packaging printers and converters as well as the brand owners they support.
How many producers of label and packaging systems are expected to exhibit, and where will they be located?
There will be approximately 240, including all of the exhibitors operating in areas related to packaging: for example, firms in the software for packaging printing and packaging materials fields. Around 30 will be exhibiting at drupa for the first time.
Exhibitors from the packaging and label sector can be found in all halls, and the new exhibitors will be located in halls 3 to 15 and 16. The "Packaging Touchpoint," a special show, can be found in hall 12 along with the PrintCity community area focused on packaging.
What kinds of sessions on label and packaging production will be included in the drupa cube conference program?
Visitors to drupa 2016 will experience an exciting new approach to innovation in print when they stop by the drupa cube. We are in the process of finalizing the details of the drupa cube program. They are soon to be announced and will be published at the drupa website. Vertical markets such as packaging will have a significant role in the 2016 drupa cube program.
The drupa cube is set to be one of the most popular venues at drupa 2016—an exciting and energetic meeting place that connects the knowledge gap between print professionals and creative agencies, marketers and brand owners across a variety of vertical markets such as food, consumer goods, interior design, cosmetics, pharmaceutical and healthcare industries, as well as the financial and public sectors.
Designed as a focal point where visitors can experience the latest technologies and the amazing potential of print, this unique venue will host a forward-thinking program of international conferences and events highlighting the potential of many of the latest technologies. This includes printed electronics, 3D printing and most importantly, the advantages of using digital printing techniques in packaging.
Can we expect any major announcements of new products from manufacturers of label and packaging printing and converting machinery?
There are sure to be surprises! drupa is renowned as a platform for suppliers to launch their latest products and technologies. In the packaging sector, technology and innovation have already altered expectations with evolving developments in flexographic plate technology and the adoption of a variety of digital processes to add value to the finished product.
High Definition flexographic technology is a game-changer in terms of photographic image quality and fast, cost effective production. It is now widely accepted that packaging and label printers can achieve the lead times of flexo with gravure quality. 3D and virtual prototyping are also moving forward, allowing customers to view their choice of designs before investment.
There is also a great deal of discussion within the industry about hybrid manufacturing that combines analog and digital production in a complementary manner. Label press manufacturers, for example, are bringing hybrid solutions to market which can switch the two processes in continuous production without any change. New inkjet technologies are having an exciting impact. And the ability to print direct to shape will add new revenue—and waste reduction—opportunities for packaging and label printers.
If I am in the label and package manufacturing business, why shouldn't I wait for interpack in 2017 instead of attending drupa in 2016?
Packaging production will be one of the highlights of drupa 2016, reflecting the growing potential in the sector. As mentioned, in addition to the exhibitor offerings, we are launching the packaging production touchpoint, a dedicated platform bringing together the latest trends and the entire value-added supply chain relating to package printing and finishing in the form of keynotes, panel discussions and presentations.
We will address the complete supply chain that stretches from the retailer, the brand owner and the designer through to the substrate provider, the converter, the ink supplier, the printer and the finishing company, all linked through automation with the latest software and color management controls.
We will ensure that our visitors are able to get a comprehensive overview of the technical developments which are stimulating innovation and offering insight into the world of intelligent, sustainable and active packaging and labeling. And all of this a year before interpack, giving visitors a jump start on strategic planning.
What will be the value of attending drupa for packaging and label printers from the U.S.?
Success can come from having the latest and broadest spectrum of information at hand, and then making the right choices for your business. Customers visiting drupa will have the opportunity to meet with exhibitors from around the globe, look at and examine all the options, and most importantly, ask questions.
Part of our responsibility is to listen to our visitors and exhibitors, to recognize their challenges and give orientation. Another key responsibility is to offer the widest choice of possible solutions. For us, it is an obligation to build bridges to the future and provide a platform where technology trends are translated into products for the benefit of our exhibitors and their customers.
In 2016, we will offer visitors exciting insight into what is happening in the world of packaging and labels and beyond. There is no other venue like it, and especially in this time of dramatic change, U.S. attendees will find value to their businesses that far outweighs the time and travel costs invested.