In Part One, we covered in detail the ink and imaging process for Landa Nanography. Now we will dig into the details of the presses themselves, as well as a new technology for metallization.
Transport and Press Configurations
The media transport for Landa presses was jointly designed by Landa and Komori, and it is manufactured by Komori. This approach makes a lot of sense, since Komori has been producing presses since 1925. It allows Landa to focus on the imaging technology. This also translates into a paper feed, transport and delivery system design based on lots of experience over many years.
There are currently three press models that will be shown and sold during drupa. The two sheetfed models include the S10, which is designed for folding cartons, POP applications, etc.; and the S10P, which is a perfecting model designed for general commercial print applications. Both support coated and uncoated conventional (not pre-treated) substrates. The third model, the W10, is a web-fed model designed for flexible packaging and supports a large assortment of plastics, foils, boards, paper, etc.
All of the presses have the same imaging system as described in Part One of this article, and come standard with Landa's Active Quality Management; an inline, closed loop quality control system with automatic correction for nozzle failures.
The Landa S10, which will be the first press to ship, is targeted at folding carton and sig and display print. This is a B1 press, supporting a maximum sheet size of 29.5 x 41.3 in, and a maximum print area of 28.7 x 40.6 in. The press supports a wide range of media thickness from 2.4 point to 32 point (60-800 grams). The press is rated at 6,500 sheets per hour (sph), with the option of increasing that to 13,000 sph with the high speed option. The high speed option uses the same amount of heads and print bars, and can be field upgradeable. This sheet size hits the sweet spot for most packaging and commercial print applications. It is also the format that needed to be introduced in order for many print service providers to seriously consider production inkjet technology of any kind. The optional coating unit supports both flood and spot coats, and both UV and aqueous coatings.
As of this writing, the only other B1 production inkjet press announced is the Heidelberg Primefire 106, which uses Dimatix SAMBA printheads, but with more conventional water-based inks and direct-to-substrate imaging. Landa believes that the S10 will provide cost-effective production for more than 50% of all packaging jobs. This figure was determined based on a crossover point of approximately 5,000 and more B1 sheets
The Landa S10P is a perfecting B1 press that is designed for general commercial printing. Like the Landa S10, it is a very familiar and comfortable size for print service providers. The specifications for media size and speeds are the same as the Landa S10. The big difference between the two models is that this is a perfecting press, where the media is flipped and run through the imaging unit twice. Since the images are dry when they hit the media, there is no need for any supplemental drying in the transport. It also means that two-sided printing or finishing can happen immediately. As a result, the print throughput for two-sided printing is 3,250 sph and 6,500 sph with the high speed option. If configured at 13,000 sph, this press can easily compete with most conventional offset presses.
The Landa W10 is the continuous web-fed feed model. It supports a web width of 41.3 inches. with a maximum roll diameter of 39 inches. The supported media thickness ranges from 4 point to10 point (10-350 microns). The press speed is 328 ft./min. and can be increased to 656 ft./min. with the high speed option. It has an unwinder and rewinder. It supports a wide variety of conventional boards, papers, plastics and foils. Landa projects that the crossover point with conventional print would be jobs of approximately 30,000 ft.
Press Control and DFE
One of the things that most people who saw the Landa presses at drupa 2012 remember is the press control interface that looked like a giant iPad. Not only was it very visual and unique for a press manufacturer, it added interactive touch control with the same type of familiar UI that people had begun to become used to in the rest of their daily lives. In additional to operating controls, it also displays live video feeds of the printing and internal machine operations. The press and control layout has changed since drupa 2012 based on future user feedback, and while it increased the length of the presses, it makes for a much more efficient workflow. Landa calls these controls the cockpit, and as you can see below, that nomenclature makes sense.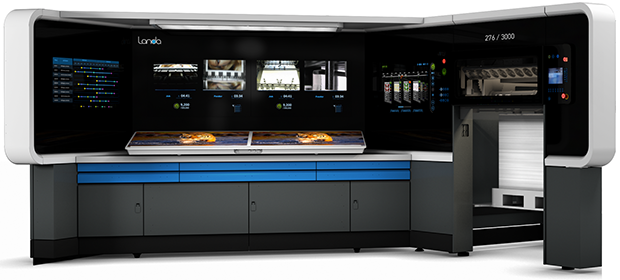 Landa has partnered with EFI to develop and supply the DFE for its presses. While EFI has been developing and integrating its Fiery DFEs into digital printers for years, the demands of the Landa presses presented lots of new challenges. The essence of these challenges, is that the data storage and RIP processing demands of these presses push the limits of the state of currently available technology. This was best explained in an InfoTrends blog published in December of 2014 ("EFI to Drive Landa Digital Presses").
The DFE will be supplied in three configurations at launch, Standard, Performance, and Premium. Similar to other manufacturers, the selection of which DFE configuration will be dependent on specific application requirements.
Nano-Metallography
At drupa 2016, Landa will introduce another new technology that is designed for print production, and more specifically, for packaging production.
As previously described, Nanographic Printing® technology came out of the research being done on nanotechnology at Landa Labs. During the research, in addition to working with pigments, they found ways to work with nano-sized metal particles as well. This research has spawned a new process Landa is calling Nano-MetallographyTM. The initial application is being directed at metallization embellishments for print, although it could find future applications in electronics, manufacturing, etc.
This new metallization process is designed to produce zero waste at less than half the cost of foil. The process starts with the printing of a trigger image. This trigger image can be printed using any print technology. Landa has been doing most of its testing with flexo and screen, although trigger images can also be printed with conventional offset, gravure, inkjet or any combination of print technologies as well. While Landa is not currently divulging the specifics, we believe that there are additives mixed with the host ink that allow the creation of the trigger images.
The trigger image enters the Landa metallization module, which contains the metallization technology. This consists, at a minimum, of metal NanoFlakes and a donor roll. As the substrate with the trigger image printed on it passes by the donor roll, which is covered with a mono layer of NanoFlakes, the flakes are attracted to the trigger image. The result is a metallized print. The donor roll is continuously refreshed with NanoFlakes during the process.

The picture above shows the L50 (narrow web label metallization) module inline on a flexo label press. At drupa, Landa will be showing two different configurations of this process: a silver overprint, and a gold flake imprint on a narrow web flexo label press.
Landa is expected to initially offer its Nano-Metallography modules as add-ons to narrow format label presses. He expects to follow this with larger format units for wide web flexo, gravure, sheetfed and web offset manufacturers, and to use their presses and print technology to print the trigger image.
Conclusion
These presses will be running live in the Landa stand at drupa 2016, which is expected to be double the size of the stand last drupa. While there are still some issues to work out, Landa feels certain this time that the beta presses will be installed in early 2017; some of the beta sites for the S10 have already been selected and these sites seem very anxious and excited to start working with the beta presses. Landa will be taking orders at drupa 2016 for delivery starting in 2017, although I would think that those companies who signed an LOI at drupa 2012 and have not yet cancelled will probably take up a lot of the initial production capacity. From what I can tell from the samples I have seen over the years, and the prospect of what nanotechnology will bring to print applications and service providers, I understand why. The press pricing is "in the same range as the equivalent high end offset and flexo presses".
I look forward to continuing to bring you lots of detailed information on a variety of inkjet offerings as we did in the past to prepare you for your visit to drupa—or if you are not going, to prepare you for your investigation into production inkjet and other acquisitions. In advance of the next wave of articles, I would suggest that you do a review of the original production inkjet and workflow series as a refresher. It not only covers the vendors and machines that have made it to market, but also the driving technology, requirements and impediments.
Stay tuned for lots more in-depth information on other production inkjet solutions as the information becomes available and as we get closer to drupa 2016.