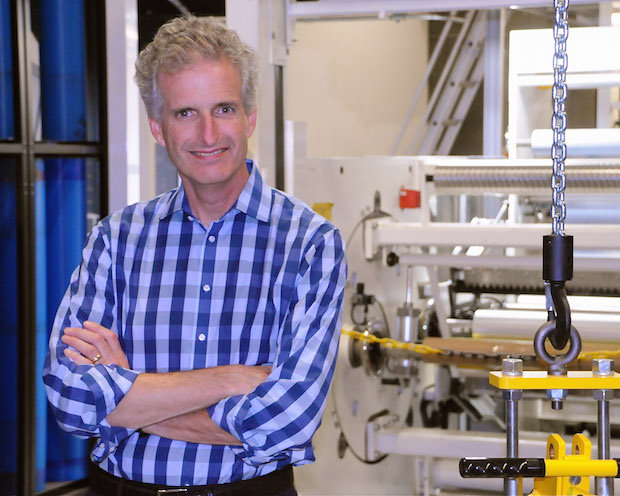 "Somewhere in your produce section," says Kevin Kelly, "is an Emerald Packaging bag." He would know. He's the CEO of the Union City, CA, company, and under his direction, it prints and converts 110 billion packages for lettuce, salads, and other freshly packed food items every year. It does so as a family-run enterprise guided by traditional family values, but with an independent vision that makes advancing the long-term interests of the business the first principle of management.
The company that started small in 1963 in a Berkeley, CA, warehouse is today a 220,000-sq.-ft. operation that employs 250 people and maintains a 10,000-sq.-ft. export facility in Mexico. Within its specialty, flexible packaging for produce, are numerous sub-specialties that Emerald Packaging offers as the largest provider of these services on the West Coast.
The company hasn't hesitated to make the kinds of investment needed to keep up with growing demand from produce packers, chain retailers, and other customers. After a spate of equipment installations in recent years, the production complement now consists of seven flexographic web presses, a digital web press, 26 bag lines, and six slitting machines, plus related equipment for laminating, perforating, stand-up pouch making, and zippering.
Vertically integrating these capabilities, says Kelly, is one of the things that makes Emerald Packaging unique among converters of flexible films for packaging. It all coincides opportunely with what he calls a "marriage of rigid and flexible packaging" taking place in the food industry and other segments that the company serves.
In place of a rigid clamshell container for salad, for example, Emerald Packaging can stretch a flexible lid over the bottom half of the clamshell and, using a laser, micro-perforate the film to let oxygen in and carbon dioxide out. This extends the shelf life of the contents and adds a printable surface to the package. The film lid can even have a peel-and-reseal feature that doesn't compromise its barrier properties.
Kelly sees the appearance of grocery staples like soup, detergent, and milk in non-rigid containers as more evidence that flexible packages have room to grow as alternatives to conventional formats. He says that Emerald Packaging, located near Napa Valley, is keeping an especially close eye on the market for pouched wine, a product for which it can provide spouted pouches that keep the contents fresh for up to 50 days.
The growing appetite for organically grown produce represents another strong market opportunity for Emerald Packaging, according to Kelly. So do changes in the way that produce is sold in general. Stores now like to present asparagus, green onions, and other items in branded bags instead of just scattering them in vegetable bins. Specialty products like premixed salads are growing in popularity, and more private-label offerings are finding their way into the produce aisle as well.
They all need the kinds of packaging that Kelly's company supplies either as roll stock or as preformed bags and pouches that have been printed, laminated, and finished to order. They can be made of the low-cost commodity films that Emerald Packaging manufactures in partnership with a local supplier or of high-end films from specialty manufacturers.
Among the many format variations are hot-needle perforated bags that preserve freshness by letting moisture escape; wicketed bags designed for easy handling and filling; and bags fitted with gussets and zipper closures. Emerald Packaging also specializes in peel-off IRCs (instant redeemable coupons) for flexible bags and in microwavable packaging for fresh and frozen foods.
Kelly agrees that it might be more accurate to describe Emerald Packaging as a packaging converter that prints than to call it a packaging printer that converts. "We do a lot of value adding after the printing," he says. The quality of the printing, however, is always at the heart of the value proposition.
Kelly says that multicolor runs at up to 200 lpi have become routine as designs and color schemes for packaged produce have grown more sophisticated. With the help of high-end flexo equipment like the 10-color Miraflex press from Windmoeller & Hoelscher that he installed in 2011, there are no worries about having to "shoehorn" complex color requirements into a CMYK-only color space.
Flexo accounts for nearly all of the printing that currently takes place at Emerald Packaging, leaving a few percentage points of the volume for a digital press that the company acquired last year. This was an HP Indigo WS20000, a roll-to-roll packaging press that Kelly had agreed to beta-test the year before. Kelly thinks that this machine and others like it could eventually be doing 20% of his printing as short-run production gains traction in the markets he serves.
The opportunity for digital, he says, will be in "super short runs" for smaller companies sending goods to market on that scale; and for large suppliers wishing to test-market their products in limited quantities.
An example of the latter application was a job for a customer that wanted to find out whether nine burritos in a package would sell better than a 10-pack, with a corresponding reduction in the price point. When a short run of test packages on the digital press bore out the customer's hunch that nine was the magic number, says Kelly, production of the resized bags went back to flexo.
Emerald Packaging also used its digital press to print a 10,000-piece run of a limited-edition bag for Frito-Lay's Doritos Rainbows, a multicolored snack food introduced at the Dallas Pride LGBT event last September. Packaging that consumers can identify and interact with—for instance, bags personalized with people's photos—is another trend that Kelly thinks the company should keep an eye on. He believes that as digital presses become faster and more competitively priced, short-run opportunities like these will multiply.
In the meantime, Emerald Packaging will use every opportunity to continue innovating in sustainable packaging, an area where it takes an activist stance. The company introduced, for example, the produce industry's first compostable package. It also offers its environmentally conscious customers downgauged packaging—bags made lighter by thinning their films—and packages incorporating renewable ingredients such as PLA (polylactic acid) and potato starch.
Kelly says that although customers' enthusiasm for these solutions "bounces back and forth," sustainable packaging is a market-driven demand that packaging manufacturers will have to learn to accommodate. That includes taking appropriate action on the legislative and regulatory fronts. Emerald Packaging has tried to do that by helping California lawmakers develop legislation clarifying whether packaging can be called "biodegradable." It also has backed laws to keep plastic pellets out of the marine environment.
According to Kelly, every company that makes plastics or makes things from it has a "bullseye" on its back because of negative environmental perceptions. This means that being proactive on behalf of packaging is a must—especially in California, a state that showed its true feelings about plastic bags by banning most of them from supermarkets and grocery stores in 2014. If a company manufactures packages in the Golden State, says Kelly, "you have to be engaging with Sacramento—or you'll get run over."
The realism and clarity of his thinking about the future of Emerald Packaging are on record at his blog, Musings of a CEO. In a post entitled, "On Growing a Family business, Kelly—a former journalist for BusinessWeek—offers a frank appraisal of the company's history and the difficulties it faced in making the transition from the simple family business it began as to the $80 million corporation it became.
"Any family business set on survival has to recognize the limits of blood," writes Kelly. Emerald Packaging realized its full potential by engaging talent from outside the family and ceding management authority to these expert performers.
But Kelly also says that family involvement remains critical because it transmits and perpetuates the values that made the company strong in the first place. It promotes a culture that "cuts through junk" and treats everyone with familial care and respect whether there are ties of blood to consider or not. It's clear that at Emerald Packaging, the future has a confident base in a carefully strategized present.