Last week, the WhatTheyThink team descended upon the Wynn Resort in Las Vegas for EFI Connect (see Cary Sherburne's interview with Guy Gecht here). In addition to three days' worth of presentations and tutorials for customers and analysts alike, there was a small exhibit space, prominently featuring vehicle wrapping (well, you know, park a car in the middle of a hotel ballroom and even a Mini Cooper is going to be prominent), as well as demos from EFI's hardware and software partners. One of the exhibits was a small tableau called "The Printed Home of the Future," which looked like your everyday sitting room—chairs, throw pillows, lampshade, window treatment, and tile flooring. A little spartan perhaps, but the point of the exhibit was that all these items were digitally printed—including the flooring. Indeed, the past year has seen EFI add new elements to what it has been calling "The Imaging of Things," specifically textile printing.
"The Printed Home of the Future" was a proof of concept that served as a prelude to Thursday morning's keynote presentation "Opportunities in Digital Textile Printing," presented by Michele Riva, Sales and Marketing Director of EFI Reggiani (EFI had acquired Reggiani—an Italy-based manufacturer of digital textile printing equipment—last summer). The keynote was a primer on the current state of textile printing, which, said Riva, amounts to 50 billion meters of fabric a year. Here's where the opportunity lies, though: less than five percent of that is currently produced on digital equipment; the majority (70 percent) is still printed on analog rotary machinery. "This is a good reason to enter into the digital textile markets," said Riva. "We believe [digitally printed textiles] will grow to 10 to 15 percent." And that's just in the next few years. Printed signage comprises one of the most conspicuous and oft-discussed textile printing applications, but as the "Printed Home of the Future" showed, other applications abound, from home décor and furnishing to clothing. Indeed, sportswear is currently a very big and growing application for digital printing.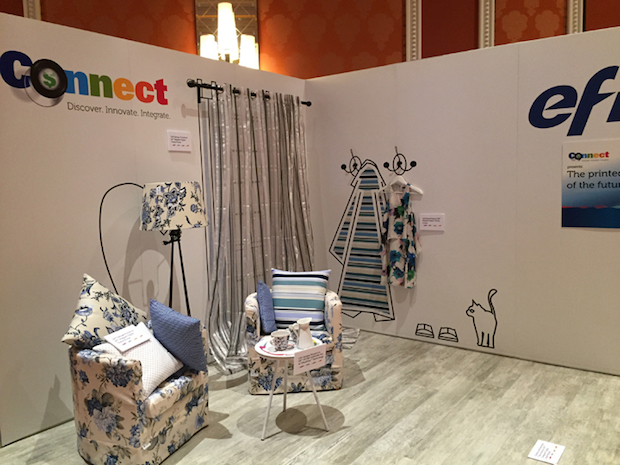 "The Printed Home of the Future" (cat not included—but could digital pet decorating be the next big thing?)
Riva presented a primer on the various ink technologies currently used for digital textile printing (this will be more fully explored in a future WhatTheyThink feature)—reactive dye, disperse dye, and dye-sublimation—but singled out pigment-based inks as a promising opportunity for future development. "Pigment inks are the real innovation," he said. "They can be used for all substrates—cotton, wool, polyester." Another of the primary advantages of pigment ink-based textile printing is that it is a "greener" production process than other fabric printing technologies. Specifically, new printing processes take the energy-intensive steps—washing, drying, steaming of the fabric—out of the process. As a result, there is less water and energy consumption. This also makes it a faster and more efficient process.
Riva also offered a rundown of the current classes of textile printing equipment—plotters, industrial printers, and single-pass machines—where in the market they fit, and for which applications they are best suited. (Again, we will take a more detailed look at textile printing equipment in a future feature.) He also outlined EFI Reggiani's current equipment portfolio.
There was a lot to digest, but Riva's emphasis, however, was on the overall advantages of digital over analog textile printing, and the majority of these will come as no surprise to anyone who has been following digital printing for the past 20 years: shorter time-to-market, reduced costs, customization and even personalization, and greater flexibility. Riva also highlighted the possibilities of integrating EFI Reggiani hardware with Fiery workflow and software, with all manner of textile applications—online customization of clothing, shoes, home furnishings, you name it—all available via e-commerce and web-to-print. "This is only possible with digital printing," said Riva. We're largely there already, and Riva highlighted a trio of North American companies—Toronto's McCrae Imaging, Denver's Colorado Timberline (an official Amazon supplier), and Montréal's Version Image Plus—who were EFI Reggiani customers, and who are already achieving success in the digital textile printing market.
This year's EFI Connect wasn't just about textile printing, of course, and as always offered a summary EFI's vast and growing product portfolio, from the VUTEk and EFI inkjet wide-format printer lines, to the newly acquired superwide-format Matan roll-to-roll printers, to the Jetrion digital label printing system, to the CretaPrint ceramic printing technology (now with more than 600 installations worldwide, said Ken Hanulec, EFI's VP of Marketing for Inkjet Solutions), to the company's extensive software offerings. We've covered EFI's recent hardware introductions extensively in this space, and the company is now endeavoring to take existing platforms into new areas. Specifically, the EFI H1625 wide-format printing platform is now available in two new configurations: SD ("SuperDraw," with an inkset designed for thermoforming applications) and RS ("Roadway Signage," developed via a partnership with 3M that includes certified reflective media for printing outdoor graphics such highway or other wayfinding signs).
Ultimately, "the market for inkjet is expanding," said Hanulec, "and a lot of analog-to-digital conversion still remains."
Software and workflow solutions for wide-format are going to become more important in 2016, and EFI has been moving in that direction with its Productivity Suite, offering end-to-end solutions tailored to specific specialty printing applications. This includes the Packaging Suite, offering estimating, planning, and other features for folding carton production, the new Corrugated Packaging Suite (via EFI's acquisition last fall of Corrugated Technologies Inc.), and what the company is calling its Midmarket Print Suite, version 4.0 of which launched at Connect, designed for wide-format applications.
And because we are hip deep in the Age of Social Media, EFI also announced what can perhaps be considered Instagram for professional graphics: the Imaging of Things Exchange, "an online community for EFI customers looking to connect with and share ideas with other print professionals and print buyers looking for unique and innovative applications," according to the company's press release. It is free for EFI customers, who can post photos and videos of completed projects. (It beats Facebook, I'll give it that.)
Ultimately, with its ability to integrate both software and hardware, EFI is now looking to create an entire "ecosystem" around specific print applications.
Much of that will end up in the Printed Home of the Future.