Renewing the Printing Industry: Strategies and Action Items for Success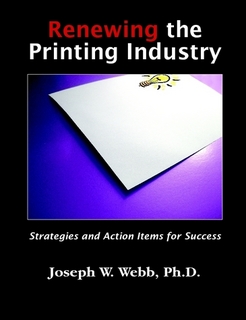 Dr. Joe Webb, veteran industry consultant and director of WhatTheyThink's Economics and Research Center, and WhatTheyThink, the leading news and information source for the graphic arts industry, announce the immediate availability of Dr. Webb's latest strategic report, Renewing the Printing Industry: Strategies and Action Items for Success.
Dr. Webb's forward-looking, optimistic report describes in detail how printing companies can change their businesses to better serve the communications and media markets, and rekindle their entrepreneurial actions. Knowing where and how to start—and the decision points that come next—was the inspiration for Renewing the Printing Industry.
According to the report, the first step is to challenge the basic assumptions about how the printing business is supposed to work. Printers should start with a blank sheet of paper and rethink their entire businesses from the ground up. How? Dr. Webb lays out concrete steps and presents a variety of strategies that print businesses can take.
The report challenges accepted industry common wisdom, describing seven different communications and "value chain" strategies, and a variety of other actions. Printing companies can adopt just one, or a combination of the strategies, to respond to the changing demand for print and the evolving nature of communications. Each chapter in the report begins and ends with a bulleted set of "action items," which range from the simple to the complex, that printers can implement to make their businesses more relevant and important to customers.
The final chapter advises industry manufacturers, suppliers, print buyers, analysts, and writers how they can help support and and participate in the renewal of the printing industry.
Dr. Webb discusses, among other things:
why the industry can't stimulate print demand, and why it shouldn't even try;
why the creative entrepreneurship of individual print owners and companies is the most powerful engine for industry adaptation and change;
an examination of the communications process, and how printers use that in creating an effective business strategy;
why and how print businesses can implement effective marketing programs in their business that go beyond simple lead generation;
how current sales management policies actually undermine the ability to implement new strategies, and the new management policies that can transform print businesses for the better;
how print companies can rewrite their "book of business" to gain high-value customers;
...and other crucial subjects, with Dr. Webb's well-known contrarian approach.
The report includes a frank discussion of the cultural, business, economic, and technological trends that have shaped the market for printed materials since 1998—what Dr. Webb has referred to as "the good old days" for the printing industry—and how, 10 years later, the commercial printing industry is shedding 1,000 establishments a year, with industry shipments and profits at near-all-time-lows.
While some printing companies are doing well, most are not, and unless drastic steps are taken, even more can fail. Renewing the Printing Industry details those drastic steps in a constructive and insightful manner.
Today, the printing industry is at a turning point. Consider:
The Internet has become an everyday necessity. In 1997, the Pew Internet Research project noted that 30% of Internet users had accessed a search engine the day before the survey was conducted. In a more recent survey, that number had risen to 49%, not just among Internet users as in 1997, but among the general public.
There is a growing view among consumers, especially younger consumers, that print is old, unfashionable, and even environmentally damaging. These consumers have a preference for electronic media in their personal and their burgeoning professional lives. They will have a growing influence on the media decisions of even the smallest companies.
The prices buyers pay for print are not keeping up with inflation (therefore, making print "cheaper" every day), but print volumes are declining. E-mail communication is seen as "free" and is replacing print direct mail in many companies' marketing programs.
"There is a difference between identifying and understanding undeniable challenges to the printing industry and being 'pessimistic'—or, as some people refer to me, 'Dr. Doom,'" says Dr. Webb. "Yes, the industry looked great in 1998 when I forecast an industry decline after 2000; today those forecasts have become unfortunately true."
Renewing the Printing Industry should be required reading for any company or individual with a vested interest in the future of print media and the printing industry. The goal of the report is to stimulate discussion and serious creative thinking about the printing business today...and tomorrow.