Prior to drupa 2012, WhatTheyThink's David Zwang wrote about the Delphax elan full color sheetfed production inkjet printer, where he provided background on the company and technical details about the product, which was unveiled at drupa 2012. Since that time, we have had periodic updates from Delphax, who had a stand at Graph Expo talking about the product but without a press on display. Following the show, we checked in with CEO Dieter Schilling to get the latest updates.
The Delphax elan is now up and running in three beta locations. One is a government security printing agency in Canada that by policy has declined to take any calls or provide any references, according to Schilling. But the other two are private businesses who were more than willing to share their thoughts and experiences with us.
Delphax Update
Schilling explained that as far as the company is concerned, beta has successfully completed, and after speaking with the two beta customers we were able to contact, it appears that is definitely the case. More on that later.
"We are very confident about the product, its quality, reliability and capabilities," Schilling said. "But we have been in this business a long time, and we wanted to do this launch right. We needed some extra financing to enable that – to build demo systems, have presses in inventory and build up our sales and marketing efforts. The good news is that financing has been secured, subject to shareholder approval at a meeting scheduled for November 24th."
The outside investment is from Air T, Inc. (NASDAQ Symbol - AIRT), a company that operates wholly owned subsidiaries in three industry segments. "They like our story," Schilling says, "and they like what we are doing. We could have plodded along selling one system at a time, but we wanted to approach the market the right way, and the Air T financing will enable us to do so." Schilling said the elan production print system is commercially available and orders are being taken for delivery as early Q1 of 2016. He went on to say that Delphax is working towards having a press available at drupa 2016. "Our hope would be that we ship the press to Europe for the show," he says, "and it stays there with a proud new owner!"
The other interesting news is that the elan 500, printing at 500 sheets per minute at 1600x1600 dpi, will hit the market with a list price of about $600,000, which is considerably lower than its production inkjet competitors for equivalent productivity, quality and functionality, according to Schilling. The elan uses a proprietary DFE based on Global Graphics Harlequin technology and is compatible with most existing workflows.
Its print head provider, Memjet has also been busy making improvements, including better inks and ink management. "We've switched to some new profiling capabilities," Schilling explains, "that allow you to tune the inks and printheads for the specific substrate to maximize eye-popping quality with minimal ink consumption. That has made a surprisingly big difference. When we started, we used the standard tools, but we have now come up with more effective ways to manage this. We are finding that a lot of good things happen when you put less ink on the paper."
Schilling also expects ongoing improvements, with next-generation print heads projected from Memjet next year. "Among other things, we will be able to use pigment inks," he says, "which will give us even more substrate flexibility."
The Customer Perspective
We spoke with two elan beta sites to get more information from the front lines. First to install was CompuMail in Concord, California, followed by Prime Data in Aurora, Ontario, Canada.
CompuMail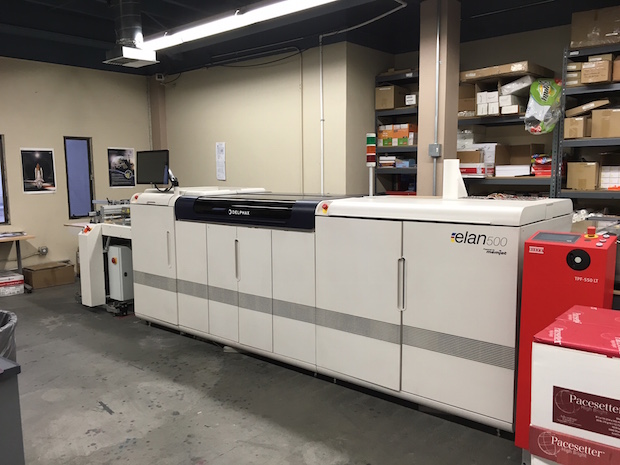 Elan installation at CompuMail
CompuMail's primary business is printing and mailing debt collection letters for collection agencies and debt buyers. The company provides data cleansing and management services as well as first class letter mailings, putting up to 85 million letters in the mail stream annually.
"Prior to being designated as an Elan beta site," says Andrew Morrell, Plant Manager, "we were a Konica Minolta shop printing mostly black & white statements. With the increasing demand for color printing, spot color, full color logos and statements, CompuMail needed to increase its throughput and capacity for color. Our current fleet of 65 ppm color printers was not enough to handle this increasing demand. Installing the elan allowed us to more than double our capacity and reduce our costs."
Morrell has been pleased with the press' reliability, adding, "We do most of our printing at night, producing 50,000 to 70,000 images on graveyard. We rarely have any issues at all. And as long as you do print head alignments when you change print heads, you get exactly the quality you expect on every sheet. Since we do mostly transactional mail, we don't need offset-like quality, and we print on commodity paper. The elan is capable of doing much more than we are doing with it. It does open up opportunities for us to explore new business in the future."
As to what attracted CompuMail to elan, Morrell explains, "The price point was important, of course, but we were also attracted by the fact that Delphax has quite a bit of legacy equipment out there and is a tried and true supplier of equipment and service. They definitely have the idea of continuous improvement engrained into their culture. They are constantly reengineering, and the reporting off of the press is unlike anything I have seen – productivity, operator intervention, etc. It's a great relationship and we are very happy with the press."
Prime Data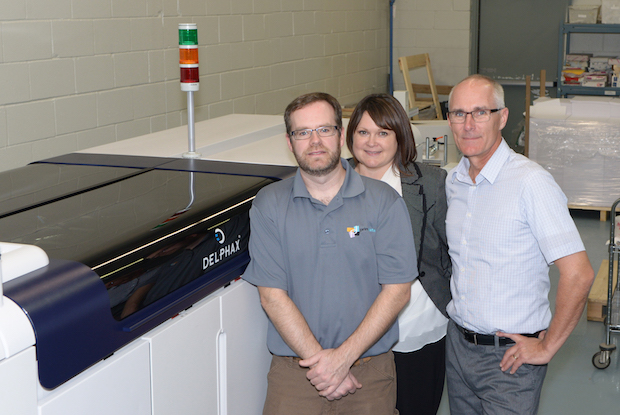 Chris Burke, press operator, Joanne Hisey, production manager, Steve Falk, president
Prime Data's business is a little different. Steve Falk, its President, says, "We support marketers and non-profits with direct marketing, and we try to be the most innovative provider. Delphax elan has helped us do that."
Falk reports that the company is producing some very complex variable data jobs. "One example is a 40-page variable book in 10 languages," he says. "And others use complex algorithms to communicate directly with customers and donors. You want to get as much personalization as you can online, but in print."
Prime Data is growing rapidly. Five years ago, the company had 4 employees and today there are more than 50 on staff preparing mail for both the Canadian and U.S. postal systems. "We have nine people that are database programmers and technologists that do data work, variable print programming and IT workflow management," Falk says. "We have printing and binding experts on staff as well. That being said, we don't really think of ourselves as printers, but rather, as a technology-driven marketing company." Prime Data has been in business for about 15 years, but took flight into this growth direction when Falk bought half the company.
Prior to installing elan, most of Prime Data's work was black laser on offset shells. The company also has a Presstek DI for short-run static work. Although Falk had some toner color capacity, it carried an expensive per-page cost, and had limits in page size and speed. "We do hundreds of campaigns," he says, "and every little bit you can shave off helps you be competitive. We had been keeping an eye on inkjet to determine the best time to take out offset shells, and to convince our clients that white paper in was the best way to go."
Falk looked at some of the roll-fed options, but the investment was too high. "You have to be certain of what you are getting into with a multi-million dollar investment," he says. "And we also found that it was almost impossible to convince lenders to finance an investment of that magnitude for us, largely because they didn't understand the dynamics of replacing offset with inkjet. They had a hard time believing our forecasts. But the price point on the elan made it an easier discussion."
Falk also expected some hesitation on the part of clients to accept what he calls "the characteristics of inkjet, a different way to design and prepare for executing a campaign. But there was less of that than we expected and we were able to get people on board pretty quickly when we showed them the advantages of time and planning savings as well as generate excitement from some new clients."
Falk was also dealing with smaller jobs that required a change of stock. "That's not an issue with sheetfed," he says, "and there is too much waste on roll-fed when you need to change stock, to say nothing of the hassle involved."
Falk admits he was also keen on the fact that elan is designed and built by Canadians, only an hour's drive from his facility.
Prime Data installed its elan this past summer. "We just did an assessment three months into the install," Falk explains. "We pulled statistics about how much ink we were using per job, the cost for ink and heads and other consumables, and compared that to our projected cost per image. Running costs are what we expected and a slight reduction from our previous process, which is good news. The numbers work and we have been able to live up to the promises we made to our clients that they can add color for the same price. It's a compelling argument."
Falk has already run nearly 7 million prints in the short time he has had the press. "We are able to say to clients, 'we have something that is unique.' It's nice to be on the leading edge of technology. And it has made a significant impact on our business, an important improvement in both topline and bottomline revenue."
Watch Prime Data's time-lapse elan installation video.