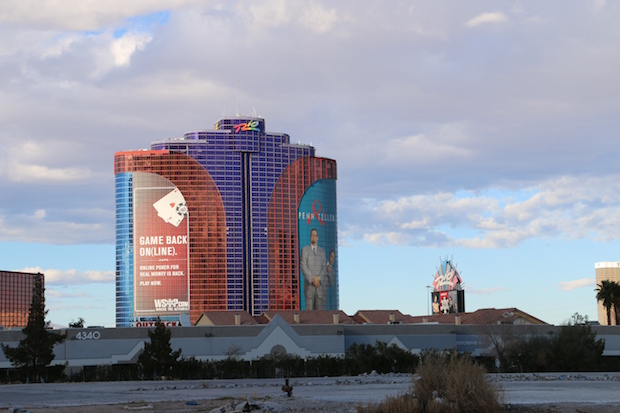 Example of Building Signage Produced by Las Vegas based Off the Wall Signs and Graphics
Las Vegas based Off the Wall Signs & Graphics specializes in the production and installation of grand format ads nationwide. With design, production and installation under one roof, the company is able to offer unrivaled efficiency and competitive pricing while setting the industry standard in quality.
This approach is working well for Rocky and Mariela Faith who joined forces in 2012 to take the installation company Rocky had started to the next level. "I decided to add print services in 2009," Rocky says, "because I was not happy with the quality and turnaround time I was getting from suppliers." Mariela, whose background was in media buying, adds, "We started out working with a number of agencies and just recently we are doing more work on our own." Off the Wall has incorporated planning, buying and selling of billboards and outdoor advertising into its business as well.
The couple has invested carefully, growing the company organically. "We started out with a 54" wide format inkjet printer," Rocky explains, "and within a year we had a whole farm of them. I always knew I wanted to move into grand format; it was always the dream. I was in awe of the printers I saw, and I knew we could eventually get to that point."
Their first grand format investment was a 5-meter HP Scitex roll-to-roll UV printer. "We had a couple of large buildings we were servicing," Rocky says, "and I was trying to break into more billboard printing, which was my original background. We looked at our options, and this seemed to most effectively meet our needs."
Today, Off the Wall has an HP Scitex UV printer, an HP Latex 3000 and an HP Scitex FB700 in addition to an array of other equipment including a welding table, grommet machine, cutters, laminators and more.
"Moving to the HP UV Printer was like night and day," Rocky reports. "With our older systems, it would take 45 minutes to print a 4x8 board and now we could print one in under five minutes. This revolutionized our production capacity and our turnaround times. And the quality was better." Rocky and Mariela are also thrilled with the quality they get from their HP Latex 3000. "We use Latex for all of our building wraps," Rocky says. "The color really pops and our prints look different. And we print at normal, not billboard, speed. There is a huge difference in color, and when all is said and done, we like our ads to pop and want people to notice the difference. It gives us a lot of color and definition that you couldn't do on smaller printers or in productivity mode."
An issue with the older equipment, according to Rocky, was uncertainty about whether a full board could be printed correctly. "We could get halfway through or more, have an error or color shift and have to start all over again," he says. "One job we had consisted of 40 boards that had to be delivered in a couple of days. We ended up wrapping the boards instead of printing on them directly because we couldn't risk the errors. Now we don't have those issues anymore; we just load and go." Rocky points out that the ability to grow depends on running an efficient shop. "You can't be worrying about whether your machines are going to do a beautiful print. You have to be able to depend on them doing so."
Bring it On: Comic-Con
One of Off the Wall's most visible recurring projects is signage for Comic-Con. "I started doing Comic-Con about five years ago," Rocky states. "Each year we got more projects, and our HP printers enabled us to both speed up production and improve quality. With the older printers, for example, we couldn't get a good black. Our new printers opened the door with our partner, Above All Media, to do some huge projects, including wrapping buildings. They turn to us to make sure that nothing is compromised – that we have the best possible quality and there is no damage to the integrity of the buildings. We use good products, and we test materials to ensure that they are right for the job." The company's YouTube video shows some of its work for Comic-Con 2015.
In 2015, Off the Wall had a 40,000 square foot wrap and a 20,000 square foot wrap, as well as both interior and exterior signage. This included wrapping the entire PetCo Park, all four faces. "We didn't have much lead time, and we were literally printing until the day we left," Rocky says. "We worked all through the night and left at 9 AM. I don't take the risk of shipping these materials. I would rather pack up the truck, keep it locked up and drive ourselves. It's our livelihood, and if anything is lost or damaged in shipping, it is a big problem. There is no time to reprint." The team had two days to get all of PetCo Park done. "That was the equivalent of working a full week in two days," Rocky adds, "and we had about 10 people working on it."
The Walking Dead project was one of the smallest Comic-Con projects the team worked on. "But it was great because of show's big following with millions of people really into it," Rocky says. It was comprised of 3,500 square feet of wall, floor and elevator graphics featuring the show's cast throughout San Diego's Hard Rock Hotel, all produced on the HP Latex 3000 printer.
Looking Ahead
Off the Wall had just received its new HP Scitex FB700 a couple weeks before Comic-Con, so it wasn't able to have much impact on the 2015 event. "We expect it to play a significant role in next year's Comic-Con," Rocky projects. "We are already doing some great projects on it, including prints for The Walking Dead's makeup artist for his private studio in Georgia and some nice pieces on acrylic using white ink that almost look like original art."
As to the future of the business, Rocky says, "We just want to continue to grow. We still see a lot of opportunity, and we have future plans to acquire more equipment. We've just moved into a 15,000 square foot space that will allow us to do that. And we are really high on HP Latex printing. UV is great, but there is something about the way you can really see color pop with Latex. It almost looks like paint!"