Times Square was a mob scene—even more than usual. Bleachers had been set up and by 9 a.m. an ample crowd had gathered, a mix of tourists and locals, children and seniors. Commuters stopped and paused, and people even glanced up from their phones to see what was going on. After all, it's not every day that there is a large swim tank in the middle of Times Square, with the USA Synchronized Swimming team putting on a show.
"Swimming in Ink"—the name should not be taken literally; it was just water—held September 24, was a day-long event to mark the launch of Epson's new line of high-capacity EcoTank printers, which featured the synchronized swimming team performing routines in the water tank throughout the day. Every 45 minutes or so, the swimmers would come out and perform a 5–10-minute routine—sporting swimsuits that were created using digital dye-sublimation printing. The outfits are the work of Triflare, a St. Louis, Mo.-based company that specializes in what the company calls "High fashion sportswear for everyday superstars."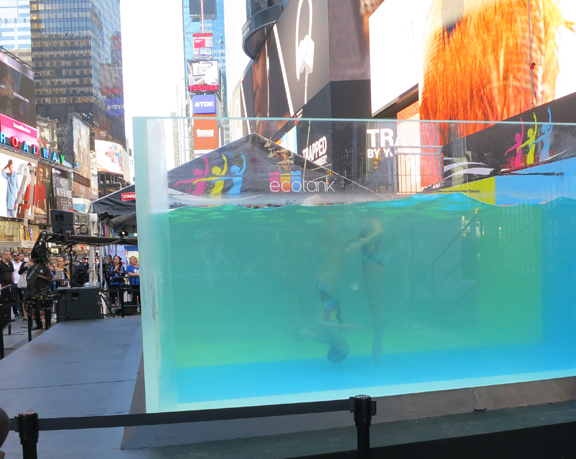 Tanks for the memories—The USA Synchronized Swimming team performs in Times Square
"We started as a triathlon apparel company," said Triflare founder Andrea Robertson. "Our idea is to use sublimation print and create a pattern for performance apparel for women."
Robertson was a Division I college soccer player who had to be dragged to her first triathlon—but once there, it was love at first sight, and she eagerly took to the combination of swimming, biking, and running. The company she founded to make the apparel for triathletes combines the "Tri" of "triathlon" with "Flare," an acronym that she says stands for "Fit Ladies Are Running Everywhere."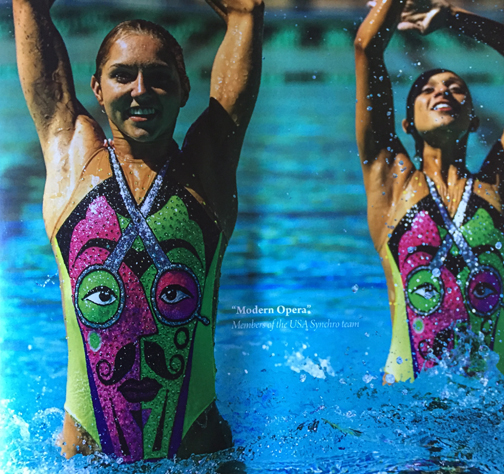 Triflare's Andrea Robertson is a triathlete herself, seen here running in one of Triflare's performance apparel.
Triflare's performance gear started appearing on the race circuit, where it caught the attention of the USA Synchronized Swimming team, which led to a partnership with Triflare to design and produce all the team's swimwear.
Designing teamwear is by necessity a highly collaborative process. "We listen to the coaches and listen to the team, and find out what kind of suit they're looking for," said Kim McLean, designer for Triflare, "and we give them some choices." The whole process is done via PDFs sent back and forth. When working with a team like USA Synchro, the racewear design needs to reflect the theme of the overall presentation. "It's definitely a process," said Robertson. "They send us the music and Kim draws up some designs. We give them four or five options. They say they like option number one, but we need to change a color." They go back and forth with the coaches four or five times until they've nailed a final design. "They [coaches] are creative people," said Robertson. "And they know the sport better," added McLean. Depending on the sport or the event—like the Olympics—"a detail has to be visible from far away," McLean said. So fine lines and other elements won't cut it.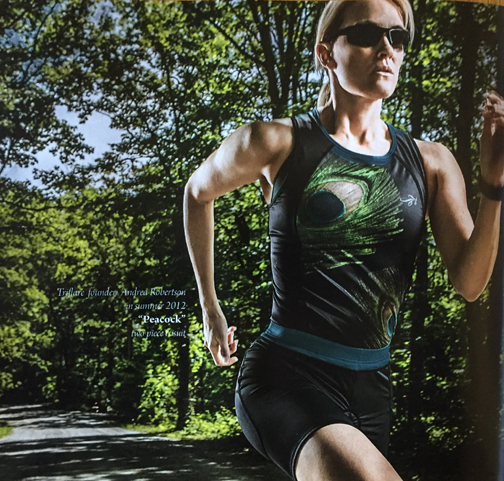 Triflare has partnered with the USA Synchronized Swiumming team to produce their swimwear
Once the design is finalized, it's applied to a sewing pattern, sent to a dye-sublimation printer, then cut and sent to a seamstress who produces the finished suit. "All of our fabric starts out white so it's like a clean canvas," said Robertson. She is especially fond of dye-sublimation, given the inherent nature of the process whereby the colorant physically becomes part of the material. "You don't have to worry about it peeling off or fading," she said, "it just becomes a piece of the fabric. The important thing about performance apparel when you want it to look great is that the print can't ever change. You can look great and race and your suit will look the same now and 50 races later." Chlorine in pools can present some chemical challenges, however.
Triflare is three years old, and as such has been completely digital since day one. "It's efficient, we pretty much know what we're going to get, it's clean, and it's relatively seamless," said Robertson.
By "seamless" she means that a suit is a single piece of fabric. "We print one piece of fabric, and embellish a little [after printing], rather than taking a piece of silver fabric, sewing that on, a piece of green fabric, sewing that on, and so on. The seams are gone, so there's not so much water drag." When you're in a swimming competition, the slightest bit of drag can be the difference between winning and losing, and the construction of the suit can play a major role.
Triflare also pays close attention to how the design appears on a specific athlete. "We're particular about where the print hits on a woman's body," said Robertson. Elements of the design are used to accentuate certain parts of the athlete's body and create an overall effect, such as a smaller waist—not that many triathletes need it.
Triflare also sells its designs commercially, so they have standard sizes, but have worked with the USA Synchro Swim athletes for so long they know how to size the swimwear for each individual performer.
Triflare started working with USA Synchro and Epson on the EcoTank event nine months ago. By all accounts, actual production was a smooth and fast process. The suits—about 40 in all—were printed on the Epson SureColor F9200 dye-sublimation printer. "All the suits took a half hour to print," said Tim Check, Product Manager, Professional Imaging, for Epson. "Then we brought them over to a heat press to transfer the images onto polyester Spandex material, which took another half hour." Overall, printing was done in about an hour.
The back-and-forth with USA Synchro, like many of its collaborative projects, yielded a surfeit of different designs, and the unused ones will go into a library. "For each routine, we showed them three designs," said McLean. "We'll recycle these ideas. We have hundreds of ideas."
Creativity is job one at Triflare and the design team is not afraid to flout current fashion trends if they don't gibe with the company's vision. "We're very unorthodox," said Robertson. "This year, the trends in fashion are very muted colors," added McLean. Muted colors don't play into Triflare's M.O. "We pay attention [to fashion trends]," said McLean, "but we may not use them."
Triflare does offer men's swimwear, which are very popular, but, said Robertson, "we really want to make our name in women's apparel."
The next step: Rio, as Triflare works to outfit the Synchro team for the 2016 Olympics.