As our drupa coverage draws to a close, I wanted to share a few more thoughts and stories from Messe Düsseldorf with our readers that I gathered as I wandered the 17 halls and 40 acres that comprised the fair. Here, then, are some brief snapshots from some well-knownand non-so-well-knownexhibitors that were showing their wares at drupa 2004.
Mohawk Paper Mills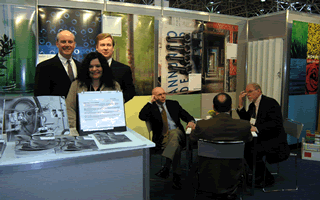 Occupying a small stand in Hall 9, and attending its second drupa, Mohawk Paper Mills used its drupa presence to introducing the international audience to its portfolio of paper for all printing technologiesincluding its recently launched Color Copy paper for digital print enginesor as its company tagline says, for all the ways you print. Mohawk also used the drupa platform to talk about its sustainable environmental initiatives, including the use of renewable wind energy to supply some 20% of the power required to operate its mills, its leadership position in the production of high-quality, 100% post consumer recycled papers, and its general posture on sustainable practices relative to the environment and manufacturing processes.
Mohawk used drupa 2000 to launch its digital portfolio, confident that there was a growth opportunity that would enable the company to extend its text and cover portfolio into the digital market in a big way. At drupa 2004, Mohawk was happy to report that fully 25% of its total volume is derived from the digital market. The company is already planning for drupa 2008, where Mohawk expects to see continued opportunities for growth in digital papers and highly specialized offset printing papers designed to meet the specific demands of end users and the requirements of technologies yet to come.
Chris Harrold, Mohawk's Director of Business Development, said, I suspect that Mohawk 2008 will look a lot like the graphic arts industry it serves: adapting to change at a fast pace by offering a portfolio of products that are relevant and add real value to printed communications.
In an interesting approach to drupa participation, Mohawk's Craig Slemp, V.P. of Marketing, indicates that the company has taken advantage of the opportunity to participate in the U.S. Pavilion (located in Hall 9). Slemp says, We work with the Messe Düsseldorf office in Chicago, and they make it really easy to get booth space. At drupa, they also support us with translators, refreshments, telephones and Internet connectivity as well as provide us with access to special arrangements they have with travel agents and freight forwarders. They even took a picture of our booth after our delivery was received, with the pallets in booth, and e-mailed us to say everything was there. It makes it easy for us to have a show here and I can't say enough good things about them. It's a lot different from Javitts or McCormick!
Slemp went on to say that even though the company has a small stand, being in the U.S. Pavilion provided tremendous networking opportunities, visibility and access to the press. He continues, We find that we also benefit from what I like to call the post drupa halo.' The opportunity we have to build relationships here and the ability to remind people that we were present at this important event carries over into a tremendous amount of post-show business activity for us.
HP's Meyer Talks Strategy
The bustling activity in HP's booth and the occasional sound of an erupting volcano emanating from HP's on-stand theater was reminiscent of the famous drupa 1995 launch of the Indigo digital offset press. Now a prominent part of HP's portfolio, Indigo presses in many different configurations were on display at drupa 2004.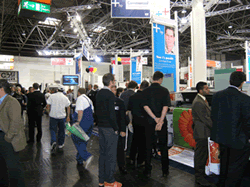 HP's Jean-Luc Meyer, Vice President of Marketing for Digital Publishing Solutions, took time out to speak with WhatTheyThink about HP's strategy moving forward. We are focusing primarily on the retail, automotive, healthcare and financial services segments, he said. These four industries have high demand for fast turnaround, content rich, color rich printed materials with a growing demand for personalization. Our approach is to create both push and pull by building a print service provider referral strategysort of a Zagat Guide to commercial printerscombined with a direct approach to the corporate enterprise to create demand. Meyer indicates that HP is working over the next 12 months to formalize a network of print service providers who own Indigo presses. This network of print service providers will be sponsored bybut not operated byHP. At the same time, the company has deployed a team of 40 people worldwide who are experts in their field and that understand the respective industries and how best to bring value to chief marketing officers. These experts are tasked with educating target enterprises as to how they can save money, especially with respect to programs that enable the production of sales and marketing collateral on demand. We show companies how they can, in effect, double their marketing budget without increasing expenses by producing more relevant customer communications, said Meyer, by making better use of their assets and customer data. We see a whole spectrum of capabilities across our entire portfolio that we can bring to bear in supporting the enterprise and we adapt solutions, ranging from lightweight solutions lightly tied to the IT environment, all the way to very integrated solutions, like the retail solution we are showing in our booth here at drupa.
Once HP works with the enterprise to re-engineer business processes associated with the production and distribution of sales and marketing collateral, the company will take the engagement to the next step by helping the customer establish an appropriate network of print service providers to deliver the solution and to address all of the customer's geographic production requirements as well. Meyer indicates these engagements are generally deployed in three phases: first, an initial discovery phase to determine what the level of opportunity is; second, a more thorough analysis and re-engineering phase; and finally, implementation. He indicates that the analysis process generally takes from four to six weeks to complete.
Critical to the success of this strategy is the portfolio of partners HP is assembling. As an example, at drupa HP announced an alliance with Quark designed to simplify and enhance the creation, management and delivery of highly customized marketing communications by making it easy to integrate customer relationship management (CRM) databases with the design and printing process. Lack of integration in this area, Meyer points out, has limited the growth of variable data printing, which is now just beginning to gain a foothold. Other critical partnerships for HP include Adobe, Ariba, Printable and Documentum. Meyer sees HP's role as providing the middleware that will take information from those systems and fan it out to HP computing and output systems in a consistent way, across all product lines. He says, It is about being knowledge about customer requirements and about working with the brand manager to ensure brand integrity and color consistency.
Meyer concludes, The reason we believe people will want to work with us is that we have the enterprise sales force, the computing expertise, and the right level of contacts in the enterprise. This is not about printing or document management. This is about developing an IT solution that enhances business processes for the marketing executive.
Serendipity Blackmagic
Hall 8 has three floors, and an amazing number of people braved the crowds to visit all three. On the top floorFloor 2 to the natives, Floor 3 to the American interlopers! I found Serendipity Software who trekked all the way from Melbourne, Australia, to show the latest version of its Blackmagic digital proofing solution for post-RIPped data. The most unique aspect of Blackmagic 3.0 is its ability to deimpose fully imposed, RIPped files for fast printing of proof samples in page order on any duplex laser printer or copier (books, bookets, magazines, etc.). This eliminates the manual and time-consumng process of cutting or fold large proofs often employed to check impositions. Blackmagic is also capable of clustering several printers to speed the process of producing proofs for large jobs. Robert Murphy, Serendipity's General Manager, reported that drupa was exceeding the company's expectations in terms of the visibility and networking opportunities it provided. Expect to see them return for drupa 2008!
Pageflex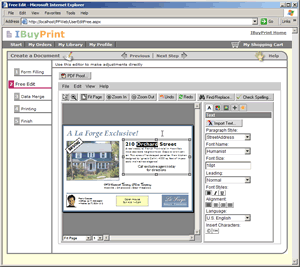 Also tucked away on the top floor of Hall 8but more visible in the Xerox stand in Hall 13was Pageflex, who unveiled Pageflex Storefront, an out-of-the-box set of tools that enables a print provider to easily deploy PageFlex technology for variable data jobs, integrating it with an existing Web site to manage the choice and ordering of variable data print jobs. Pageflex has designed its Storefront with an easy wizard approach to installation and configuration. It allows the user to create custom sites and it guides them through the process of what can be included, as well as what shouldn't be included. Users can skin the Storefront to look like their site and create multiple customer sites, quickly deploying new customer sites, each with its own look, feel and workflow. Pageflex indicates that Pageflex Storefront can be up and running in less than a day. Pageflex also announced an alliance with Nexpress to generate VDX output.
Screen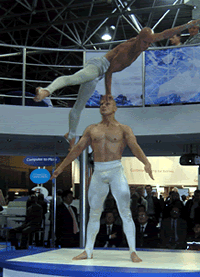 In addition to the outstanding entertainment in Screen's stand, the company had quite a lot of exciting products to show. The entertainment was incredible (see photo) and drew crowds, many of whom stayed to learn more about Screen.
Many of Screen's announcements were discussed in detail in our February pre-drupa coverage and it was exciting to see them in person, so to speak. Because I was primarily focusing on workflow at drupa, I spent a fair amount of time looking at Screen's Rite portfolioa suite of workflow products including RitePortal, RiteOnline and RiteTransfer, and was quite impressed with what I saw. RiteOnline offers a catalog of static and dynamic documents with a shopping cart module and has intuitive interfaces for both the buyer and print service provider. RitePortal enables the creation of PDF files from the customer site. Printers can set up PDF profiles to ensure that files that are transmitted will be print-ready. RitePortal installs a virtual printer for either the Macintosh or PC environments, with Acrobat and Enfocus drivers inside, a PDF renderer and a preflight library. This means that no client PDF generator is required. And RiteTransfer allows the submission of native files from the customer to the printer. The user simply drags and drops files to a window and hits send. The application gathers the necessary resources and uploads in a zipped, encrypted folder that is parsed for transmission in packets. The application also tracks the upload, and should an error occur on either side, it is able to resume where it left off. This is particularly important when dealing with large, complex file transmissions, and makes it easier to start a transmission at the end of the day, having it complete in a lights out fashion.
Global Graphics
Global Graphics, best known for its Harlequin RIP and JAWS PDF products, was a key participant in the JDF Parc at drupa. Two major announcements from the company at drupa included:
Addition of a JDF Enabler module to the Harlequin RIP. This will allow OEMs and System Integrators to build JDF-enabled workflow solutions around the RIP and incorporate the Harlequin RIP into JDF-based applications. The JDF Enabler is compliant with the latest published JDF standard and is delivered as a standard option of the Harlequin RIP Eclipse Release (SP4). Global Graphics is also working on extending JDF support across its range of workflow and print production technologies.
Cortex, a new industry-standard platform for building digital workflows which marks a major evolution in the company's family of core technologies. Cortex provides a framework into which components from Global Graphics and other technology suppliers can be incorporated. It takes care of the standard tasks such as: format conversion, pre-flight, imposition, color management, trapping, interpretation, screening, rendering, file management, message logging, distributed operations, job ticketing and process management; that form a common base in all print workflows. The core technology of the company's JDF Enabler module is also made available to Global Graphics partners as part of the Cortex Platform.
WhatTheyThink spoke with Jim Friedah, Global Graphics COO, at the JDF Parc. Friedah indicates that these new developments are being enthusiastically embraced by the company's OEMs, and are often incorporated under the hood so that buyers may not even be aware of who supplied the underlying technology. But the architecture is designed to allow customers to build customized applications. As an example, Xitron has implemented the full Global Graphics suite. Friedah said, We named the workflow product Cortex after the part of the brain that handles intuitive reactions, but we also like the play on words the name gives us relative to core technology'.