Before and during drupa, I had the pleasure of speaking with several digital press vendors and asking them about their plans in postpress. I spoke with Jerry Sturnick, Manager of PSG Third Party Finishing, Xerox Corporation, Bruce Otte, WW Solutions Offering Manager, IBM Production Print, Hans Swart, Segment Marketing, Océ, Eli Israeli, Strategic Product & Marketing Manager and Yossi Adam, Marketing Product Manager, HP/Indigo, and Chris Bondy, Vice President, WW Director, Workflow Solutions & Services, NexPress Solutions, Inc., a Kodak Company. Although there are similarities, the vendors are coming from quite different places as they approach their future plans for finishing.
Xerox, for instance, favors inline and online devices, while most of the others prefer nearline. This is understandable, as they have developed effective protocols over a long period of time for a multitude of devices. IBM also has a long history of performance by tying into their process management software. On the other hand, NexPress is fairly new to the digital press party, and had a finishing partner, Heidelberg, until recently. The predominant rollfed vendors--IBM and Océ--seem to have a stronger commitment to UP3i. Again, understandably. And HP has found a whole New World in labels and packaging.
One thing that seems to be common to all is that the vendors are listening to their customers. And the customers have some different needs. Some customers want their press vendor to "be responsible for it all" despite the loss of flexibility, and others want to make decisions about postpress devices on their own. It would be useful for those who are considering a purchase of digital equipment in the next year to give some thought to how they want to incorporate their finishing.
WTT: Please describe your finishing program
JS-Xerox: We have about 30 partners and 3 main ways to structure a business relationship. There is reference selling where the partner sells, writes the order and gives support. At the other extreme is the OEM whose equipment is labeled by Xerox but the partner has designed and developed the product. It looks like a Xerox piece and is sold by a Xerox rep and supported by Xerox. In between is the reseller where Xerox sells and writes the order, Xerox service does the first level of support, but service under the hood is done by the manufacturer. In that case, training and documentation are provided by the partner.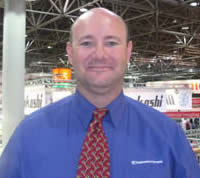 BO-IBM: We have a Partnership Program and work closely with our partners to achieve integration. Some of them are Pitney Bowes, Bowe Bell & Howell and Kern for mailing and insertion, and Stralfors, Hunkeler, Roll and ESP for post processing such as unwinders, folders, cutters, rewinders etc. We want companies to be well established in the market. They have to provide solutions that have been certified to work and that are willing to go through a safety certification. IBM does all the servicing, even when partners sell direct. "Customers want one head on the block to chop."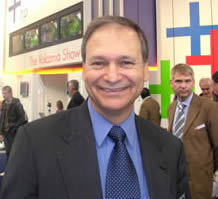 EI-HP/Indigo: Our philosophy is to work with many partners, maybe 30 or40, including those for postpress and workflow. We do not want to do everything ourselves so we can specialize in our strengths which is ink on paper. We have alliance partnerships when there are solutions required by the customer. Our process of selecting includes looking for a good fit, technical quality and financial stability. We are always asking the customers what they need by visits and distributing surveys. We have a Customer Advisory Committee where we can run ideas by a variety of customers. We ask them to commit to a long-term relationship--for 2 years. We have different partners for the commercial printer and the industrial space, such as label converters. Our goal is to provide end-to-end products.
CB-NexPress: NexPress is in the middle of transitioning from a focus on marketing the press to a wider focus on end-to-end solutions. Up to the present, Heidelberg finishing was used in many shops, such as the integrated inserter and the hole puncher. We offer a pretty complete finishing line on the monochrome side and will be trying to leverage them into color, as well as supplying more through alliance relationships. NexPress established an alliance network last year with a 3- tier partner engagement process-- tier 1 is OEM, tier 2 is resellers and tier 3 is reference sells. C.P.Bourg, Duplo, Roll are currently partners, and maintaining Heidelberg is not out of the question. We have a strong relationship and are strongly incented to work together.
The key thing is to develop more software and workflow integration with the finishing systems. NexPress is engineering a workflow platform ahead of the DFE--a beachhead that will integrate across the whole workflow. This JDF controller will take any data streams in and reconcile with finishing. We are hoping that the finishing partners, who all have their own device protocols that control content and intent, will become compatible with JDF. There is a lot of work to do because standards are not widely adopted between finishing vendors. In time NexPress will bring more partners on and provide more of an integrated offering. (The Duplo bookletmaker nearline with the 2100 was announced at drupa.)
HS-Océ: Océ has over 16 finishing partners, including Bowe Bell+Howell, Muller Martini, Roll Systems, Standard Finishing and Stralfors. Duplo has been a close partner in the UP3I development. We have partnerships in our Finishing Group for high volume, medium volume and web. Our manufacturing in Poing, Germany develops the web-based and high volume cut sheet products. A second manufacturing site in Venlo, Netherlands, is responsible for the wide format and medium to high volume like the Océ 2110. Some partners are OEM based, such as C.P.Bourg, and most are partnerships.

WTT: What trend do you see with regard to inline, online, offline and nearline finishing?
JS-Xerox: Jerry saw the trend as being towards inline and online solutions. "Xerox has always been a big supporter of inline," Jerry told me, "because the customer wants to hold one person accountable." While acknowledging that nearline/ offline was more flexible, depending on the application, he emphasized that customers "want Xerox all the way." Early Xerox customers were comfortable with an integrated device, but it was not so with commercial printers. "They were used to an offset workflow where there are many types of equipment and traditionally finishing has been offline," he explained. It is not hard to understand the concern of double trouble--that if the press was inoperable, the finisher would be inoperable also. "But they are coming around," Jerry states, " because having things the way they used to started to break down. For instance, with bookletmaking commercial printers used to just buy the Xerox 6060 and use their existing bindery equipment. Then, as the frequency of short run lengths increased, they would have to frequently readjust pressures, wasting considerable time."
If we add to short runs the impact of variable data, it becomes clear that the traditional model for the bindery would continue to have difficulties. According to Jerry, online works best for variable data. At drupa, with partner Plockmatic, a supermarket loyalty club application was being run with variable data color output from the Xerox 6060 being inserted into windowed envelopes. "Putting this online is a key piece," Jerry explains, "The DFE is the intelligence and Plockmatic doesn't want to know about data streams." Jerry agrees that nearline is continuing to grow and replace offline "which lacks intelligence and automation." But he points out, "There is also a growth in online solutions. We like equipment that works in either mode." For instance, the Duplo bookletmaker can run behind a feeder, or be dedicated to the digital press. Jerry sees this type of versatility, being online or nearline, gaining ground.
At drupa, Xerox supported their inline philosophy with a backend controller that can provide more finishing options. The newly announced Xerox Nuvera Digital Production System featured an optional Finishing Transport Module to allow modular finishing. It allows the machine to be connected inline to a wider array of finishing options from Xerox partners.
CB-NexPress: Without the larger product line of its competition, and with Heidelberg as a partner until recently, NexPress is just beginning to expand the finishing arena. According to Chris, "The highest demand is for nearline solutions. This is because of pressure timewise and it allows the customer to leverage a finishing device across multiple print engines." One finishing unit can serve two presses, but with one central job ticket." Although able to offer similar finishing options to its competition, Chris asserts that the NexPress 2100 tends to run at higher volumes than a Xerox or HP product. The company wants to be able to deliver nearline or offline solutions to accommodate that workflow.
EI-HP/Indigo: "Customers are asking for end-to-end solutions," says Eli, "and they want end-to-end responsibility." Eli points out that sometimes customers want just HP, in which case they formulate an OEM deal. According to Eli, "Our strategy for finishing is to identify different needs for web and sheetfed, and our strategies are different for each." The HP webfed finishing is inline or able to be connected. When "necessary," HP will work inline, but finds inline finishing "more limited." HP has a nearline strategy for sheet fed which is different from Xerox who prefers to be inline or online. According to Eli, "Nearline gives more flexibility for short runs because they bring many kinds of finishing and there is no point for a press to be dedicated to a particular kind. "
Customers tell HP/Indigo that, unless there is one singular application like postcards where it makes sense, they want nearline finishing. Duplo, for instance, is a nearline device with a barcode reader which HP finds good for variable data printing since you can get verification from the device." Since finishing is faster than the press, you can also use the same finisher for different machines. "There is also a limited reliability with inline finishing," says Eli, " because if one component is down the entire system cannot do the job." HP finds its customers in mixed equipment environments. They use a JDF job ticket when possible (except in their label line of specialized finishing where the workflow is proprietary), and try to maintain a fully digital workflow.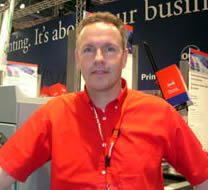 JB-Océ: Jan Henk Bokma, WW Product Manager of the newly announced Océ 2110, gave me a good view of the Océ philosophy on the drupa show floor. He told me how this mid volume product distinguishes itself from the competition with its finishing. " The generic finishing interface has an open design so you can easily connect to inline binders, stackers or booklet makers--Oce, or third party systems," according to Jan. Océ is regarding finishing an enabler. Why select a product with inline finishing that restricts you to only folding and making booklets? "When you have a nearline and open structure that is adaptable," Jan tells me, "you can trim and cut to different sizes, change to glue binding and more."
BO-IBM: Our Partnership Program has inline and nearline solutions. There is a very close integration with IBM's process management software. The need is for integrated end-to-end solutions and also an open standards approach, and we attempt to accomplish this in the best way possible for our customers.