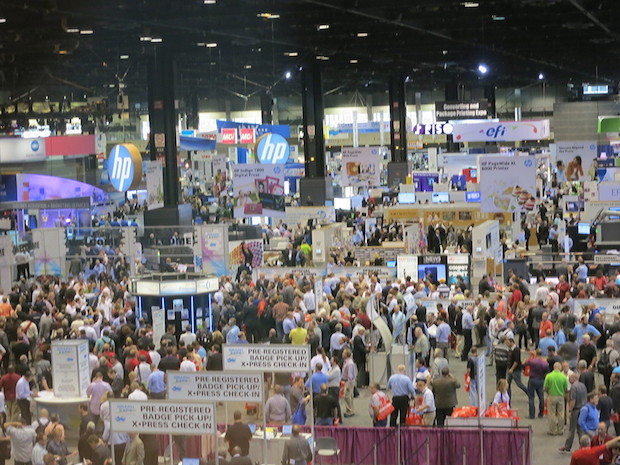 Graph Expo 2015 (September 13-16) was about the same size as last year in terms of exhibitor participation, but it wasn't exactly the same show. With no fewer than 12 specialty "hubs" spotlighting various kinds of solutions and product applications, the event had a jigsaw-puzzle quality that would have been confusing had it not been consistent with the overall market fragmentation that the printing industry is undergoing. Adding to the complexity was Graph Expo's first-time attempt to cross over with three food packaging and beverage processing shows running with it on a couple of overlapping days at Chicago's McCormick Place.
Change isn't always easy for trade show attendees to digest. It's no easier for trade show organizers to keep a once-a-year event like Graph Expo a step ahead of technological transformations and market shifts as unsettling as the ones printers and production systems vendors are having to deal with. Graph Expo's floor plan and features probably worked better for some visitors than for others. But, the Graphic Arts Show Company deserves credit from everyone for trying to find a framework for it all in its vision of how printing trade shows now must go about serving the fast-changing needs and interests of their audiences.
That said, Graph Expo was still the same tire-kicking, price-comparing opportunity for attendees to plan their capital investments and acquire new capabilities for their printing businesses. In that sense, the show hadn't changed at all, and those who went to it in search of answers for packaging production should have had no trouble locating them either in the packaging-focused portion of the hall (the co-located CPP Expo) or at the numerous vendor stands where packaging solutions were being featured.
Following are product news highlights that indicate the kind of profile Graph Expo had as a packaging show. A few of the products mentioned were displayed on the floor by their vendors; most were promoted without being installed.
Komori made its new GLX 40 Lithrone carton press the centerpiece of its outreach to packaging printers. Introduced at drupa 2012, the GLX 40 is a 41" press capable of handling board from 8 pt. to 40 pt. at speeds up to 18,000 sheets per hour. Komori has given it a full complement of software-controlled automation features and can configure it for all types of drying including LED-UV.
The press is installed on a 36" raise to enable its non-stop feeder to accommodate tall piles of thick packaging stocks. It can print two sides in one pass without a convertible perfecting mechanism—an advantage for sheet travel when heavy board is being used. During Graph Expo, Komori announced that The Ellis Group (Pickering, ON) has installed an eight-color version of press equipped with full UV and logistics capabilities.
Those who in the past have bought packaging presses from Ryobi and Mitsubishi now have a unified source for the equipment: Ryobi MHI Graphic Technology Ltd., or RMGT for short. Formed in January 2014 in an integration of Ryobi Ltd. and the printing and packaging division of Mitsubishi Heavy Industries, RMGT blends the two Japanese press portfolios and brings them to market through a reorganized dealer network covering the U.S., Canada, and Mexico.
RGMT has adopted a simplified product nomenclature that groups the presses by ascending order of format size in Series 3, 5, 7, 9, 10, and 11. Graphic Systems North America (GSNA), a network of six regional dealers, provides sales and service for Series 3 through 9 in the U.S. and Canada. RM Machinery is the authorized U.S. distributor for Series 10 and 11, and Suntek S.A. de C.V. of Mexico represents the entire line south of the border.
RMGT says it has sold more than 30 new presses of all types over the last 12 months, comprising more than 150 printing units. In Series 10 and 11 are the 40", 41", and 44" sheetfed presses best suited for packaging, including wide stock range models that can print sheets up to 1 mm (0.039") thick.
CHILI Publish makes Chili Publisher, an online document creation and editing system that can be integrated with packaging and label design workflows from other providers. Packaging printers use it in conjunction with tools from Esko, Enfocus, and others to create portals where customers can create and modify packaging within brand and output guidelines. At Graph Expo, Chili Publisher announced that its flagship product has been enhanced with an HTML5 3D viewer and support for automatic copyfitting across multiple frames.
Digital graphic production systems from HP now belong to HP Inc., one of two companies into which the original HP has been divided. Mike Salfity, vice president and general manager for graphic solutions, said that "graphics becomes much more relevant" as a result of the split by effectively doubling in size within the new entity it is part of.
The company's extensive portfolio of Indigo electrophotographic presses and HP inkjet web presses includes solutions for packaging and labels. The inkjet line has been rechristened as HP PageWide Web Presses, comprising systems on which HP says users are producing four billion pages per month. Newly added to the line are the T470HD and T480HD machines, 42" wide presses running at 600 fpm and 800 fpm respectively. Both feature High Definition Nozzle Architecture (HDNA) inkjet arrays with 2,400 nozzles per square inch.
HP will not immediately target these high-resolution presses at packaging, a segment where other HP solutions already are at work. The company sees a particular opportunity in corrugated cartons, a niche it can address in two ways: by printing directly onto the corrugated surface with its HP Scitex flatbed industrial inkjet presses; and by preprinting webs of top sheet for laminating and gluing onto the surface as a step in the corrugating process.
Visitors to the HP stand at Graph Expo could inspect colorful samples of the latter from runs on T400S (42") and T1100S (110") PageWide equipment. The multi-lane printing architecture (MLPA) of the T1100S lets it process multiple layouts simultaneously for cost-efficient gang runs.
On the Indigo side, HP promoted the Indigo 30000, a 29" sheetfed press built expressly for folding cartons; and the Indigo WS6800, a narrow-web press for labels and packaging. Bennett Graphics (Tucker, GA) recently installed one of these, and HP said that Label Specialties (Louisville, KY) bought a WS6800 of its own straight from the show floor.
At Graph Expo, KBA CEO Claus Bolza-Schünemann reported that the company was nearing the end of a "severe and very positive restructuring" that has improved its performance after months of layoffs, plant closings, and corporate reorganizations. He and others said that packaging production, especially on KBA's very large format (VLF) presses, would continue to be central to the company's growth strategy.
The company, which will be 200 years old in 2017, is saving most of its technology announcements for drupa next year. Its briefing to the trade media at Graph Expo had mainly to do with recent or pending installations and production milestones by KBA packaging customers. Noted, for example, were the records set by RockTenn at its Nicholasville, KY, folding carton plant, where a 64" KBA Rapida 164 seven-color press produced 9 million sheets in one month and 375,000 sheets in a single day.
Of interest to packagers was the discussion of VariDry LED-UV, KBA's solution for installing low-power, no-heat LED-UV curing units anywhere on the press the job being printed calls for. The system can replace conventional UV units on KBA presses or be run in combination with them.
KBA says that packaging is among the applications for its RotaJET 130 L and RotaJET 168 VL digital inkjet presses. It is invested in still another package printing technology, flexography, through its KBA-Flexotecnica subsidiary, which it has been marketing in North America for the last 18 months.
"We are absolutely overwhelmed with projects for packaging," Craig T. Reid, vice president - digital for INX International Ink Co., told a visitor to his stand. Inks for packaging represent the largest share of INX's business, and what its packaging customers increasingly want, said Reid, are inks that do more than just look colorful—they must have brand-enhancing, purchase-stimulating functional properties as well.
INX has risen to the demand by formulating packaging inks that change color in response to changes in temperature (thermochromic), in sunlight (photochromic), or in both (hybrid thermo/photo). Metal cans printed with INX glow-in-the-dark inks are luminous in low light or under "black" light. Those decorated with its hysteresis inks can reveal messages and social media tags after the beverage inside the can has been consumed.
Reid said that INX also is working closely with makers of inkjet systems and filling equipment to bring single-pass variable imprinting to packaging lines. Other product areas of keen interest, according Reid, are low-migration inks for flexible packaging and water-soluble, UV-curable digital inks and coatings that are safe for packaging applications such as food. INX has come up with more than 30 UV inkjet inks for these purposes, he said.
Accurate sheet counting is always a necessity for cost-efficient production. But, it takes on even greater importance in short-run packaging jobs using high-end or exotic stocks that cost too much per sheet to waste even in tiny quantities. Colter & Peterson, a nationally known distributor of paper cutting equipment, offers a solution in the form of an optical inspection system that it says can count sheets in the pile with an exceptionally high degree of accuracy.
Shown at the company's stand at Graph Expo, the system works by training a laser-guided camera on a well-jogged pile and counting the gaps between the sheets, not the sheets themselves. This method is said to yield a tally within +/- .2% (two-tenths of one percent) of the actual number of sheets in the pile. Sheet thicknesses can range from 20-lb. bond to 39-pt. board, and piles up to 71" tall can be counted.
Packaging wasn't a major focus for Canon at Graph Expo, but representatives were happy to speak with visitors about the company's ambitions in the segment. They are consistent with Canon's general objective of moving as much production as it can from analog to digital processes. Dennis Amorosano, vice president and general manager of the company's business imaging solutions group, said the company foresees anywhere from 10% to 20% of packaging volume migrating to digital, but at a somewhat slower pace than has occurred in commercial production.
Canon hopes to step up the pace when it introduces the InfiniStream folding carton press to the U.S. market at some point in 2017. It will be a liquid-toner, roll-fed machine that can print coated and uncoated folding carton stocks in up to seven colors at a rate equivalent to 14,400 B2 (20" x 28") sheets per hour. It is aimed at short runs of branded packaging with multiple SKUs and graphics that are subject to frequent change.
Offset press manufacturer Heidelberg, once a leading presence at Graph Expo, has stopped showing there. But this year, some of its personnel were on hand in McCormick Place to help a partner, Masterwork Machinery (MK), promote its lineup of folding carton converting equipment. The company, based in Tianjin, China, has taken over the manufacture of the diecutting and folding carton gluing equipment formerly built and sold by Heidelberg, which will sell the MK-made equipment outside China.
Seen in its U.S. debut at the Masterwork Machinery stand was the Promatrix 106 CS, a diecutting and embossing system for short to medium runs at speeds up to 8,000 sheets per hour. Built to handle substrates from 65 lb. text to 48 pt. board, it has a maximum sheet size (29.92" x 41.7") that matches the format of Heidelberg's flagship Speedmaster XL 106 press.
Messe Düsseldorf will produce the world's top three printing trade fairs next year: drupa 2016 (May 31 - June 10, Düsseldorf, Germany), INDOPRINT 2016 (September 7-10, Jakarta, Indonesia), and All in Print China 2016 (October 18-22, Shanghai). The largest of the three, drupa, was the subject of a Graph Expo press briefing that promised much to see in packaging for visitors to the German show.
Packaging production, including printing, postpress, and converting, is to be one of six main segments of drupa and will represent from 30% to 40% of what is presented there, organizers said. Print and finishing solutions for all applications including packaging will be spread across four halls; packaging converting will occupy an additional three. (drupa 2016 will have a total of 19 halls housing about 1,500 exhibitors.)
Claus Bolza-Schünemann, chairman of the drupa governing committee, said that these exhibits would highlight the roles played by packaging in food waste reduction, brand communication, "intelligent" product containment, distribution logistics, and security. Increased consumption by growing middle classes in industrializing and developing countries will push the world market for packaging to €715 billion ($970 billion) by 2018, Bolza-Schünemann said.