This article was sponsored by HP.
Blue Octopus Printing is an affiliate of the Anthony Wayne Rehabilitation Center for the Handicapped and Blind (AWRC), a non-profit, 501c3 company. Other affiliates include Post Masters, a full-service mailing and fulfillment company housed under the same roof as Blue Octopus; DOMA Document Solutions of Indiana, a document conversion division; and Highway Safety Specialists, providing equipment related to highway safety. A key mission of AWRC and its affiliates is to create employment opportunities for veterans with disabilities.
Blue Octopus acts as an in-plant printing operation for AWRC, parent company Benchmark Human Services, and the private sector. External customers span a number of vertical markets including hospitals, marketing agencies, insurance companies and universities. Blue Octopus and Post Masters combined employ 100 people, print more than 10 million impressions and mail more than three million envelopes per month.
"We pride ourselves on the fact that we are helping to change the lives of veterans with disabilities," says Gary Johnloz, Vice President of Business Development for Blue Octopus, Post Masters and Highway Safety Specialists. "But we also must provide quality services at competitive prices in order to gain the business we need to support those efforts." Of the 100 Blue Octopus/Post Masters employees, 20 are Service Disabled Veterans and Wounded Warriors.
In analyzing business performance, Blue Octopus came to understand that its high quality short-run market was not being well-served by its offset press. "We knew we had to move to digital," Johnloz says, "and we spent a good deal of time looking at options."
The team did not feel that dry toner presses met the quality or durability standards that were needed. "We wanted something that operated like a realoffsetpress and gave us a similar look and feel," Johnloz explains. "That's why we chose the HP Indigo 5600 Digital Press. HP also offered excellent support. They went out of their way to understand and meet our requirements in the sales process, and we felt we would get the level of support post-sale that we would need, which we have."
Great Quality, New Capabilities
One of the benefits of Blue Octopus' new digital press is the addition of white ink and of clear matte ink for a spot varnish look. "We held a very successful open house to launch our new services," Johnloz reports. "The invitation was stunning – printed on a dark navy substrate with white and raised ink on the cover. It got a lot of attention and really highlighted what we can now do. We have found a lot of great uses for both the white and clear inks."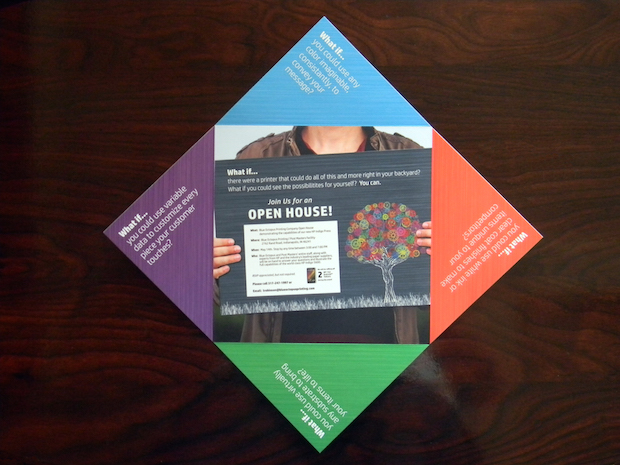 Invite printed using white ink and of clear matte ink for a spot varnish look.
The team has also experimented with other substrates and techniques including printing on plastic and metallic substrates and creating peel-off magnets. "We printed a lot of images provided by HP on many different substrates and assembled them into a sample packet that we gave out at our open house," Johnloz explains.
Getting Personal
Blue Octopus has been experimenting with personalization. "Our prepress department uses HP SmartStream Designer in combination with Adobe InDesign for Mac and PC," Johnloz reports. "This includes an easy-to-use personalization toolbox, a font converter to address the Mac/PC font issue, imposition tools and templates, and the ability to generate a variety of output file formats. That's helped us get moving quickly with personalization, which, of course, we couldn't do with our offset press."
A Helping Hand
"We're very pleased with our move into digital printing," Johnloz concludes. "It's given us many new things to add to our portfolio, made us much more cost efficient, and we are the only commercial printer/direct mailer in Indianapolis that has an HP Indigo digital press. So it has given us a competitive advantage in our marketplace. In the end, all we do benefits veterans with disabilities, and our ability to excel for our private clients is a key contributor to our ability to meet those goals."