"Our aim is to become a company that is truly indispensable to our customers," said Minoru Usui, Global President of Seiko Epson, kicking off "Experience Epson," a day of interactive demos of a cross-section of Epson technologies, from wide-format printing, to interactive whiteboards, to golf swing analyzers, to Augmented Reality-based headsets, to…well, you name it. The event was held last week in New York City.
Over the next couple of months, Epson will be making some new announcements, so keep an eye out. One made last week may be a little far afield of what we normally cover, but the idea was to, as Usui said, "disrupt the world of office printing" and "shift office printing from laser to inkjet." To help facilitate that, Epson is turning the business model of inks and printers on its head by introducing a new line of EcoTank brand office and network printers. The new family consists of five color printers featuring large ink reservoirs, what Epson calls "Supertanks." They are designed to allow users to print for up to two years without replacing the ink. (This is the place in the press release that is festooned with footnotes that essentially state "your mileage will vary.") The ink included with the EcoTank is said to be equivalent to about 20 sets of ink cartridges. Depending on the model, the ink cartridges can be refilled on-the-fly.
Epson Global President Minoru Usui Celebrated 40 Years of Epson at "Experience Epson"
Desktop, office, and desktop printers may not be our regular beat here at WhatTheyThink, but there could be somewhat of an impact on the demand for small-format commercial printing if it becomes more even more cost-effective to do color inkjet printing in-house. Obviously, we're not talking about runs in the thousands, but over the past 20 years we have already seen a substantial shift from commercial print to in-house printing.
Also at the event, Epson was demonstrating its SureColor F2000 five-color direct-to-garment printer. Not a dye-sublimation machine, it prints directly onto T-shirts, hoodies, jackets, tote bags, and other items of apparel. It's available with a white ink option to print on dark colored fabrics and, unlike dye-sub printers that require polyester, the F2000 prints best on 100% cotton or at least 50/50 cotton blends. It's not a new product introduction (I first covered it following its introduction at SGIA 2013), but Epson was touting the ease with which it could be integrated into retail environments.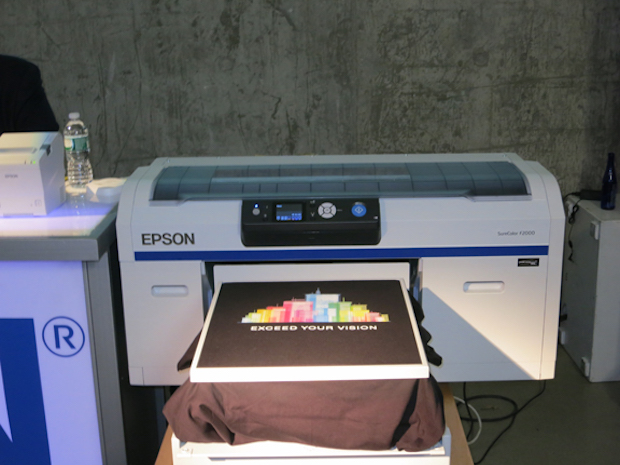 Epson SureColor F2000 Direct-to-Garment Printer
It wouldn't be an Epson event without a smattering of wide-format inkjet printers, although one new wrinkle allowed event attendees to don a special pair of glasses called the Moverio Pro BT-2000 headset. It is designed the company said, "to allow workers in various locations to see exactly what their counterparts are seeing, get visual assistance, and to provide informed support and training." It does using an Augmented Reality-based interface. At the event, it was demonstrated by allowing attendees to use the headset to follow the steps involved in programming a robotic arm to control a SureColor wide-format printer. (It's a bit awkward if you already wear glasses; I confess I made a spectacle—or two—of myself.) It's interesting to explore some of the other varieties of AR beyond scanning a printed image with a mobile phone. Hardcore technophiles have long thought of Augmented Reality as layering virtual information on top of the actual world via glasses or, I would expect, contact lenses.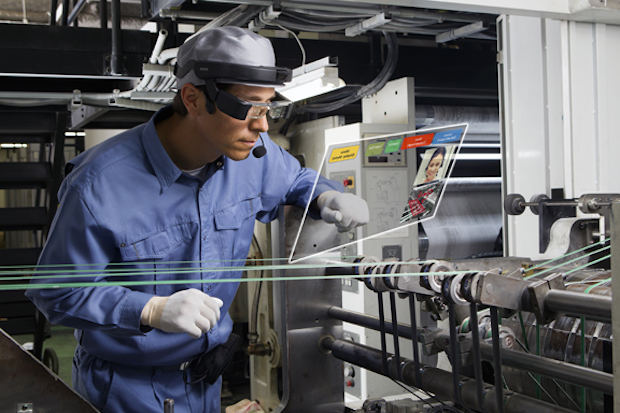 It's not easy to photograph things through the Moverio Augmented Reality-based headset, but this "artist's rendering" gives you an idea of how it can be used to instruct workers remotely.
Other "off-topic" technology Epson was showcasing was its Runsense GPS watch for running enthusiasts that provides a wealth of data to plan, monitor, and improve their performance. The Runsense SF-810 provides up to 35 different measurements, including recording heart rate directly from the wrist, as well as time elapsed, distance, pace, laps, intervals, speed, calories burned and more. Hmm….
As the co-author of a comprehensive guidebook for running a home-based office or business, I was drawn to the BrightLink line of whiteboard sharing systems. It is essentially a projector you mount on the wall or ceiling and converts the wall or any other flat surface into an interactive whiteboard. A Whiteboard Sharing Tool allows up to 15 participants to join a whiteboarding session, which can either foster effective collaboration or utter chaos, depending on your meeting participants. You can import, share, and mark up documents, work on page designs or design comps, or brainstorm projects in real time, without software or any other interface beyond the BrightLink projector itself. A corresponding smartphone app also lets on-the-go users link into whiteboarding sessions from their phones, so there is no escape from meetings. For casual collaborators or your average home-based worker, Skype or Google Hangout would probably suffice, but for serious project teams, the BrightLine series does offer some useful tools.
At the Experience Epson event, I also got a sneak preview of some new products that are a bit closer to home—although if I talk about them now, they'll use that AR-controlled robotic arm to do unspeakable things to me. Stay tuned.