I don't know if any of you remember the Mouli Grater, advertised to be the only gadget you would ever need in the kitchen because it could do everything. Made in France, when it was demonstrated you just stood in awe. Well, some of the finishing exhibits at drupa reminded me of that. They turn, they moisturize, they buffer, they stack, they cut, they fold, they glueyou get the idea. They are not one device, but work so well together they could be. I would like to highlight two exhibits that provided extensive automated finishing in two different ways. Xerox used a multiplex channel to connect 3 printers with 3 different finishing lines interchangeably. And Standard Horizon introduced what may be considered a digital backend to multiple finishing lines, the i2i.
Xerox Corporation has more than 30 finishing partners and 34 solutions demonstrated at drupa. According to Jerry Sturnick, Manager of PSG Third Party Finishing, "We can have as many as four to five partners in a complex sales situation." Getting a group of these partners working together in the Xerox booth was a challenge, but Jerry assured me that "they will be talking friendly to each other." He admits that with so many third parties the greatest obstacle is coordination and attributes Xerox success to "good systems engineering and strong relationships." A future direction that Jerry envisions for Xerox is having a digital back end controller. "Most vendors don't want to be in the digital backend business and stay with what they do best," explains Jerry, "but Xerox will have its own."
Meanwhile, Xerox was able to demonstrate its considerable ability to coordinate finishing with the CF MultiPlex exhibit--a three-engine, continuous feed DocuPrint1050CF driving three finishing lines in changing configurations. The roll-fed 244 fpm DP1050 continuous feed digital printer was a new product announcement. The DocSP controller was used as the front end. The three engines were fed by Unwinders from Hunkeler, Stralfors and Roll Systems. Multiple finishing solutions were available to each printer through the PLB (Print Line Bus). Additional finishing options were supplied by Stralfors, WEKO, Ibis, Mathias Bauerle and Muller Martini. It went like this.
Combination #1 resulted in perfect bound books. A PDF file was imposed in DocuSP for 3-up book blocks. The paper started in the Stralfors Unwinder (attached to printer #2), and, after side one was printed, the paper flowed via the duplex turnbars to printer #3 for side 2 imaging. From there it went to the WEKO web conditioner, on to the Hunkeler Buffer WB4-HV and Cutter/Stacker CS4-W, where the web was split into 3 streams, cut and stacked into 3 book blocks. The Transfer Station TS4 moved the blocks to the Muller Martini Amigo Digital Perfect Binding System which took the bookblocks in one of 4 clamps (which are rotated in turn to the milling station, glue station and cover insertion) and finally ejected onto the output conveyor belt for cooling and Muller Martini 3-knife trimming. The color covers had been preprinted on a Xerox DocuColor machine.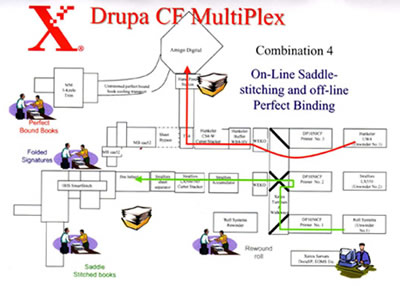 And then it just keeps getting better. Combination # 2 resulted in saddle stitched books. A PDF file was imposed for 4 page signatures with barcode for set integrity checking. This time the Hunkeler Unwinder fed printer #3 and then went to printer #2 for second side imaging. The printed web then flowed through a WEKO web remoistening device and into the Stralfors Web buffer, on to the Stralfors Cutter LX560/565 cutter and sheet bypass into the Ibis Smartstitch saddlestitcher. There, each sheet was individually scored, folded, collated, stitched (or cold glued) and finally 3 knife trimmed. (An optional square fold spine and pile feeder also available.)
Just as your head is spinning comes Combination #3-- Roll to Roll for unattended running. The input is the same as the first two, but printed in reverse order N to 1 instead of 1 to N. This combination is run at the end of the day so that a duplex printed roll is ready for use the next morning (see below). The advantage is unattended running during low staff levels (evening shift) and maximum usage of finishing devices when staff levels are normal (day shift.)
So, here comes Combination # 4 -- online saddlestitching and off-line perfect binding. The PDF file is imposed for 4 page signatures as before and production starts with the Roll Systems Unwinder with printer #1 going to printer #2 etc. through the line for saddlestitching. Meanwhile, the Hunkeler Unwinder is loaded with the preprinted roll from Combination #3, the paper is run under printer #3 and straight into the perfect binder line.
In Combination #5, the same technique is used for online perfect binding and off-lie saddlestitching. Just to top things off, Combination #6 resulted in 16-up folded signatures. The TS4 transfer station bypassed the stacker and Amigo, passing the sheets instead to the MB Folder where the folded signatures were then gathered for offline sewing and perfect binding.
So, you get the idea that there was considerable automation to see at this show. In fact, the theme of the Horizon International booth (Standard Finishing) was "Think Automation." The company launched a series of new CIP4/JDF-enabled finishing solutions including a new automated workflow called the i2i System. No stranger to innovation, Horizon's US distributor, Standard Finishing, was named Xerox' Finishing Partner of the Year for 2003. The award was based primarily on the success of the Standard Horizon ColorWorks 2000 in-line bookletmaker for the Xerox DocuColor 5252, 2060 and 6060 digital color press. It was nice to see a finishing company taking a further leap and setting up their own backend controller for press companies who might prefer to stick to their knitting.
The i2i system links prepress with postpress using the original job file data, a centralized control server and remote PCs for setup and monitoring. The system can extract finishing data from PPF/JDF files written upstream at prepress or, where these are not available, allows job setup data to be input at the i2I Control Server. The CIP4/JDF file may include folding, pagination, binding and cutting information. The server will calculate additional job information as needed, and build a complete finishing data profile.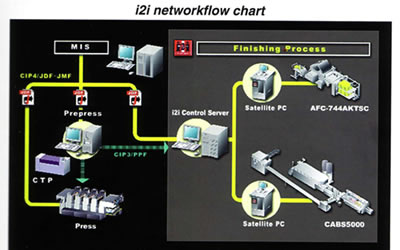 A JDF job ticket is printed on the Control Server with a bar code and printed. It is then scanned into a satellite PC. The PC forwards the job data to the finishing device and receives job status for fine-tuning the profile. The job ticket information is passed to other PCs on the net, one for each finishing device, to setup networked finishing equipment automatically. Of course, this is all possible because the finishing devices--such as the AFC-744AKTSC Folder, CABS5000 Perfect Binder and the HOF-30 ultra-fast sheet feeder, are all digitally automated. Horizon also introduced many new products, such as the AFC folder accessories and StitchLiner5500.
The i2I system gives the ability to save and recall recurring jobs. Job record data for accounting and analysis and the ability to monitor job status can be done in real time from the central console. David R. Reny, VP and Managing Director of Standard Finishing Systems, stated, "Horizon now offers complete automation in each significant postpress category, with the option to integrate these products into a larger automated workflow or simply benefit from the savings of touchscreen automation."
These two companies, Xerox and Horizon, demonstrated unusually innovative systems that offer increased efficiencies in production and bindery management, with outstanding flexibility. They both get my Mouli Grater award.