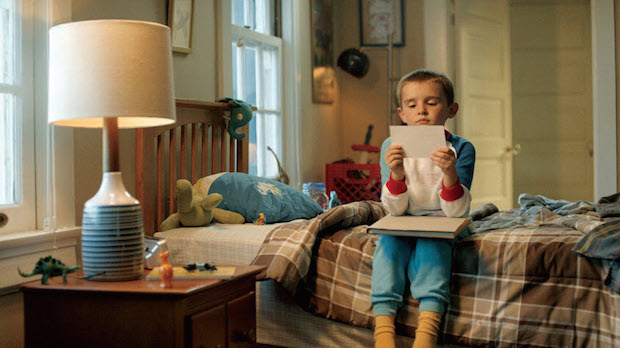 A scene from "Letters to Dad," part of "Paper & Packaging – How Life Unfolds"
Can a multi-year, multimillion-dollar promotional campaign heavily underwritten by the paper industry finally put a floor under the declining use of paper and paper products? The campaign's backers and the public at large are about to find out.
When the Paper and Packaging Board (P&PB) announced the launch of the "Paper & Packaging – How Life Unfolds ™" media schedule on July 8, the news signaled the opening phase of an effort that will last up to seven years and is expected to spend about $20 million annually. The money, coming from government-sanctioned "check-off" fees to be collected from the paper industry, will pay for a series of messages aimed at strengthening the loyalty of consumers who are already committed to paper and packaging. The campaign will also try to influence specifiers of paper and packaging substrates.
Mary Anne Hansan, executive director of P&PB, says that "Paper & Packaging – How Life Unfolds" will try to accomplish for paper products what check-offs like "The Incredible Edible Egg" and Pork. The Other White Meat® aimed to do for other non-branded commodities. Renewing consumer affinity for paper is especially urgent, she says, given that data from the American Forest and Paper Association (AF&PA) show a 46% decline in U.S. per capita consumption of printing and writing paper since 2000.
As designed by the Cramer-Krasselt agency, "Paper & Packaging – How Life Unfolds" will attempt to rekindle the feeling with print, television, video, outdoor, and social media messages that remind consumers of the emotional and practical impact that paper has in their everyday lives. The general story line, says Hansan, will be that "paper and packaging help people get important things done" in ways that bring users of paper closer together.
This video, one of three being presented on YouTube, conveys the thrust and the tone of the narrative. This year, the campaign also will include print ads in 12 magazines; billboards in nine markets; spots in cable, syndicated, and digital television programming; and postings to Facebook and other social media.
Hansan, a veteran of check-off based promotional campaigns in other industries, says that careful audience research is the key to success in a consumer outreach of this type. A pre-launch segmentation study told P&PB that the group to target were the "Expressives": a young (18-49), well educated, and socially engaged demographic with pre-existing positive attitudes toward paper and packaging.
P&PB isn't taking their goodwill for granted. "The notion that we have them in the bag is not right," Hansan says, noting that even the Expressives are consuming less paper than they once did. But, there are 38 million of them, and the hope is that reinforcing their commitment to paper and packaging will generate spillover influence among harder-to-reach groups such as "Minimalists" (people who consume less of everything, including paper). Publishers, consumer product goods packagers, and other substrate specifiers also should be heartened by the good feelings the campaign will engender, Hansan says.
There is a business objective as well as a public-relations one. The campaign's participating paper companies expect it to stem the decline in per capita paper consumption, says Hansan, and they have set up a metrics committee to monitor trends in demand for paper and packaging as the effort progresses. The U.S. Department of Agriculture (USDA), the government agency that authorizes the check-off funding, also will require econometric analysis to determine what would have happened to demand in the absence of a market-building campaign. Twice-yearly attitude and usage surveys by P&PB will track consumer attitudes and gauge the effectiveness of the messaging.
The goal is not necessarily to increase paper and packaging consumption, but to stabilize it. This requires, says Hansan, making a long-term, deep-pocketed commitment that could have come about only with the support of nearly the entire paper-producing industry. Because "Paper & Packaging – How Life Unfolds" has that kind of sustained backing, she says, it has the potential to be more productive than the relatively short-lived pro-paper campaigns that are mounted from time to time by other trade associations.
The staying power will come from the check-off funding—a kind of self-imposed tax that the paper industry will remit for as long as it decides to keep the campaign in effect. The USDA, which sanctions check-offs for non-branded promotional drives on behalf of agricultural products, deems paper and packaging to be in this category because they come from the harvesting of trees.
In November 2013, using a list of eligible paper manufacturers and importers supplied by AF&PA, the USDA held a referendum in which 85% of those polled voted to assess themselves for check-off participation. These suppliers, representing 95% of the paper industry's total volume, agreed to pay a fee of 35 cents per short ton on their shares of printing, writing, and office, and Kraft papers, paperboard, and corrugated board. P&PB invoices the participants quarterly based on the previous quarter's production.
The check-off became binding for the industry on January 22, 2014. It has a seven-year term that participants can vote to terminate or extend, and follow-up referendums can be requested at any time by the program's board of directors or 10% of those eligible to vote. While it is in force, every company that annually makes or imports more than 100,000 short tons of the assessable grades must pay the quarterly fee or answer to the USDA.
Hansan notes that although the check-off has the mandate of a government agency behind it, it isn't a government program—the USDA contributes no resources except for oversight. The thing to keep in mind, she says, is the fact that the industry's nearly universal participation in the program is generating a lot of money that can be used to do a lot of good.
Check-off funds can't be earmarked for lobbying or advocacy, but they can be budgeted for informational, educational, and promotional activities in support of an industry's products. Hansan says that by the end of this year, P&PB will have spent about $19 million on paid media placements and roughly another $1 million on publicity designed to draw attention to the campaign: for example, a back-to-school promotion to remind students of the value of taking handwritten notes. After that, there will be $20 million to $25 million to spend annually through the end of the campaign. The econometric analysis measuring the effectiveness of the program must be given to the USDA before the end of year five.
Results don't yet exist to be measured, but Hansan is confident that they will be forthcoming. A marketing communications professional for 30 years, she has managed similar promotions for canned tuna, plastics, chemicals, and flowers. She says that because "Paper & Packaging – How Life Unfolds" is launching with the same depth of research, rigor of testing, and clarity of purpose as any of those projects, it has as much "insurance" for success as it's possible to give a campaign of this kind.
Hansan understands the long-term challenges that paper products are up against: baseless negative publicity about their environmental impacts; alternatives that cause people to need less paper than they used to. But she insists that the biggest danger the paper industry faces "is the risk of doing nothing" to preserve the consumer preference its products still enjoy.
She also knows that advertising is an "art form" and that as such, its outcomes can't be forecasted or guaranteed. For this reason, the strategic vision behind the media buys is where success for "Paper & Packaging – How Life Unfolds" will have to come from.
"Fingers crossed," Hansan says, "we have that piece in place."