It appears that processless plates are on their way to becoming readily available in the marketplace. At drupa 2004, several plate manufacturers made processless announcements. Of course, Presstek, with its Applause announcement at Graph Expo 2003 and its long heritage of chemistry-free plates, already has product in the field. Others were either announcing immediate or upcoming availability, or were presenting their processless strategy in the form of technology demonstrations.
The benefits of processless include improved productivity, reduced costs and reduced cycle timeclearly a theme at drupa 2004with fewer steps in the platemaking process, the elimination of chemical developing; reduced energy consumption; and significantly reduced environmental impact. Although processless plates generally seem to be priced higher than standard plates, the argument in their favor is that elimination of these other costs (and reduction of cycle time), which can comprise up to 35% of the total cost of plate production according to some experts, easily justifies the higher cost per plate. Additionally, elimination of the chemical processor unit reduces space consumption, a huge consideration for smaller printers and European printing companies where space is often at a premium. Here's the drupa processless scoop by vendor.
Presstek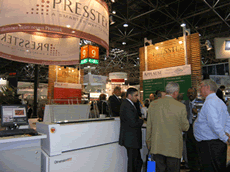 Presstek's Applause became commercially available in the fourth quarter of 2003. The company reports good success with the product in the field to date. Currently Applause is available for use with Presstek's Dimension Series platesetters and is being tested with other thermal devices. It is a thermal ablative process and requires no post-imaging processing or debris removal; simply image and mount on the press. The imaged plate has a strong visible image. At drupa, Presstek also announced the integration of its new ProFire Excel imaging in the Dimension Series platesetters which will enable enhanced image quality of up to a 300 line screen with standard, stochastic or hybrid screening. Applause is rated for up to 100,000 impressions.
A.B. Dick
As reported on WhatTheyThink just prior to drupa, A.B. Dick, in collaboration with Presstek, has introduced the Vector 52TX with Freedom plates. While this is not true processless, it is worth mentioning here. I had an opportunity to view the product at drupa, and it has been getting great reviews. A.B. Dick reported having sold several units in the first few days of the show. With a small footprint and a self-contained water wash, the Vector 52TX outputs metal plates dry and ready to mount. This plate also has a strong visible image. The entry level Vector 52TX price (below $60,000) and small footprint will bring metal CTP within reach of smaller shops.
Kodak Polychrome Graphics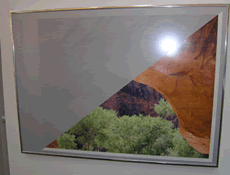 KPG's ThermalDirect is a non-ablative thermal plate that can safely reside in white light for up to an hour, and up to four hours in safe light. One of the common concerns to date with some processless technology has been the lack of a visible latent image on the plate for ease of checking plate accuracy, ensuring the right plate is mounted on the right cylinder, etc. KPG's plate does have a visible latent image, but it is less visible than some of the others I saw. The plate can hold a 20 micron spot, supports FM screening and is rated for runs of up to 75,000, although the company indicates that customers are achieving good quality with runs of 100,000. KPG has made no commitments relative to when the plate will be commercially available; it is in beta at the current time. KPG demonstrated ThermalDirect on Screen platesetters which will be marketed under the KPG brand name DirectSet.
Agfa
Announced in February 2004, Agfa :Azura is not a true processless plate, but is based on what Agfa considers mature technology, its Thermolite line, a wet offset plate for on-press imaging utilized with the Heidelberg Speedmaster 74 DI. Agfa's Dave Furman, Senior Marketing Manager for CTP Systems, indicates :Azura is manufactured with a true lithographic coating on a grained and anodized aluminum substrate that acts as the hydrophilic medium. The :Azura plate uses a non-ablative process and does require a conditioning, or gumming, step to enhance the contrast, which is the reason it is not true processless; however, it does eliminate the need for chemical developing. :Azura can sustain run lengths of up to 100,000 and Agfa is targeting smaller printers, especially first-time CTP adopters, for whom space is an issue and slower throughput (due to plate sensitivity) is not. :Azura will be commercially available in the second quarter of 2004; pricing has not yet been disclosed. :Azura will support a 2% to 98% dot at 200 lpi, with a 21 micron spot size.
Fuji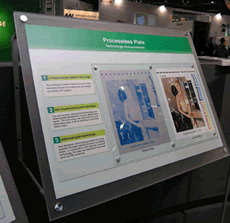 Fuji has long been rumored to have a processless plate in the works, and showed a technology demonstration at drupa. Steve Bennett, Enovation's Vice President of Product Marketing and Communications, indicates that pricing and availability are expected to be announced in the Graph Expo 2004 timeframe. In developing its market entry, Bennett indicates Fuji was addressing three key issues the market has expressed relative to processless:
Removal of debris when using a thermal ablative imaging process
Lack of a visible latent image on the imaged plate
Plate sensitivity issues requiring a slower imaging time
The Fuji plate employs a barrier layer which holds the ablation debris for disposal after mounting on the press where debris is absorbed by the ink train on the press, meaning that there is actually a final processing step on the press. Bennett claims that particles are so small that they don't affect the print quality and are passed through the system in five or six sheets during the makeready process. However, it is not clear what other ramifications there might be to this final on-press processing step. Fuji chose to implement this methodology rather than risking excessive debris in the platesetter or allowing debris to be absorbed into fountain solution, which is recirculated. The Fuji plate that was on display at drupa is daylight safe and has a strong latent image. Bennett indicated that a processless plate with a weak latent image has been in the market in Japan for some time, but the company decided not to introduce it into other markets. Finally, according to Bennett, the Fuji plate will use a new technology called intelligent polymer, which is fast exposing, enabling production at full speed on virtually any thermal platesetter. It is an aluminum plate with uniformed grain technology.
The Fuji plate will bear watching, both in terms of the timing of commercial availability and the performance in the field.
Creo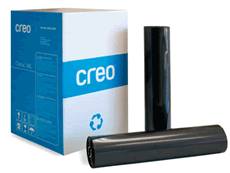 Creo announced a waterless polyester plate for direct imaging presses and showed a processless aluminum plate suitable for commercial offset printing. The Clarus WL waterless polyester plate is suitable for run lengths of up to 30,000 impressions and is a drop-in compatible solution for direct imaging presses. Creo claims that the Clarus WL plate has the highest sensitivity of any digital imaging thermal waterless plate available in the market today, reducing overall energy consumption. The Clarus WL plate is already in use by customers in Europe and North America and will be commercially available in the third quarter of 2004. The Clarus PL processless plate for CTP applications was shown at drupa being imaged by the Trendsetter 800 Quantum CTP in a technology demonstration. The Clarus PL plate is a true processless plate and requires no gumming, processing or post-imaging treatment. The Clarus PL plate is targeted for run lengths of up to 50,000 impressions. Commercialization plans have not been announced. Creo indicates that the plate is being manufactured by a partner in North America rather than in one of its own recently acquired plants. The company declined to name the partner.
Good Progress  Good News
Based on the announcements, demonstrations and product availability for processless at drupa 2004, it is clear that processless plates will be widely available on the market long before next drupa, and from a variety of manufacturers. The announcements we have seen to date reflect a variety of approaches, rated run lengths, quality levels and sensitivity. Ultimately, the market will decide what makes the most sense. The good news is that processless plates appear poised to have a significant positive impact on the productivity, cost effectiveness and environmental impact of the offset platemaking process. This can only be good news for the industry.