Editor's Note: Want to hear more from Blackdog Digital? Check out this webinar archive that features Steve Winn their Managing Director.
Did you know that 55% of all print buyers would like their printers to help them with Cross Media marketing services according to InfoTrends? How does your organization stack up? I recently had the opportunity to hear from a very innovative UK-based company that is aggressively addressing that market demand.
Blackdog Digital started its life as a printer with litho, digital and large format capabilities. Over time, the company launched Blackdog Creative, a retail agency that works with brands like Tesco in the UK. Over time, services migrated more to digital print, an important part of the story. It created the springboard for the company to begin to provide cross-media services to customers.
In the case of Blackdog, data is at the heart of what they do. They don't create websites or create generic apps, but if customers are looking to how they can better use or gain data to better engage their customers and take them ultimately to a transaction, that's where Blackdog Digital focuses. Their mission is to help businesses connect with their customers, getting them to engage.
Blackdog Digital services encompass the entire cross-media life cycle, from design through multi-channel, including print. Managing Director Phil Copperwheat says, "There are lots of companies out there that can run an email campaign but there are not that many that can run a full multi-channel campaign where print is an integral part. That's an important takeaway."
The company offers closed-loop services that include data analytics and supplementing data to gain insight and make communications more relevant. "We don't just send out thousands of emails," Copperwheat adds. "If we engage people, we engage them with a specific message because they are a specific target where we have specific data about them. Creating content that is engaging in all of the media and has a really key call to action is a very specialist skill."
Everything Blackdog builds is built from data and draws on the asset library. This allows them to be very flexible and responsive, so that subsequent communications are driven by recipient interaction – or lack of interaction – with the campaign.
"Our platform helps clients to view, analyse and act on their data in order to improve customer engagement, response rates and sales."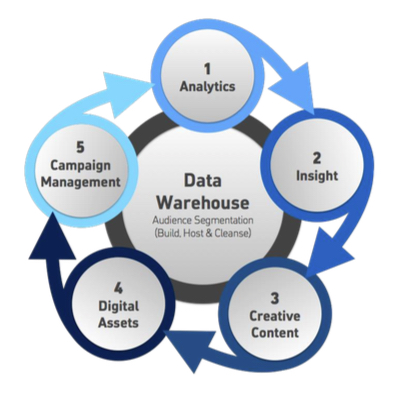 Blackdog Digital's Marketing Platform Overview
The ability to link the entire campaign together, including all of the various media being used, and to have analytics available as the campaign progresses is a key competitive differentiator for Blackdog. The company is using EFI DirectSmile as its primary cross-media platform, but has also added other tools that give them the ability to include beacon technology and personalized video. "It is about delivering all of the channels in an integrated way," Copperwheat adds. "The ability to link all those together so that as the print lands, we will send an email, give them the ability to visit a personalized web site and receive a follow-up email is critical to the overall success of the campaign."
Copperwheat also points out that even many big brands have fragmented IT systems and data stores, a perceived barrier to executing cross-media campaigns. Many of these companies that are using multiple channels are also using a variety of different vendors to provide communications in each of the channels, a further barrier to the ideal state of an integrated campaign.
"We happily consolidate any data we can get our hands on, even if it is a thousand separate Excel spreadsheets, and we will cleanse that into a single data source, taking that barrier away," Copperwheat says. "And with DirectSmile, we can do an integrated set of campaigns ensuring we use the right message at the right time to the right customer. It shows n our open rates we have from our customers. We have many cases where we get a 50% open rate on our emails."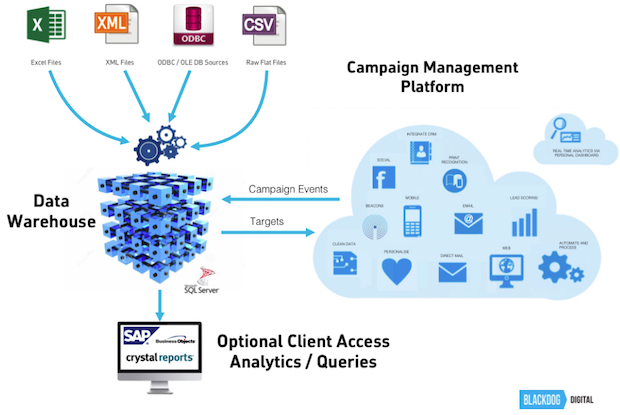 Blackdog Digital's Campaign Mangement Platform
Data security is also an issue that needs to be at the forefront of your mind. According to Copperwheat, the company is audited by all of its significant customers on an annual basis, who review the company's security practices. But he points out that data security, while it can be a challenge, it is much less financially or technologically as complicated as they were five years ago. Blackdog leverages the Microsoft cloud, and Copperwheat is a fundamental believer in true cloud-based operations. "On-premise solutions are not without their challenges," he says. "You can have business continuity and security issues with on-premise solutions. If you are running in the cloud you need to make sure you encrypt your data and backups. Each has its challenges. You just need to be able to mitigate those risks and demonstrate to your customers that you can mitigate those risks."
Copperwheat also points out that a campaign doesn't have to be something that is done this week. It can last a year or more. And the ability to deliver in-depth analytics is critical. "I can't emphasize how important it is to be able to help our customers demonstrate to their boards that they are spending their marketing pounds in the right way," he says. By having the data, linking the channels and getting back any transactional data we can from the customer we can truly demonstrate the return on marketing investment."
Copperwheat concludes, "We started out as a printer, we took on variable data printing and extended that into other channels. That's allowing us to have a firm foundation of the business. The digital print part of the business will always be there and it is important. But our theory is that if we were talking five years from now, and we had just left it as a digital print business, our margins would have been eroded further and we would be struggling or out of business. There is always someone out there that will do print for less and bring the overall market price down.
"We are now able to have completely different conversations with customers. We have built a framework that allows us to consider certain fixed costs, such as data management, as well as variable costs, perhaps based on the number of people were engaged. We want customers to have as many people as possible engaged in the campaign. That means the customer is successful, and we should be recompensed for that success so that we are successful as well. We believe in the technologies, we believe in the campaign and we will put some skin in the game as a result. We also do pure fixed cost deals based on the value the customer is getting out of it. We also do pilots where we don't charge anything to prove the concept. If you believe in what you are doing and you back yourself and the technologies you are using, it should be a good campaign. And there are lots of different ways to approach the pricing so that everyone benefits from the results."
You can hear directly from Blackdog Digital in this webinar archive. Listen to it. Share it. Enjoy it. Learn from it. As with all things WhatTheyThink, we would love your feedback. It's a little different format than our usual webinars. Do you want more like this? Add your comments or contact us!